Oil prices soared today on the heels of Saudi's self-sacrificial slashing of 1mm b/d output. They said this action was "pre-emptive" which, to us at least, does not seem like a positive catalyst – just how worried are they? How much did they want to suck up to Russia with a Biden admin coming in?
"We do that with the purpose of supporting our economy, the economies of our colleagues in OPEC+ countries, to support the industry," Prince Abdulaziz told reporters after the group's video conference on Tuesday.
The Saudi pledge makes for a tighter market than traders had been anticipating and sent crude surging to a 10-month high with WTI back above $50.
Russian Deputy Prime Minister Alexander Novak welcomed Saudi Arabia's move, telling reporters that "it's a great New Year present for the whole oil industry."
It's an especially sweet gift for U.S. shale drillers, said RBC analyst Helima Croft.
So, from now on (until Feb 3rd) all eyes will be inventories to see if it's working…
API
Crude -1,663mm (-1.2mm exp)

Cushing +1.003mm

Gasoline +5.473mm  (+1.4mm exp)

Distillates +7.136mm (+2.2mm exp)
Analysts expected a 4th weekly crude draw to end the year and they were right but the product builds were very significant… and not bullish…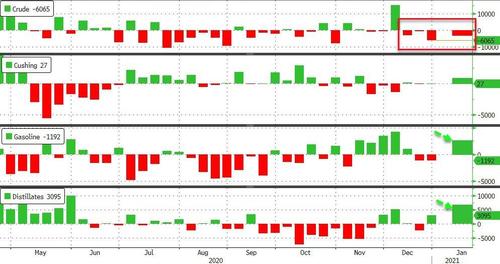 Source: Bloomberg
WTI hovered right at $50 ahead of the API data, and dipped lower after the big product build…