Oil prices gave back a lot of their early gains today as chatter about the US stimulus plan suggested its not ponies and unicorns for all after all and worries about Chinese demand weighed. WTI slipped back below $53 briefly.
The U.S. "is still the biggest market in the world and it hasn't recovered all the demand loss," said Peter McNally, global head for industrials, materials and energy at Third Bridge.

In the near-term, additional lockdown measures in China are weighing on the outlook as "Chinese demand has been one of the big drivers of improved oil fundamentals."
For now, all eyes are back on inventories to see if the seasonal slowdown is accelerating surging product stocks.
API
Crude inventory unexpectedly rose last week (+2.5mm vs -2.5mm exp) as product stocks rose for the 3rd straight week…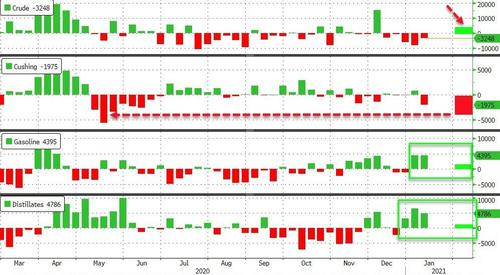 Source: Bloomberg
WTI hovered just above $53 ahead of the API data and fell back below on the surprise crude build…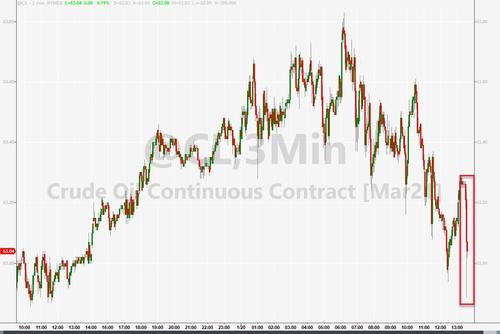 The "U.S. inauguration will tilt oil supply risks in a bearish direction, but Saudi determination to support markets holds sway for now," said Paul Sheldon, chief geopolitical risk analyst at S&P Global Platts. "OPEC+ production cuts are markets' most supportive factor at current prices and now appear to be running ahead of coronavirus-related demand uncertainty."