Oil surged to the highest in nearly 10 months in New York alongside a broader market rally as hopeful headlines on US stimulus talks combined with the COVID-19 vaccine rollout stoked optimism around a demand revival…again!
"Oil's reacting to pretty significant increases in risk appetite," said Bart Melek, head of global commodity strategy at TD Securities.

"But with the second wave probably continuing to damage demand growth and inventories likely staying at somewhat elevated levels, the market is having second thoughts about going materially higher."
But, following last week's ugly gasoline demand data and OPEC's demand forecast cuts, all eyes remain on inventories for signs that price is right… or wrong.
The oil market was able to shrug off the previous report which showed that inventories increased by 15.2 million barrels, but additional disappointments on the inventory front may put real pressure on oil prices.
API
After last week's massive crude inventory build (official +15.19mm vs API +1.14mm!), analysts expected a modest 3mm draw but instead saw another build (of 1.973mm barrels) and Distillates also saw a surprisingly large build…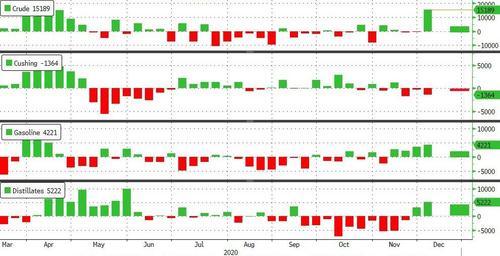 Source: Bloomberg
WTI was hovering at around $47.50 ahead of the API print and briefly dropped on the surprise build before bouncing back to unch…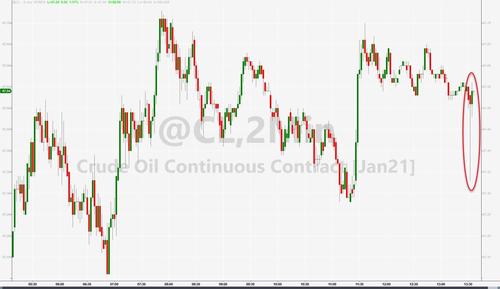 It's not all unicorns and ponies however: "People are forgetting that there's a couple of triggers that have to happen before oil demand really comes back," said Stewart Glickman, energy equity analyst at CFRA Research. "The first half of the year we're going to see some resurgence of weakness in oil demand, because it's going to take time before everybody feels comfortable enough for things to start reopening fully."