A cold front is expected to swoop in from eastern Canada and pour into the Mid-Atlantic states early next week. Simultaneously, a storm is forecasted to develop off the Carolina coast, producing a "wintry mix of precipitation in the Washington region," reported WaPo. 
"Based on the predicted setup, which still could change, accumulating snow is a strong possibility in the western part of the region, particularly along and west of a line from roughly Warrenton to Leesburg to Frederick. The Interstate 81 corridor, from Winchester to Hagerstown, could see significant snowfall.

"As is frequently the case with these storms, the position of the rain-snow line is the biggest wild card and could set up close to Interstate 95, making for a very challenging forecast in the immediate D.C. area. Areas inside the Beltway could see a mix of snow, ice and rain, mostly snow, or just cold rain. East of the Beltway, a cold rain or wintry mix are more likely than accumulating snowfall," WaPo said. 
The storm's timing is expected for Wednesday – and at times, there could be periods of "heavy precipitation." 
The quick-moving storm may impact the Baltimore–Washington metropolitan area.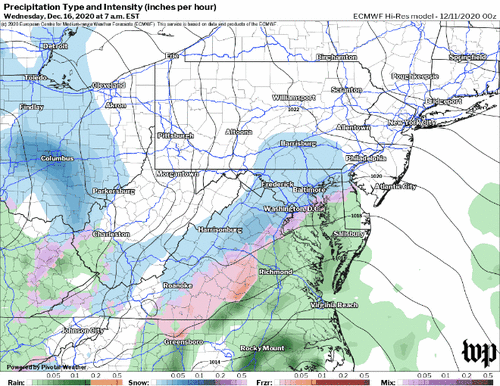 Forecast temperature anomalies show temps will begin to dip early next week.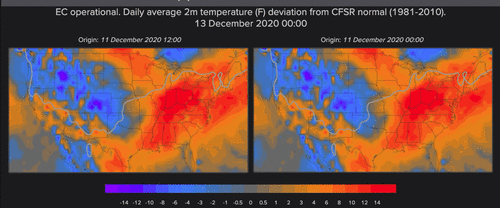 WaPo noted there's "an outside chance the storm slides off the coast to the east rather than coming up the coast, which would limit precipitation amounts, especially in our western areas." 
While the cold spell may only be sticking around to the end of next week – we outlined last week, nat gas prices have plunged on overall warmer forecasts for December. 
However, it's beginning to be that time of year when temperatures drop, and wintery precipitation may become plentiful, not just for the Northeast but other parts of the country. This could be very impactful on restaurants that are struggling to survive with outdoor dining. 
For example, in New York City, more than half of the metro area restaurants are in danger of closing. Starting Monday, indoor dining will be banned, which means eateries will only derive sales from outdoor dining and togo orders. 
In a recent client note, Goldman Sachs identified when outside temperatures drop below 45°F – it would likely result in a sharp decline in outdoor dining sales, implying people aren't going to eat in tents surrounded by propane heaters in chilly conditions.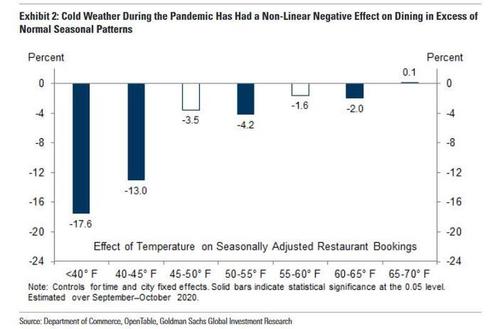 In a separate report, Goldman also told clients that declining temperatures would result in more COVID-19 cases that would significantly slow down the economy.
All and all, it's going to be a hellacious winter for restaurants. Many more will fail as Old Man Winter comes knocking.