Janet Yellen's nomination hearings, which begin today at 10amET, are sure to be the usual parade of partisan back-slapping and gotchas. It is clear from prepared remarks which direction she is heading – "go big."
The former Fed head will tell the committee that the U.S. economy has been suffering from entrenched inequality – and that the administration's longer-term goal will be to create "more prosperity for more people."
"Well before Covid-19 infected a single American, we were living in a K-shaped economy, one where wealth built on wealth while working families fell further and further behind," Yellen will say, according to a text of her prepared remarks obtained by Bloomberg News.

"This is especially true for people of color."
Which, irony of ironies, has been dramatically worsened by the very organization that she herself ran…
From @JanetYellen prepared remarks: "Long before arrival of Covid-19, we were living in a K-shaped economy, one where wealth built on wealth while working families fell further and further behind."

Next: Janet Yellen discovers the Fed…

— zerohedge (@zerohedge) January 18, 2021
It will be interesting to see 'explain' her way out of being first the catalyst for inequality and now the virtue-signaling queen of reparations.
As Rabo noted earlier, the talk is all about the talk Yellen is going to give about the future. No, not after-dinner to bankers for USD250,000 today…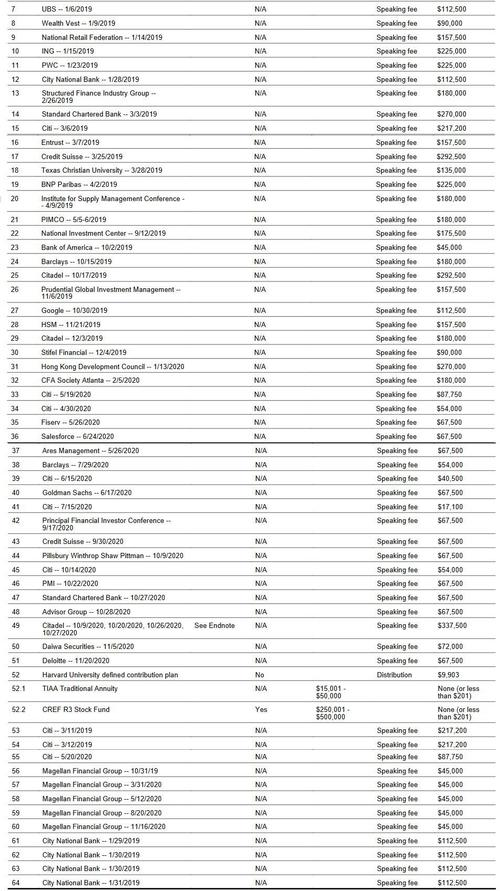 …but rather her testimony as Treasury Secretary-designate in front of the Senate, which has of course already been partly leaked to the press.
"Economists don't always agree, but I think there is a consensus now: Without further action, we risk a longer, more painful recession now – and long-term scarring of the economy later," Yellen will say.
We can agree economists don't agree because they do not communicate with each other. The neoclassical school that runs central banks doesn't even acknowledge heterodox schools such as the Austrian or the Post-Keynesian (i.e., MMT). 
But Back to the Yellen Future:
"Over the next few months, we are going to need more aid to distribute the vaccine; to reopen schools; to help states keep firefighters and teachers on the job," Yellen will say. 

"We'll need more funding to make sure unemployment insurance checks still go out; and to help families who are at risk of going hungry or losing the roof over their heads."
All of this naturally falls under the proposed USD1.9 trillion stimulus package and related executive actions already on the table.
"Neither the President-elect, nor I, propose this relief package without an appreciation for the country's debt burden," Yellen will add, underlining that she is not from the post-Keynesian/MMT camp. 

"But right now, with interest rates at historic lows, the smartest thing we can do is act big. In the long run, I believe the benefits will far outweigh the costs, especially if we care about helping people who have been struggling for a very long time." 
Yet if helping people who have been struggling for a long time is the goal then USD1.9 trillion is nowhere near enough.
Can we expect some 'hidden' advice for investors in today's remarks?
Here is the best investing advice of the past 4 years pic.twitter.com/3ZdDz3Knef

— zerohedge (@zerohedge) January 19, 2021
Watch Live (Hearings are supposed to begin at 10amET):