Authored by Steve Watson via Summit news,
As chaos unfolded in the UK with the government touting an unverified 'mutant strain' of COVID to justify a fresh lockdown, video has emerged of British travellers being herded inside foreign airports and held against their will.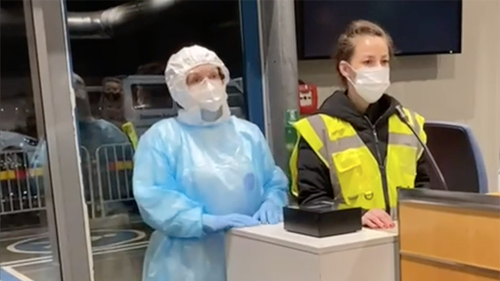 As EU nations began to shut down flights from Britain, some passengers have been caught up in the nightmare. Video from German newspaper BILD shows Brits forced to sleep in the same room at Hanover airport, after being refused entry to the country.
The footage shows health officials and nurses, some in full hazmat gear, administering immediate Covid-19 tests, as passengers plead "Please help us leave!"
Hilferuf aus dem Flughafen von Hannover – "Wir werden gegen unseren Willen festgehalten!" https://t.co/XZR0qiYOc5

— BILD (@BILD) December 20, 2020
"We are at Hanover airport and we are held against our will, we were tested and were prohibited from leaving the premises while awaiting the results," said traveller Manuela Thomys in the video.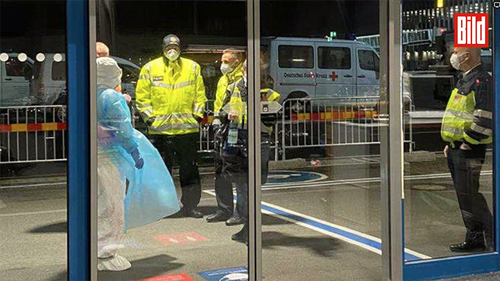 Bild/Screenshot
The last UK passengers arriving in Germany last night have been locked in airports. In Hanover, 63 passengers spent the night on camping beds inside the terminal. Negative test results = release. Source: @welt pic.twitter.com/PBlzpZtlBS

— Trent Murray (@trent_murray) December 21, 2020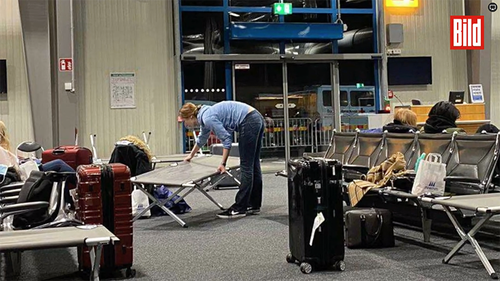 Bild/Screenshot
Hanover health official Andreas Kranz told German news wire DPA that "Our aim is to prevent the new variant of the virus from entering the region,"
According to the 'authorities', if passengers test negative, they will be allowed to proceed to their destination, but will still have to enter a 10-day quarantine. After five days and another negative test result, they can end the quarantine.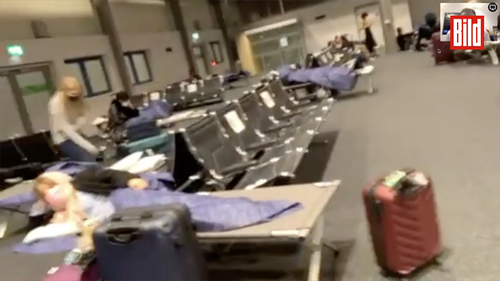 Bild/Screenshot
However, if the passengers test positive for the 'mutant strain', they will reportedly be held in a quarantine facility.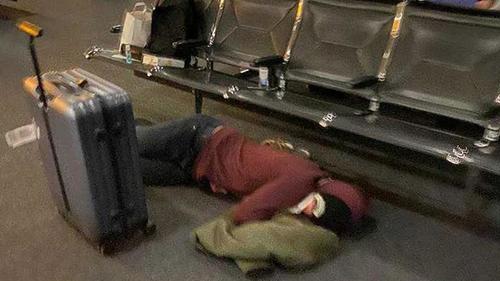 Bild/Screenshot
The same situation was in effect at Berlin's BER Airport, according to Tom Nuttall, the Berlin correspondent for The Economist:
Just landed at Berlin airport on last flight from UK. Federal police triaging between German citizens and the rest of us. Curious to see what happens next as we're held at passport control.

— Tom Nuttall (@tom_nuttall) December 20, 2020
Nuttall noted that those without a negative test were "told they have to return to the UK."
New York Times correspondent Patrick Kingsley, who was also on the flight to Berlin said authorities let German citizens through without a test:
Foreign residents on the last flight into Berlin from London have been separated from the German citizens and will spend the night in the airport until the test center opens at 6am.

Germans allowed through without a test pic.twitter.com/clDvuFhqYY

— Patrick Kingsley (@PatrickKingsley) December 20, 2020
Reports also indicate that British passengers were held at Frankfurt, Munich, and Stuttgart airports.
Deutsche Welle reports that at least one passenger has tested positive, but it is not known if it is the so called 'mutant strain'.
BILD also reported that a pilot on a German-bound flight from the UK told non-German passengers they needed to get off the plane before it took off or face mandatory COVID-19 testing and a subsequent quarantine when they landed.
Audio recorded by someone on the plane reveals that the pilot gave non-German passengers the option to get off the plane before facing chaos, including isolation and mandatory COVID tests, upon landing.
According to reports, France, Germany, Denmark, Italy, Ireland, the Netherlands, Belgium, Finland, Switzerland, Estonia, Latvia, Lithuania, Bulgaria, Romania, Poland, Croatia and Turkey have all moved to stop flights from the UK because of the new strain. 
Outside Europe, Canada, Iran, Saudi Arabia, Israel, Kuwait, El Salvador, Argentina, Chile and Morocco have all imposed travel bans.
The 70% more contagious 'mutant strain', of which scientists and government officials in the UK have not been shown evidence, has reportedly already appeared in Italy, Denmark, the Netherlands, Australia and Belgium.