Washington elites are breathing a sigh of relief, as power players on both sides of the aisle gear up for 'business as usual' following a four-year disruption in swamp-activities – thanks to one Donald J. Trump, whose perhaps prematurely anticipated departure from the Oval Office has the DC establishment licking their chops.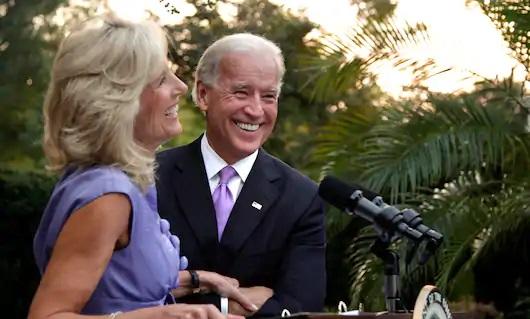 "The classic friendly-rivals dinner party will be back, likely bigger than ever, with VIP guests from the Biden administration, a few formers from the Obama crowd, a senator or two seated next to a Supreme Court justice," according to the Washington Post's Roxanne Roberts
Shoving the Uniparty's collective excitement in our plebeian faces, Roberts writes in. full. stops. "Washington is exhausted. Washington is optimistic. Washington is desperate for change. The aristocracy of this city is ready to move on, daring to hope that the last four years was a fever that finally broke and life can get back to normal."
Poor Washington.
"Normal, as in a respect for experience and expertise. Normal, as in civility and bipartisan cooperation. Normal, as in not wanting to punch someone in the face," Roxanne continues.
And who's about to usher in this period of 'bipartisan cooperation' and controlling one's violent delights? Joe Biden, of course!
Biden and wife Jill Biden "know how to get around Washington, how to be a part of the establishment, how to make it work for them in their everyday lives," says an influential Republican hostess who, like many of the city's social leaders, spoke on the condition of anonymity to speak frankly without retribution. "People who have always enjoyed the Washington scene are yearning to get back to that, have some semblance of what they enjoyed so much before. There are a lot of Republicans who sat out the Trump years and bit their tongues for four years who are thrilled to have Biden." At the heart of this optimism is the belief that politicians on both sides of the aisle get more accomplished when they like each other. -WaPo
And of course, no self-respecting DC power-player can survive without attending establishment soirées, fundraisers, diplomatic corps and 'historical traditions' underpinning the 'business of Washington' – which Roxanne says needs 'bipartisanship to really thrive' after the Trump administration made everything a 'test of loyalty.'
"Washington's elite social world can pivot faster than a prima ballerina," Roxanne continues – noting that a COVID-19 vaccine and a 'call for comity' will allow them to 'press the reset button and start fresh.'
According to the report, the 'permanent establishment' was polarized by a White House that referred to them as the 'swamp' or 'deep state.' Not anymore, writes Roxanne – who looks forward to DC's return to its 'former glory.'
For the last four years, the tone from the White House was contemptuous of Washington, dismissing the permanent establishment — the longtime politicians and former administration officials who call it home — as the "swamp" or "deep state." The social arbiters, traditionally respectful of a new administration, quickly found themselves between a Trump and a hard place: To invite or not to invite?

…

Back to normal will mean more state dinners, a prestigious and glamorous way of reestablishing global ties. And it means that Washington events traditionally attended by the president and first lady for the better part of five decades — the Honors, the Alfalfa dinner, the Gridiron, the Ford's Theatre gala and the correspondents' dinner — will likely return to their former glory. -WaPo
"The president-elect has a great number of friends who are Republicans that he served with," says Clinton and Obama administration veteran, Ambassador Capricia Marshall. "And he will be inviting them into the White House because that's how you get work done: creating those relationships in these social atmospheres, making people feel invited and welcomed."
Bipartisanship equals money
Perhaps the biggest relief to Washington insiders from a lack of Trumpian politics will be the restoration of bipartisan fundraising – as "The quickest way to attract money is to have support from both sides of aisle: a Republican and a Democrat prominently displayed at the head table, with the corporate support and underwriting that greases all those wheels."
"This idea that we are a democracy, we disagree on a lot, but we come together around certain moments. You may not be happy with who wins, but you understand and recognize the power of it," says event planner Philip Dufour.
Capricia Marshall fondly recalls a textbook scene from every movie about corrupt Washington officials, which DC elites have been unable to recreate in Trumpian times:
I fondly remember Senator [Daniel] Inouye and Senator McCain all getting into these wonderful debates about various issues on the environment and on the economy," says Marshall. "It was very entertaining to watch. And in the end, they would lift their glass, give each other a toast, a smile, a great laugh and carry on."