Yesterday, when looking at the latest dealer "greek" books, we reported that with peak gamma at 3,650 in the S&P, it will be difficult for the index to break out (or slide) materially above this level.
And sure enough, overnight futures were quiet and continue to hold just above the 3650 level. Meanwhile, as SpotGamma writes this morning, the support zone at 3600 has started to shift to 3650, "which indicates that 3650 now needs to hold to cap a larger expansion in volatility." That said, the data does not support a large drawdown immediately from these price levels, and 3700 remains the upside target.

And while key gamma levels are unchanged, SpotGamma notes that there are some things shaking under the hood, the most notable of which is the Put Wall, which jumped significantly. There wasn't a particularly large trade at 3630 – just a net add of 8k contracts – yet what it does reflect "is that it only took a relatively small put position to register as the largest negative gamma strike on the board".

Finally, recall this chart from the OCC of call vs put premiums…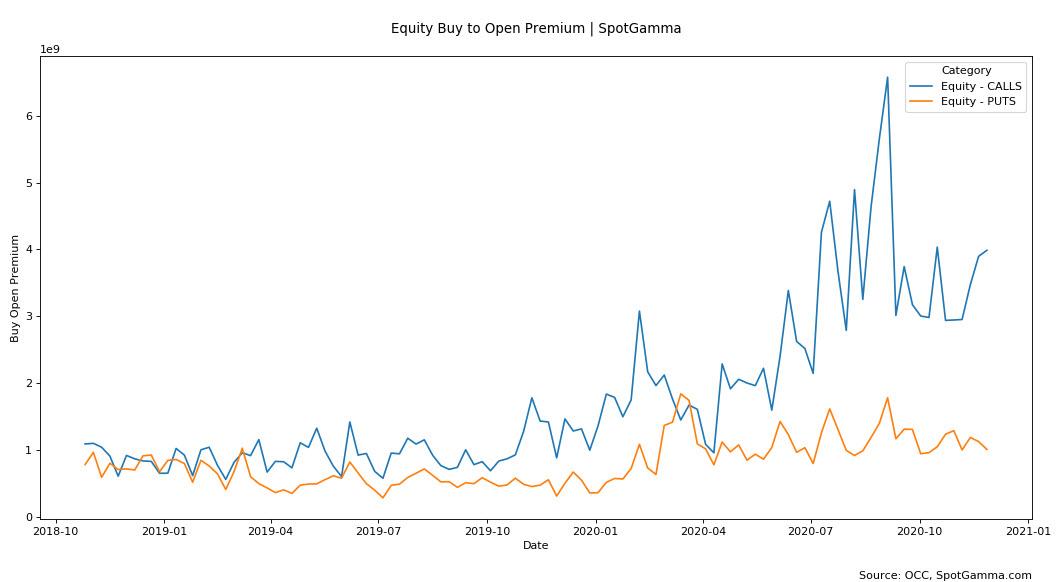 … and the chasm between those levels.
While these shifts are likely not today's problem, SpotGamma warns that "there is some definite erosion to the options structure underneath" and wonders if the best time to hedge is when no one else wants to do it.