Summary:
LA imposes lockdown order
US daily deaths 2nd highest
US passes 200k cases/day
Hospitalizations top 100k
Global deaths top 1.5MM
California reports countrywide record for new cases
CDC director warns 450k deaths by Feb.
Eli Lilly secures more vials
Indonesia reports new record cases
India reports 35.5k new cases
China carrying out expectations of imported food
Aussie pharma regulator will review Pfizer vax in January
Tokyo sees 533 new infections
Merkel extends partial lockdown
* * *
As the world surpasses 1.5MM confirmed deaths due to the coronavirus, with many more probably left uncounted (though, to be sure, there has been plenty of disagreement about what constitutes a 'COVID death'), the US has just reported record, or near record, numbers for new daily cases and deaths, while hospitalizations have topped 100k – yet another record high.
More than 200k new cases were reported across the US last night with New York, the Rust Belt and California driving the trend. The US also reported more than 2,700 deaths, the second-highest daily tally yet, according to the COVID-19 Tracking Project.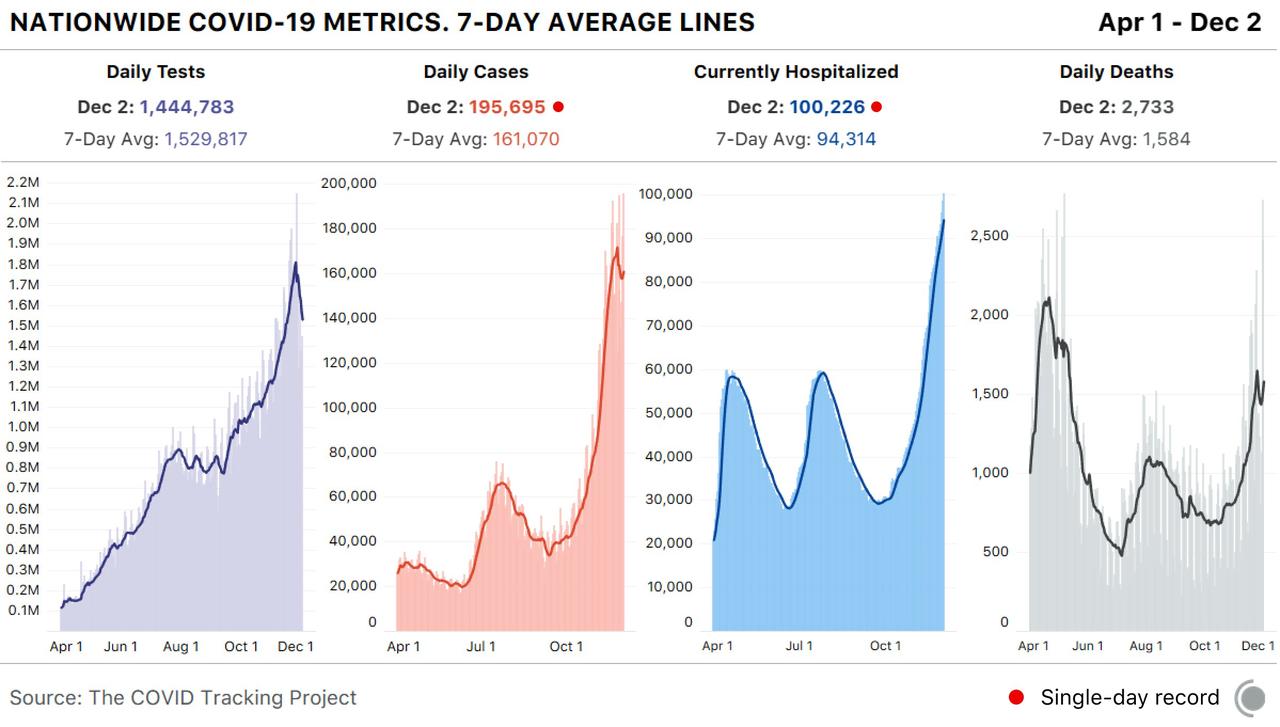 California reported more than 20k new cases overnight, the highest daily tally of any US state. Texas also reported more than 16k new cases, a new record for the Lone Star State.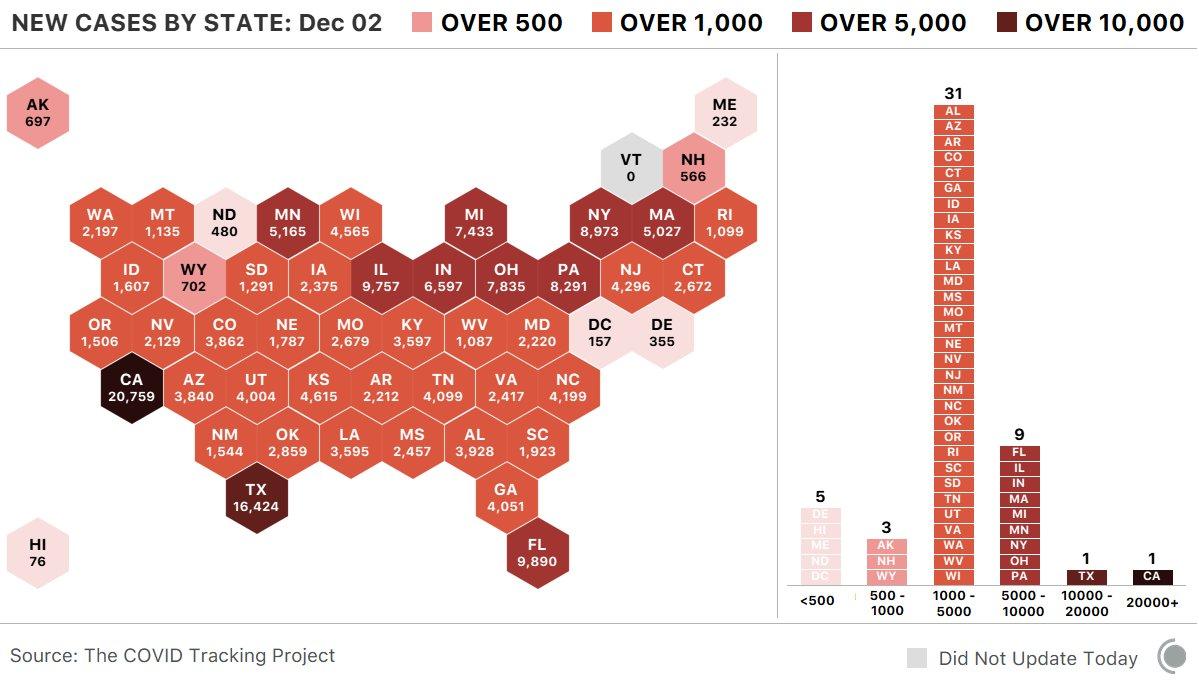 While the one-day number for deaths is the highest since May 7th, Wednesday also marked the first time deaths in the US have surpassed 5k in a 2-day period.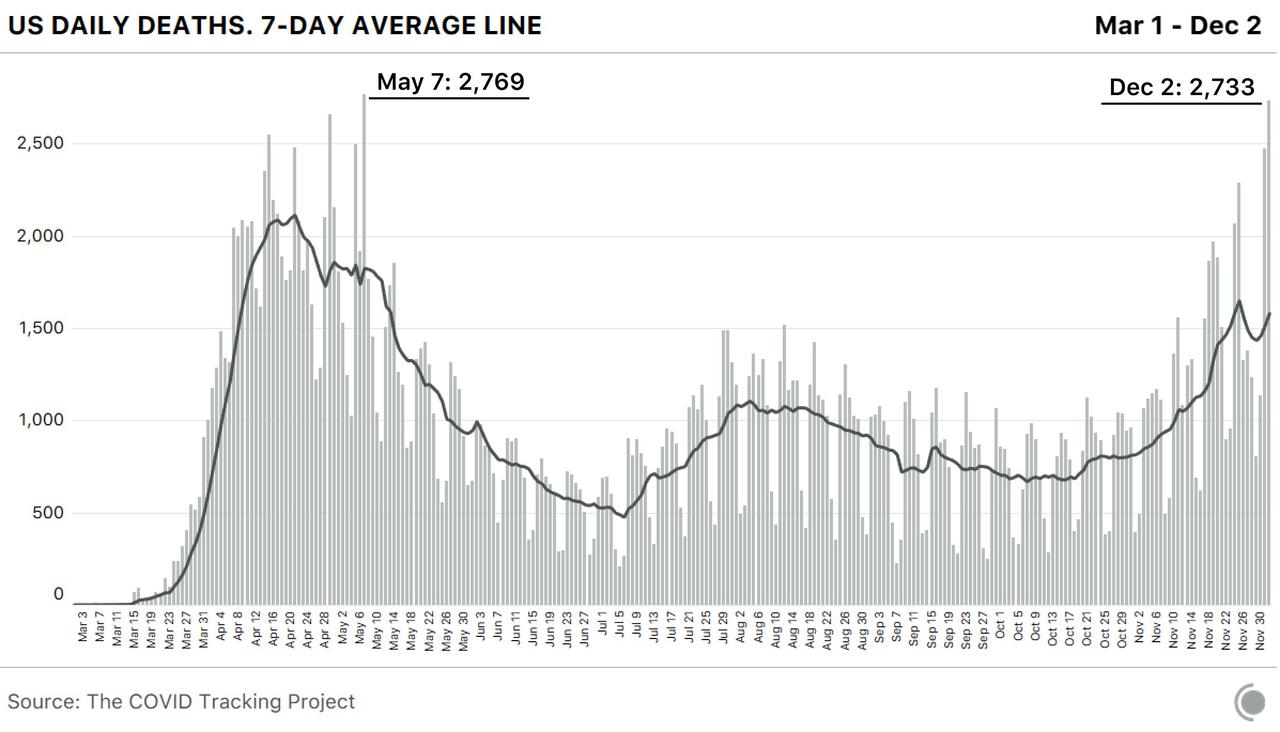 As far as deaths are concerned, the Rust Belt is being particularly hard hit, and experts expect the daily death tolls to continue to climb: in Pennsylvania, the tally of deaths in the first two weeks of December is likely to total 1,315, up 333 from the previous 14 days. That would be the biggest acceleration in the US, according to the Reich Lab's COVID-19 Forecast Hub.
Ohio deaths are on track to climb by 294 to 958 for the same period, while Michigan's tally increased by 282 to 1,373, as the US approaches the 300k deaths mark (as of Thursday morning, 264,522 Americans have succumbed to the virus since the pandemic began).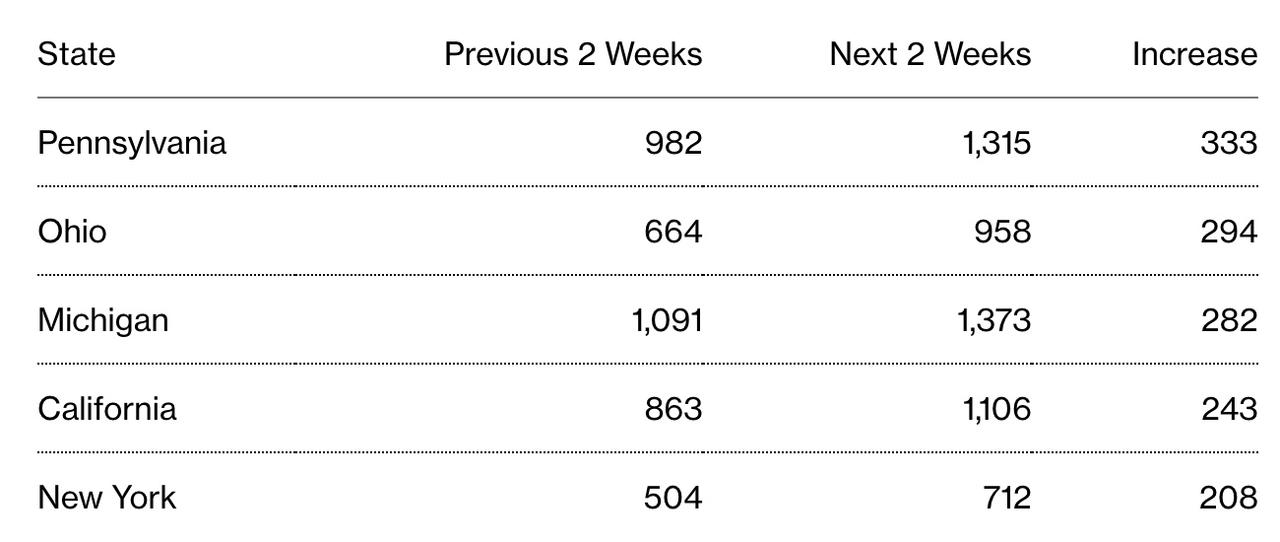 Source: Bloomberg
LA Mayor Eric Garcetti imposed the toughest new lockdown in the country late Wednesday night, barring all gatherings of more than one family, and barring any non-essential workers from reporting to work.
CDC Director Dr. Robert Redfield warned Wednesday evening that COVID-19 is on track to be the worst health crisis in the history of the US, with 450k deaths expected by February.
"The reality is, December and January and February are going to be rough times, and I actually believe they're going to be the most difficult time in the public health history of our nation, largely because of the stress it's going to put on our public health system," Dr. Robert Redfield said Wednesday at a U.S. Chamber of Commerce Foundation event.
Outside of the US, Iran just joined Poland, Colombia, Germany and a handful of other countries in seeing its confirmed COVID-19 cases finally top 1MM, with many more likely undiagnosed in the hard-hit home of the Islamic Revolution. The Iranian Health Ministry announced 13,922 new cases in the country of about 80MM, north of the seven-day average of 13,598. Deaths have fallen from a record high of 486 on Nov. 16 to 358 on Thursday. Some 49,348 people have so far died from the disease.
Here's more COVID news from overnight and Thursday morning:
The US government paid Eli Lilly & Co. $812.5 million to secure an additional 650,000 vials of Covid-19 antibody treatment to be administered in December and January to non-hospitalized patients at the early stages of disease (Source: Bloomberg).
Australia's New South Wales state recorded its first new case of the coronavirus in 25 days after a woman working at a quarantine hotel in Sydney tested positive (Source: Bloomberg).
Hospitalizations for Covid-19 in the U.S. increased by more than 1,000 a day at the end of November, data released Tuesday from the Department of Health and Human Services show. The number of inpatients jumped 9.6% to a record 96,668 on Dec. 1 from 88,167 on Nov. 23. California recorded a 38% surge over the eight-day period, with 8,171 coronavirus patients as of Tuesday (Source: Bloomberg).
Indonesia's daily coronavirus cases cross the 8,000 mark for the first time to 8,369 new infections in the past 24 hours, up from 5,533 the day before. The country also reports 156 additional deaths. The totals have now reached 557,877 infections with 17,355 deaths (Source: Nikkei).
Finland's government says it has agreed a national strategy for COVID-19 vaccinations, planning to give them to everyone and to begin with vaccinating selected health care staff from January (Source: Nikkei).
Tokyo reports 533 new infections, up from 500 a day earlier. The number of patients in serious condition in the capital declined by five to 54 (Source: Nikkei).
India reports 35,551 new cases in the last 24 hours — down from 36,604 the previous day and marking the 26th straight day of less than 50,000 infections — bringing the country's total to 9.53 million. Fatalities jumped by 526 to 138,648 (Source: Nikkei).
China is carrying out sweeping inspections of food importers, supermarkets, e-commerce platforms and restaurants to prevent the spread of COVID-19 through imported products that must be kept constantly cold, the country's market regulator says (Source: Nikkei).
Australia's pharmaceutical regulator says it is on course to review Pfizer's vaccine by January, with the country sticking to a March timetable to start giving shots (Source: Nikkei).
Chancellor Angela Merkel said Germany will extend its partial lockdown by three more weeks as the country struggles to regain control of the coronavirus spread (Source: Bloomberg).