Summary:
US begins 2nd doses
US cases top 200K
Global cases top 85MM
Officials play catch-up with vaccine rollout
UK to delay second vaccine doses
Scotland reimposes lockdown
Germany to extend lockdown
Fauci says possible vaccines become mandatory
Greece announced 1-week lockdown
Norway's PM announces fresh restrictions
South Korea widens ban on private gatherings
Norway imposes new restrictions
Thailand sees 745 new cases Monday
* * *
Three weeks have passed since the US approved the Pfizer-BioNTech COVID-19 vaccine for emergency use, and on Monday, the health-care workers who received the vaccine during the first day of the rollout are scheduled to receive their second dose – even as OWS head Moncef Slaoui floats the possibility to stretch the supply of the Moderna vaccine by dividing each dose in half (trial data suggests a small group of patients who accidentally received a half-dose of the vaccine during the first jab actually saw higher efficacy rates).
Three weeks ago, the first #covid19 vaccines were administered in the US. A number of health-care workers are expected to get their 2nd shot today. The initial rollout is behind schedule, but experts suggest we'll see the pace pick up this month: https://t.co/624M7IPaMz

— Meg Tirrell (@megtirrell) January 4, 2021
Then again, the slower-than-expected rollout of the coronavirus vaccine in the US isn't due to a dearth of supplies: For whatever reason, many US states have struggled in dispensing the vaccines – in some cases, because health-care workers and others who are first in line for the vaccine are refusing to take it. Meanwhile, in Israel, the country with the highest vaccination rate relative to its population, hundreds of patients were sickened after receiving their first dose. A California nurse in San Diego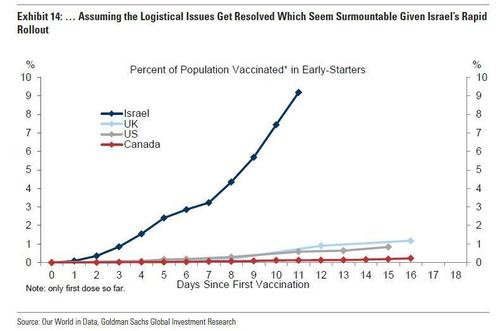 As the vaccine rollout lags targets set around the world, governments in the UK and US are exploring decidedly incompatible strategies for alleviating the issue. In the UK, authorities have decided to delay the second round of shots in favor of trying to vaccinate as many people as possible during the first round of shots. Even as their colleagues in the US dismiss this strategy as wrong-headed. Dr. Anthony Fauci told CNN late last week that he "would not be in favor of doing that…we're going to keep doing what we're doing.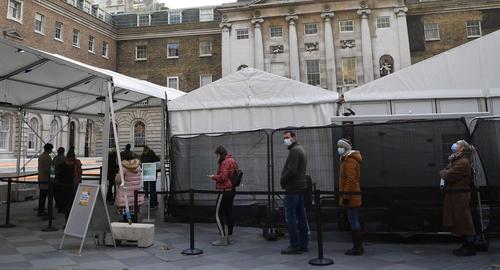 Having approved the first jabs for emergency use more than a week before the US, the UK is already ahead of its rivals when it comes to the number of people being vaccinated. And now that the UK has become the first country to approve the Astrazeneca-Oxford jab, millions of doses of that vaccine have already been shipped.
On Monday morning, former FDA Director Dr. Scott Gottlieb appeared on CNBC to reassure the public that there's no need to stockpile doses of the vaccines, just before Moderna held a press briefing on Monday morning to publicly raise its year-end target for the number of vaccines that will be rolled out this year.
It's just the latest reminder that sometimes, the "science" isn't always clear.
In the US, the number of new cases reported Monday topped 200K again as delays in reporting figures started to alleviate. The official number for the last 24 hours was closer to 300K, but nearly 1/3rd of those cases were delayed reports from over the holiday. Deaths, however, dipped back below 2K.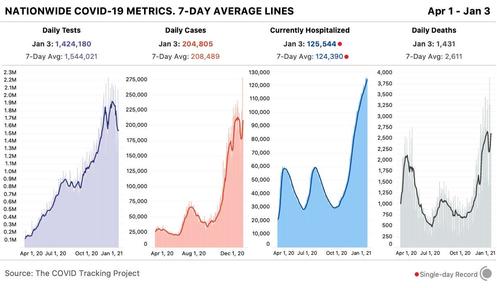 As the number of confirmed COVID-19 cases tops 85MM, here's some more COVID-19 news from overnight and Monday morning.
* * *
NIH's Dr. Fauci said it is possible that COVID-19 vaccines will become mandatory in order to travel to other countries or attend school (Source: the New York Post).
England's chief medical officer warned that COVID-19 vaccine shortages will be a problem for months as the government faced a revolt by GPs over cancelled second jabs for elderly patients, although other reports later noted that drug manufacturers hit back at claims by ministers regarding vaccine shortages (Source: Bloomberg).
Irish PM Martin said that Ireland will revert to Level 5 restrictions for a minimum of a month in an effort curb the spread.
Greece announced a one-week strict COVID-19 lockdown beginning on Sunday, in an effort to ease the pressure on the health system (Source: Newswires).
Norway's PM announced last night that the country will impose fresh restrictions including a nationwide ban on serving alcohol in bars and restaurants for 2 weeks, while also calling for people to not invite guests at home (Source: Newswires).
Shenyang in northeast China suspended schools and closed businesses in areas where 100,000 people were told to stay home, after the city reported three new COVID-19 cases. Meanwhile, Beijing is to extend its quarantine period from 14 to 21 days for new arrivals to prevent imported cases (Source: Chinese press).
South Korea will widen the ban on private gatherings larger than four people nationwide and will extend social distancing rules in Seoul and neighbouring areas until January 17th (Source: Bloomberg).
NYC's rolling seven-day average of positive tests topped 9% for the third straight day (that's compared with just 2% in November). New hospitalizations increased to 213 and new cases rose to 3,885, based on a seven-day average, Mayor Bill de Blasio tweeted (Source: NYC/Bloomberg).
Thailand reported 745 new coronavirus cases on Monday as a surge in infections prompted authorities to impose fresh curbs in some of the most-populous regions including capital Bangkok (Source: Bloomberg).
Residents of Tokyo and 3 surrounding prefectures that will likely be subject to the government's state of emergency order will be asked to remain at home after 8pm from Friday. Governors of Tokyo and Saitama, Chiba and Kanagawa prefectures will make final decision tonight. Like other previous Japanese restrictions, the request will not be enforced, though it will run though at least the end of January (Source: Nikkei).
* * *
Following reports over the weekend about looming lockdowns in Europe, Scotland's leaders have just announced new lockdown measures that will take effect at midnight Tuesday morning. They said the restrictions will be similar to the March lockdown, with everything from retailers to gyms to spas to cinemas set to be closed. Meanwhile, UK PM Boris Johnson is expected to announce an expansion of Tier 4 restrictions during an address to the nation at 2000 local time.
Meanwhile, Bild reports that the German government and the 16 federal states have already agreed to extend the the current lockdown until Jan. 31 to curb the spread of the coronavirus pandemic. The anonymously sourced report landed more than 24 hours before Merkel is slated to speak with the leaders of the 16 states. Germany imposed a second hard lockdown on Dec. 16, closing schools, shops and restaurants after earlier attempts at a partial lockdown launched in early November did little to stifle new infections. It imposed a second hard lockdown on Dec. 16, closing schools, shops and restaurants after a partial lockdown introduced early November did not bring the hoped-for reduction in new infections.