Summary:
US sees record 310K new cases
NJ reported nearly 20K new cases
CA reports 50K cases
UK, Germany daily deaths top 1K
UK tops 3MM cases
UK deaths top 80K
Portugal reports 9K+ cases
Japan may extend emergency order
China moves to expedite vaccinations
* * *
Yesterday, we reported on speculation about a new hyper-infectious COVID-19 strain that could be circulating around the US. Well, mere hours after CNN shared the evidence gleaned from a Jan. 3 report from the White House coronavirus task force, members of the committee are insisting it was inaccurate. Another example of 'Fake News' reported by CNN, we suppose. But we digress…
As of Saturday morning, the the coronavirus outbreak in the US and Europe showed no signs of abating over the last 24 hours, as the US reported another record jump in new cases, according to the COVID Tracking Project.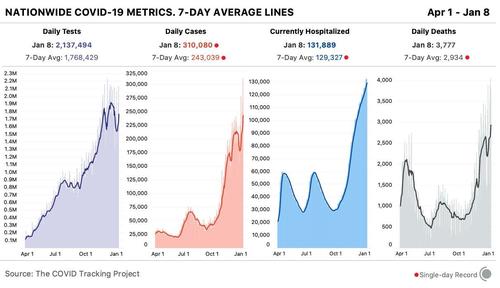 NJ reported nearly 20K probable COVID-19 cases and CA reported over 50K cases, with both states greatly influencing the large uptick in today's total cases. In NY, 18.8K new cases were reported, with hospitalizations at a near-record 8.6K. To try and hasten the pace of vaccinations as NY falls further behind, Cuomo has again expanded the list of who is eligible, with all people 75 and older now able to receive the vaccine.
16 states in total reported their highest hospitalization numbers this week.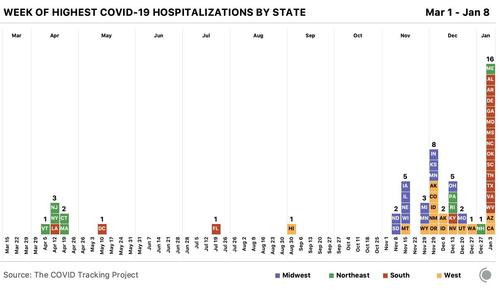 Germany's death toll has topped 1K for a 4th-straight day, prompting Chancellor Angela Merkel to try to hasten the pace of vaccinations. Meanwhile, in France, Emmanuel Macron is promising to have 100K of the country's most vulnerable people vaccinated by the end of the weekend. That's up from 80K as of Friday afternoon. Across the US more than 7MM people have been vaccinated.
In terms of infections, the US continues to outpace Europe, and the UK is outpacing all of its Continental peers.

Even China is intensifying is vaccine rollout plan as new lockdowns rattle Shijiazhuang, the capital of Hebei Province (situated in the northeast near Beijing). Data from trials in Brazil and Indonesia shows vaccines from SinoPharm are 78% effective, according to the Brazil trial data.
Here's some more COVID-19 news from overnight and Saturday morning:
Osaka and its surrounding prefectures asked Japan to expand a state of emergency to the western cities in an effort to contain the latest Covid-19 outbreak, while Tokyo's new daily infections keep above 2,000 cases on Saturday (Source: Reuters).
Israel Police will adjust the deployment of lockdown barricades throughout the country in an attempt to reduce traffic congestion, the police announced Saturday afternoon. According to the changes, the police will deploy blockades starting at 0900 and will remove them between 1530 and 18000. However, Police Traffic Division patrol vehicles will continue to patrol the country's highways, regardless of the deployment of the barricades (Source: Jerusalem Post).
Portugal on Saturday reported 9,478 new confirmed coronavirus cases in a day, less than the record 10,176 announced on Friday, taking the total to 476,187. The total number of deaths rose by 111 to 7,701, following a record daily increase of 118 on Friday. The government has said it may tighten restrictions on movement next week (Source: Bloomberg).
Iran reported a dip in both the number of daily Covid-19 deaths and new cases with 82 fatalities and 5,924 new infections in the last 24 hours (Source: Bloomberg).
Poland posted a 20% day-to-day leap in reported Covid cases to 10,548 on Saturday. Overall toll breached 31,000 mark with 438 new deaths reported, as country has vaccinated almost 189,000 people (Source: Bloomberg).
* * *
In the UK, meanwhile, the number of total cases has topped 3MM as hospitalizations and new daily cases remain at record levels. Deaths, meanwhile, topped 1K again, driving the total death toll north of 80K.