By nighttime on the East Coast of the US, more than 30 countries and territories had barred Britons from traveling – by air, land or sea – through their borders. The NYT yesterday described the British Isles as being "virtually cut off" from surrounding Europe – and that phrasing isn't an exaggeration or an accident.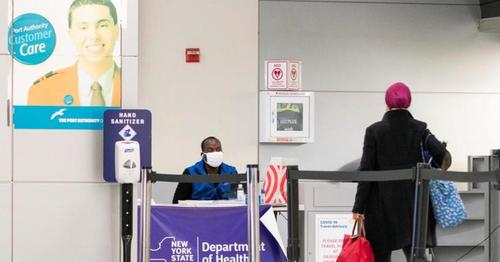 Whether or not this mutation is even real – as Moncef Slaoui pointed out yesterday, there's no "hard evidence" tying this whole theory together – is of secondary importance to the Europeans, who, with talks over a comprehensive UK-EU trade deal coming down to the wire, have just been handed a tremendous political opportunity: They're giving the Brits a dry run of what departing the customs union and single market might look like.
In other words, if London and Brussels can't strike a deal on the fish within the next few days, we get to do this all over again next month – empty supermarket shelves, trucks piled up at the border, the works. There's no question: if the UK leaves the transition without a deal (it formally left the EU on Jan. 1, 2020) Brussels will seek to exact political retribution on Boris Johnson. Whether that dissuaded him from holding the line is another issue.
As the maneuvering continues, the US has been caught in the middle, and the Trump Administration is being forced to choose between backing a political ally, or imposing new travel restrictions on Brits. According to Reuters, which cited officials from the US (presumably the State Department) as well as top airline officials, the US is weighing a temporary requirement that all travelers from Britain possess a COVID test dated within 72 hours of departure.
The US government is considering requiring that all passengers traveling from the United Kingdom receive a negative COVID-19 test within 72 hours of departure as a condition of entry, airline and US officials briefed on the matter said Monday.

A White House coronavirus task force discussed requiring pre-flight tests after a meeting on Monday regarding the emergence of a highly infectious new coronavirus strain in Britain that prompted dozens of countries to close their borders to Britain. Airline and U.S. officials said requiring testing for UK arrivals won backing among task force members. The White House has yet to make a final decision on the matter, they said.
Already, several airlines operating flights from London to JFK have promised NY Gov Andrew Cuomo that they would independently require travelers from London to present evidence of a negative test.
Earlier, airlines operating flights from London to John F. Kennedy International Airport voluntarily agreed to a request from New York Governor Andrew Cuomo that they only allow passengers who test negative to fly.

The three airlines – British Airways, Delta Air Lines and Virgin Atlantic – said they would begin screening passengers on those routes this week.
Which makes us wonder whether this leak is merely the administration trying to cover all its bases to prevent Cuomo from one-upping the president in the press? Then again, there's always a chance that these restrictions might backfire on Europe.