Despite headlines proclaiming there's no inflation to worry about, Case-Shiller Home Prices were expected to accelerate even stronger in October (the latest data released today) and they did. The 20-City Composite screamed 7.95% higher YoY (smashing expectations of a 6.95% rise)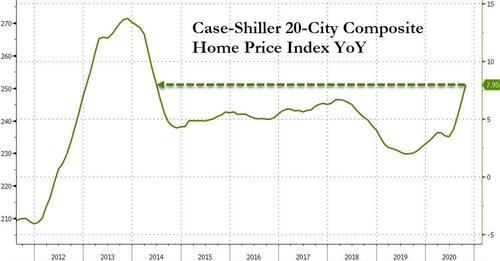 Source: Bloomberg
That's the fastest rate of acceleration since June 2014. Home prices rose 1.6% from the previous month, also more than projected and the most since April 2013.
Additionally, a gauge of home prices nationwide increased 8.4% from a year earlier, the most since March 2014.
All cities posted year-over-year home-price gains (all above 6%), led by Phoenix, Seattle and San Diego. Data for Detroit were excluded because of pandemic-related reporting delays.
What's most interesting is the massive decoupling between homebuyer sentiment and homebuilder sentiment and home prices.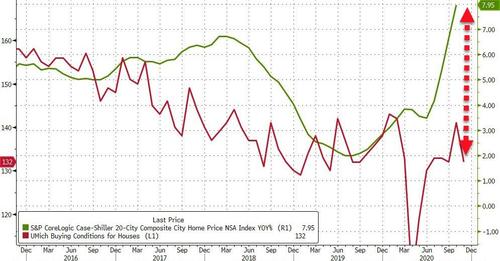 Source: Bloomberg
Just like we saw in 2017, the decoupling of prices from sentiment is not infrequent; but just as we saw in 2018… it always ends badly for prices.