Russian state-run news agency RIA is reporting that the US has switched off to telephone line to Russia's consulate in New York.
RIA cited officials with the Russian diplomatic mission, who further said there's been no connection for more than a day.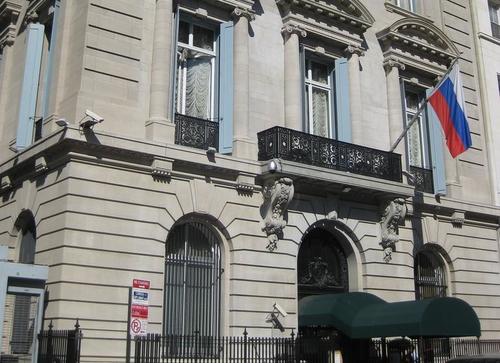 However, RIA gave no further details. Speculation abounds given the timing of the apparent phone switch off, coming a mere day before Joe Biden's inauguration.
It also comes amid some Democratic leaders as well as the mainstream media actually attempting to tie the Capitol Hill riot of January 6 somehow to Russian intelligence and social media 'influence ops'.
In a follow-up to RIA's initial reporting, Russia's Sputnik confirmed the following:
The Russian Consulate-General in New York has been completely cut off city telephone lines by the American authorities since 18 January, the diplomatic mission in the city has stated via its official Twitter account. The consulate added that it is occasionally also encountering issues with Internet connectivity.

A source at the Russian mission in New York says US authorities are citing technical issues as the reason for the cut-off. According to the source, however, a two-day delay in the resumption of telephone services is "unheard of". The diplomatic mission in the city has several telephone lines connected and all of them went dead at the same time, the source adds.
Meanwhile in terms of the strangeness of the timing, there's this bizarre continuing saga:
NBC News: The FBI has charged Riley Williams with her role in the Capitol riot.

The FBI says she told a former partner that she intended to take a laptop / hard drive stolen from Pelosi's office, ship it to Russia, where a friend would turn it over to the SVR — Russian intel. pic.twitter.com/OFW5LuABr2

— Tom Winter (@Tom_Winter) January 18, 2021
Sputnik notes further, however, that "This is not the first time the Trump administration takes actions against Russian diplomatic missions in the US. Back in 2017, Washington decided to close the Russian Consulate-General in San Francisco in response to the expulsion of American diplomats from Russia."