Online luxury sales at auction houses and other resellers are booming this year thanks to the virus pandemic keeping wealthy folks secluded at their countryside estates as they wait out the virus storm. 
Christie's auction house has recorded a monstrous 200% increase in the number of digital sales for luxury goods for November and December, reported Bloomberg. 
"This year, we've seen a 200% increase in the number of [online] sales," for November and December, said Caroline Ervin, ahead of e-commerce for Christie's jewelry department. 
Last year, in the same November/December stretch, Christie's only hosted four online luxury sales with sales estimated around $95 million. This year will be 12, with sales estimated to be around $40 million, a 322% increase. 
 "It's just a response to the market," Ervin said. 
Sotheby's, another auction house, is hosting live digital auctions through December. It said the year-over-year volume of online sales has already quadrupled and quintupled its total, which stands around $150.5 million. Of that amount, $79.7 million has been online jewelry sales – nine times greater than last year – and $41.95 million, or five times as much as 2019, for watch sales.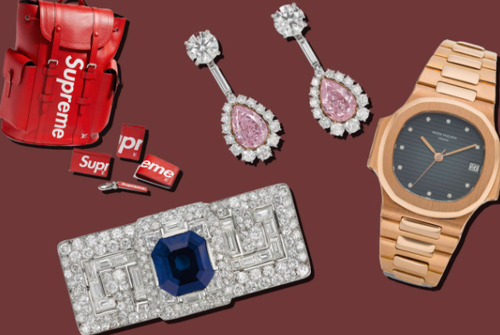 In less than one year, the traditional model of auction houses with a crowd of wealthy spectators bidding on luxury goods, such as fine art and wine, has been upended because of indoor capacity restrictions. The rich are becoming more comfortable in their countryside estates, bidding on expensive items on live auction sites, like Christie's and Sotheby's.
Another auction site for luxury goods, 1stDibs, which sells high-end furniture for interior design, fine art, and jewelry, has seen gross merchandise value rise year-over-year by 30% for the ten months since the beginning of the pandemic. 
In the last couple of months, David Rosenblatt, 1stDibs's chief executive officer, said there's been "an acceleration in growth" in terms of online auctions. 
Rosenblatt said it's not just the number of online auctions that have increased. He said buyers' price threshold had jumped as well. 
He added that gross merchandise value for sales of goods over $100,000 is up 60% year-over-year.
"Demand has risen for everything we sell," he said. 
Rosenblatt said wealthy people are willing to spend more than ever on online auction:
"Buyer behavior has changed dramatically, overnight. We've seen 10 years of digital adoption over the last 10 months."
At Christie's, Sotheby's, and 1stDibs, there are handbags, watches, and jewelry with price tags well over $100k. 
"This fall, leading up to these sales, we were having such a high sell-through rate that we've increased the number of lots offered," said Ervin. "Someone is increasing their buying for sure, because we're offering more lots, and we're still selling those lots."
As wealthy people benefit from the wealth effect of record high equities – hunkered down in their countryside estates – waiting for the virus pandemic storm to pass – everyone else is barely surviving with insurmountable debts, unable to pay rent, rising food insecurity, nevertheless, unable to find a job.