Overnight reports that 68-year old Russian President Vladimir Putin is set to unexpectedly step down early due to increasing debilitating health factors originated in the UK tabloid The Sun based in part on observations that he could be showing early symptoms of Parkinson's disease. 
"Observers who studied recent footage of Putin noted his legs appeared to be in constant motion and he looked to be in pain while clutching the armrest of a chair," The Sun reported late last night. "His fingers are also seen to be twitching as he held a pen and gripped a cup believed to contain a cocktail of painkillers."
However, responding to questions about the reports the Kremlin put out a statement Friday morning denying it. "No," Kremlin Spokesman Dmitry Peskov said in response when asked about revelations from the story. "He is in excellent health," Peskov added.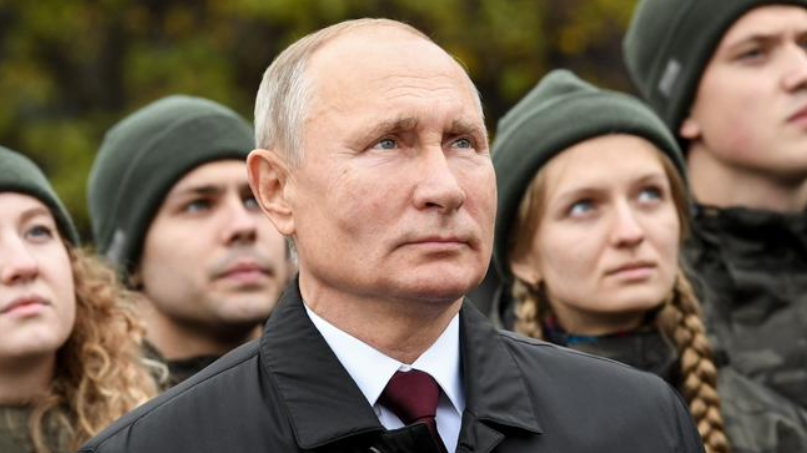 "There isn't much to comment on here," Peskov said specifically of The Sun's article. "This is pure nonsense. The president is well."
The initial claims were pushed in the media by a Moscow political scientist named Professor Valery Solovei, who underscored Putin is expected to retire as early as January at the urging of his family. Solovei had actually made similar claims back in 2016, which were also picked up in British media at the time. According to The Sun report:
The academic said he also understood Putin's undisclosed partner Alina was pressuring him to quit – along with his daughters Maria Vorontsova , 35, Katerina Tikhonova, 34.

Solovei said: "There is a family, it has a great influence on him. He intends to make public his handover plans in January".
What also fueled the speculation is that Putin introduced a new bill which would make his transition away from Russia's highest office immediately easier. The bill would both make him a senator for life and grant of life-long immunity from any kind of prosecution, coming as part of the previously announced major shake-up and reworking of the Russian constitution under Putin.
The early retirement claims made a huge international splash, while close Kremlin observers attributed the reporting to a heap of usual fake and hyped reports on Russia that tend to originate in the West.
Oh Jesus. US/UK media has diagnosed Putin with a serious illness again. This time Parkinson's disease.

Based on comments from Valery Solovey, a well-known Moscow-based conspiracy theorist.

This is akin to @RT_com citing Alex Jones to evaluate Joe Biden's health. pic.twitter.com/Js9ivRqTAJ

— Bryan MacDonald (@27khv) November 6, 2020
As it currently stands Putin's term ends in 2024, but for the past couple years it's been widely believed the constitutional reforms would actually bestow the possibility of even another term – essentially allowing Putin to stay in office for life if he desired. 
Interestingly, it doesn't appear the Kremlin denial included a specific or narrowed detailed refutation of of the Parkinson's claim in particular, though Peskov did refer overall to The Sun's reporting as "nonsense" while noting the "excellent health" of the president. Should there be any truth to the speculation – and at this point there's no real evidence or credible insider sources verifying it – it's likely Moscow would want nothing of it prematurely leaked out to the world especially given the current sensitivity of the timing as related to the still stalled US presidential election results.
No doubt Russia during this time of American vulnerability would want to project strength, and certainly Putin would want to convey power and confidence should there be transition in Washington to a Biden presidency, or for Trump's potential next term as well. But then again UK tabloids have been known to get a lot wrong, driven mostly by pure speculation and manufactured narratives and wishful thinking.