Authored by Alexander Zhang via The Epoch Times,
The UK may begin easing existing CCP virus lockdown measures in March if the vaccine roll-out goes to plan, Foreign Secretary Dominic Raab said on Sunday.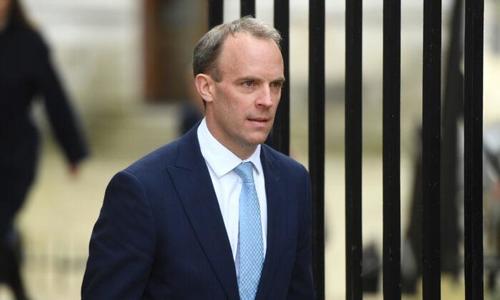 Talking to the BBC's "Andrew Marr Show," Raab said the government plans to vaccinate 15 million—or 88 percent—of those most at risk of dying from the CCP virus by Feb. 15, followed by another 17 million in early spring, which will protect 99 percent of those most at risk.
"I think it's true to say that when we get to a situation in the early spring, perhaps March, if we've succeeded in hitting those targets and we've made progress so far, we can start to think about the phased transition out of the national lockdown," he said.

"I think it's fair to say it won't be a 'Big Bang' if you like. It will be done phased, possibly, back through the tiered approach that we had before."
The UK adopted a three-tiered system of COVID-19 restrictions in October. The three tiers—medium, high, and very high—were categorized by the infection rates of the areas.
But soon afterward, Prime Minister Boris Johnson put the whole of England under a month-long national lockdown in early November, saying he had "no alternative" because the virus was spreading even faster than the worst-case scenario predicted by the government's scientific advisers.
When the lockdown ended on Dec. 2, many places in England were put in higher tiers than before the lockdown.
Less than three weeks later, the government created a new '"tier four" for London and southeast England, which was equivalent to the November lockdown, after detecting a new variant of the CCP virus which was said to spread faster than the old variant.
The current national lockdown began on Jan. 6, when Johnson said the local tiered system had failed to hold back a surge of the new mutant virus.
The UK has since tightened travel restrictions further, banning travellers from southern African countries, South America, and Portugal to prevent new variants first detected in South Africa and Brazil from entering the country.
The prime minster said on Friday that he will close all travel corridors with other countries on Monday "to protect us against the risk of as yet unidentified new strains."
There were newspaper reports on Sunday that ministers were considering adopting rules already in place in some Asian countries, which require incoming travellers to quarantine in hotels under supervision.
Asked if the government would adopt the measure, Raab said all potential measures are under review but "they've got to be workable."
"I think there is a challenge in its work abilities and deliverability, but we need to look at that very carefully based on the experience of other countries."