Authored by Paul Joseph Watson via Summit News,
UK Home Secretary Priti Patel has encouraged neighbors to snitch on each other to police if they see others violating COVID rules over the Christmas period.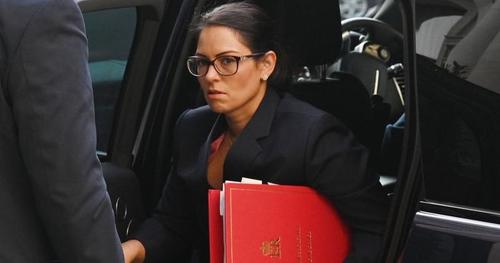 "Any individual that saw any laws being broken would take that upon themselves," Patel told BBC Breakfast.

"If I saw somebody flouting coronavirus regulations and the laws, of course I would look to inform the police about that."
She went on to add that both individuals and groups of people would continue to be targeted by police.
"The police will continue to enforce against people, individuals, egregious breaches that effectively risk spreading the virus…Nothing has changed on that and it's absolutely right that the police continue to do that," said Patel.
This is not the first time that British citizens have been encouraged to spy on each other's behavior and grass up wrongdoers to the authorities.
Policing Minister Kit Malthouse said anyone who saw behavior they believed to be in violation of the rules should contact the police, leading to charges that Malthouse was inciting Stasi-like behavior.
As we previously highlighted, a veteran in Wales was hit with a £1,000 after playing football with his own sons in the park, presumably after having been reported to authorities by an onlooker.
While Patel continues to insist that citizens should follow the rules and report those who don't, a member of her own party, MP Tobias Ellwood, was forced to apologize after attending a Christmas party in London for 27 guests.
Ellwood attended the event a day after saying people meeting over Christmas "could be very dangerous indeed" and cause a third wave of the virus.
*  *  *
New limited edition merch now available! Click here. In the age of mass Silicon Valley censorship It is crucial that we stay in touch. I need you to sign up for my free newsletter here. Support my sponsor – Turbo Force – a supercharged boost of clean energy without the comedown. Also, I urgently need your financial support here.