Reports about England possibly being hit with even more restrictive lockdown measures amid concerns that people aren't following the "Tier 4" restrictions closely enough are weighing on the pound Monday, while the world waits to see whether the most COVID-ravaged country in Western Europe will ratchet up restrictions even further.
According to the Telegraph, MPs are discussing rules banning people from different households who are not in the same "support bubble" from exercising together, a decision that would bring the restrictions more closely in line with the first lockdown in March.
On Sunday evening, Boris Johnson held a meeting with Cabinet colleagues during which they discussed whether the current lockdown rules were working to reduce spiraling coronavirus cases at a sufficient rate.
Earlier in the day, Michael Gove, the Minister for the Cabinet Office, chaired an emergency "COVID Zero" committee meeting which examined ways in which the lockdown could be "improved" via new and different restrictions.
Then, during a visit to one of 7 new vaccination centers opening in England on Monday, BoJo warned the UK would tighten the rules if it felt they weren't being obeyed.
If the current rules are followed, however, they could make a "huge difference" in suppressing the virus. But he added: "We're going to keep the rules under constant review. Where we have to tighten them, we will.
"It's now that people need to focus. When they're out shopping, whether they're buying cups of coffee in the park or whatever it happens to be, they need to think about spreading the disease. Now is the moment for maximum vigilance, maximum observance of the rules. Of course, if we feel that things are not being properly observed then we may have to do more."
The government will focus on whether the lockdown rules are working to reduce the outbreak at a sufficient rate, or whether additional rules should be added.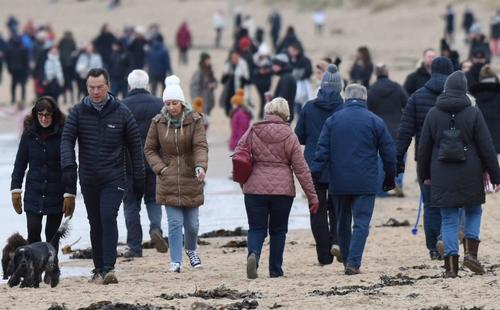 According to the Telegraph, the focus will be on supermarkets and offices, amid concerns that restrictions on mask wearing aren't being properly enforced in each environment.
Ministers are also considering hitting rule-breakers with larger fines, which they believe could help bolster compliance.
Johnson warned that the UK has arrived an an "extremely perilous moment" as deaths and new cases surge to unprecedented levels. The only good news in the UK is that roughly 2 million people have been vaccinated with about 2.4MM jabs, as the first people to get vaccinated are finally receiving their second jabs.
Meanwhile, in Wales, the health minister has called for people to wear a face mask while in "public places", whether they're outside, or inside, putting the constituent nation's rules at odds with advice from the central UK government.