In a far cry from last week's stellar long-duration auctions, moments ago the Treasury sold $24 billion in 20Y bonds (via a reopening of the 19-year-10-month Cusip ST6), in what was a decidedly subpar sale.
The auction stopped at a high yield of 1.657%, well above the 1.470% in December and a 1.4bps tail to the 1.643% When Issued, a disappointing result after last week's impressive "stop throughs", and the biggest tail since the 20Y returned in May.
The bid to cover dropped from 2.39 to 2.28, below the 2.36 six-auction average.
The internals were also disappointing, with Indirects rising from 56.3% to 59.7% but below the recent average of 61.8%. And with Directs taking down 14.5% Dealers were left with 25.7% of the final take down.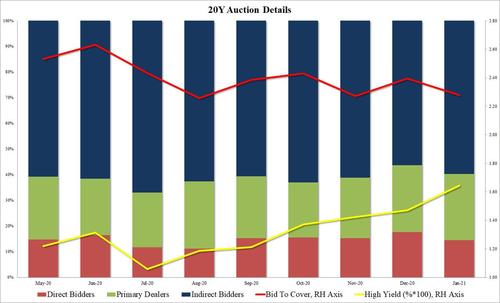 Overall, a very subpar auction, perhaps as a result of Janet Yellen mentioning the 50Y auction yesterday, yet it is probably not indicative of demand across the curve just the longest maturities. For more information check in the first week of March when the auction cycle resets again.