A detailed investigative report by Reuters has found Washington-ally United Arab Emirates has been helping Maduro's Venezuela skirt sanctions which the Trump administration has used as pressure for regime change. 
The UAE is alleged to have stepped up its sanctions-busting activities as a major "hub" allowing Venezuela to export its oil, especially after a half dozen tankers under well-known firms were hit by Washington sanctions in June. 
Here's what happened quickly in the wake of those targeted sanctions: "Within weeks, a little-known company based in the United Arab Emirates took over management of several tankers that had been shipping Venezuelan oil. The vessels got new names. And then they resumed transporting Venezuelan crude," according to Reuters.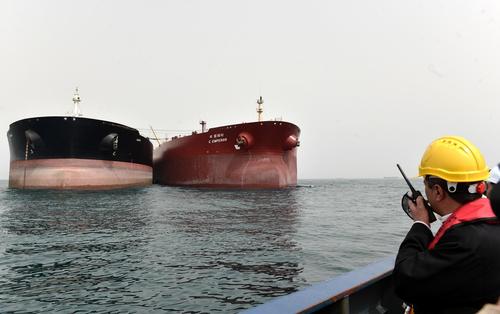 While Russia has remained a major buyer of Venezuela's crude, this is the first time it's been revealed that a crucial Gulf ally has been quietly assisting in defying US sanctions meant to choke off Caracas' revenue from the trade. This is nothing too surprising for those familiar with the Turkey-Iran gas for gold scandal revealed in 2013.
Here's what Reuters found as part of its investigation:
The company, Muhit Maritime FZE, is one of three UAE-based entities identified by Reuters that have shipped Venezuelan crude and fuel during the second half of this year. Their role emerges from an examination of internal shipping documents from Venezuela's state oil company as well as third-party shipping and vessel tracking data. Tankers managed by the firms have transported millions of barrels of oil produced by state-run Petroleos de Venezuela SA, or PDVSA, since June, according to the internal documents and a publicly available shipping database.
It demonstrates the trend that the moment a particular tanker or company is targeted by US punintive action, there are others immediately ready to fill the void. Three companies in total are named as part of the UAE-based scheme in the report: Muhit Maritime, Issa Shipping FZE and Asia Charm Ltd.
In many cases when a new unknown buyer of Venezuelan crude emerges it's often assumed to be a Russian-based firm. But the report's findings suggest other international buyers are fast emerging who are taking risky steps to conceal ownership, as Reuters underscores, "Now, a similar pattern is emerging with companies involved in transporting the oil."
Each week, we discover sophisticated methods to hide oil shipments, but this week the prize goes to ALSATAYIR (IMO 9308845), an Aframax crude oil tanker that is about to load 700K barrels of oil in Venezuela. All they did was paint over "AL" and "YIR". #OOTT🏆 pic.twitter.com/huWTMCOKRu

— TankerTrackers.com, Inc.⚓️🛢 (@TankerTrackers) December 29, 2020
A UAE government statement appeared to confirm the contents of the new report:
The UAE government said in a statement that "a thorough and comprehensive investigation is fully underway into" Muhit Maritime, Issa Shipping and Asia Charm. That includes using recent legislative changes "designed to improve corporate transparency through a framework for reporting and registering beneficial ownership," it said.

"The UAE takes its role in protecting the integrity of the global financial system extremely seriously. This means actively administering and enforcing economic and trade sanctions," the government added.
As for the US, the State Department said in response: "We are closely tracking these kinds of creative efforts by companies to evade sanctions."
And responding specifically to UAE-registered firms engaged in the transport of Venezuelan oil, the US said further that it's fully aware of the many shell companies being used by various entities. "Those behind shell companies would not be wise to consider themselves shielded from sanctions," the statement said.