Given everything else going on in a news cycle dominated by last week's Capitol Hill mayhem and Pelosi's push to impeach, there's been little notice given to the perhaps unexpected Trump administration declassification of a highly sensitive national security document that lays out the White House's strategy for countering China.
It was made public late in the day Tuesday, already generating headlines in Japan, Australia and other regional publications, even while major US media is relatively silent. Previously classified SECRET and not for release to foreign nationals, it details the Trump administration's strategy for the Indo-Pacific region, including to defend, dominate, and deny Chinese military expansion. 
In releasing the full text, minus a few minimal redactions, the document has been made public a full thirty years early (according to standard declassification and public records procedures). National security adviser Robert O'Brien said in a statement announcing its public release that it provides "overarching strategic guidance" for US forces in the region and "demonstrates, with transparency, America's strategic commitments to the Indo-Pacific and to our allies and partners."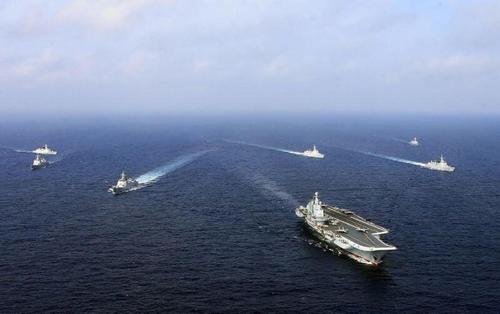 The ten page document identifies the following as a top national security challenge: "How to maintain U.S. strategic primacy in the Indo-Pacific region and promote a liberal economic order while preventing China from establishing new, illiberal spheres of influence."
A central means in achieving this is to "devise and implement a defense strategy capable of, but not limited to":
denying China sustained air and sea dominance inside the 'first island chain' in a conflict;
defending the first island chain nations, including Taiwan; and
dominating all domains outside the first island chain.
These are among the most blunt strategic actions spelled out in the document that are sure to provoke the ire of Beijing and PLA military leadership.
The #US has declassified a report outlining its strategy in the Indo-Pacific region, focusing on countering #Chinese dominance, including providing support to the #Taiwanese government. For background on #China–#Taiwan tensions (and the US role), read: https://t.co/gJut3CIBKN pic.twitter.com/rxB2ZNZ0zF

— TRT World Research Centre (@TRTWorldRC) January 13, 2021
Here's what Rabobank had to say of the newly released Trump strategy:
To say that this will not go down well with China, or that China will not be happy that Australia and Japan helped drive this, is an understatement.

Of course, we now have the Biden administration: will there be a reversal of the parting of the ways? Consider the following Axios story, which certainly shows just how near the two have been up until now: "President-elect Joe Biden's inaugural committee will refund a donation from former Senator Barbara Boxer after the California Democrat registered as a foreign agent for a Chinese surveillance firm accused of abetting the country's mass internment of Uighur Muslims."
Concerning key US regional partners the document calls for the US to "accelerate India's rise and capacity to serve as a net provider of security", implement "a quadrilateral security framework with India, Japan, Australia, and the United States" and further deepen "trilateral co-operation with Japan and Australia".
While pushing to keep US "diplomatic, economic, and military preeminence" in the region, it calls for the US to "align our Indo-Pacific strategy with those of Australia, India and Japan" as well as "a strengthened Association of Southeast Asian Nations" to counter Chinese influence.
US has declassified 2018 vintage of Indo-Pacific strategy
• Narrative was already (to an almost obsessive point) centred around China (and to a lesser extent Korean peninsula)
• Lot of emphasis on need for partnership with India, much less with Japan and South Korea pic.twitter.com/Td63mPm9bq

— Agathe Demarais (@AgatheDemarais) January 13, 2021
It's being met with mixed reactions among China watchers and geopolitical analysts. One critic who cites the good and bad for America's regional allies – particularly Australia – is Rory Medcalf, the head of the National Security College at the Australian National University:
"This means steady support for allies and partners, rather than the pursuit of some shaky all-round U.S. primacy," he said.

Some, however, said they saw little new in the document or how it would reassure American allies. Skeptics said that the decision to declassify now is an obvious push for policy continuity amid concerns that a Biden administration may not yet be committed to challenging China's bid for dominance as strongly as Trump.

"It would be one thing if there was a secret unified field theory that explained the caprice of Trump's Asia policy, but this is just a bunch of banal, bureaucratic buzzwords," said Van Jackson, a senior lecturer in international relations at Victoria University of Wellington. "The generous interpretation is that the administration is trying to tie Biden's hands by releasing this now, but it seems like a poor strategy because there's nothing in it that would constrain Biden."

But Medcalf said the declassified framework would have enduring value as the beginning of a whole-of-government blueprint for handling the U.S. strategic rivalry with China.
Medcalf noted further that "It's surely no bad thing to salvage the few achievements of an otherwise grim era in American foreign policy, while laying down some markers for the incoming administration," according to The Japan Times.
Meanwhile, Joe Biden has previously vowed that his administration would "get tough" on China, likely also through shoring up regional alliances akin to what's emphasized in the document. Trump has up to now tried to box the new administration in on China. No doubt the release of this strategy document is in part another significant step in piling on the pressure both in regards Biden's foreign policy team and Beijing.