Bond yields, bitcoin and small cap stocks surged while tech stocks and the dollar tumbled on Wednesday on the prospect of more stimulus and tougher tech regulation if Democrats take control of the U.S. Senate following a run-off election in Georgia. Stocks in Europe rose and those in Asia were mixed as traders digested what's next for global politics. Despite all the turmoil, S&P futures were surprisingly flat, trading down just -0.2% at last check.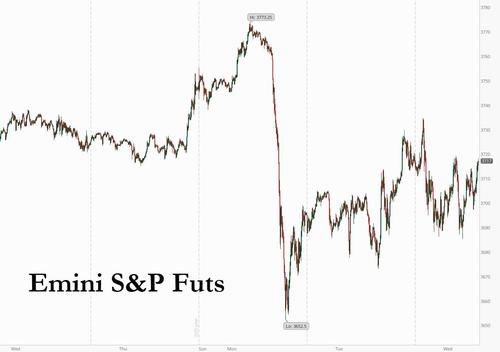 The real action however was below the surface with Nasdaq futures sinking 1.5% with Apple, Microsoft, Intel and Cisco all falling up to 2% or more in U.S. pre-market trading as investors priced in the prospect of a Democrat-controlled Senate that could lead to tighter regulations on technology mega-caps…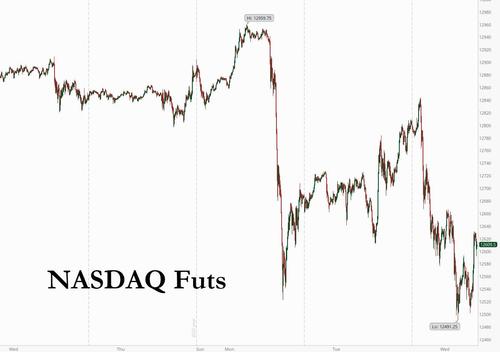 … however, with a flood of new reflationary stimulus on deck, small caps soared with Russell futures hitting a new all time high.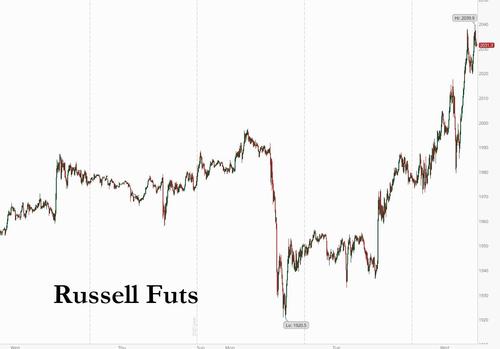 "The market is pulling in implications of what a Democrat win would mean for the economic recovery," said Peter Rosenstreich, head of market strategy at Swissquote Bank. "Expected increase in fiscal stimulus and infrastructure spending would bode well for cyclical or growth stocks. Tech stocks may not benefit as much, and that may have something to do with their stretched valuations."
Bets on more stimulus pushed 10Y Treasury yields above 1% for the first time since March as investors rotated out of technology and into cyclical stocks. German bond yields followed Treasuries to hit their highest in almost five weeks.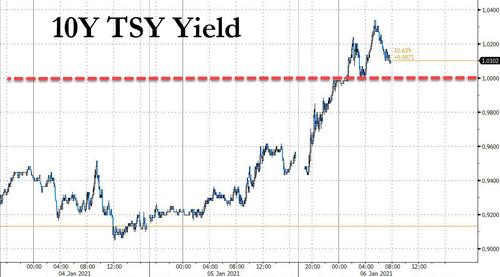 "The market is pretty much responding as you would expect in terms of the probable Democrat victory, the 10-year being the biggest standout," said Derek Halpenny, MUFG's head of research for EMEA global markets, pointing to the inflationary impact of more stimulus.
In Treasuries, if lawmakers approved additional stimulus spending, it would mean more bond issuance and higher yields on longer-maturity Treasuries. Traders now see U.S. inflation averaging just over 2% per year over the coming decade, the highest level since 2018. But for the stock market, there's a risk that a unified, Democrat-controlled Congress would portend higher corporate taxes and more regulation. Technology companies dominate U.S. benchmarks, giving the industry an outsized importance.
"What looks like good news for the U.S. economy is probably bad news for the relative performance of U.S. stocks," said Paul O'Connor, head of multi-asset at Janus Henderson Investors.
* * *
For those who missed last night's action, Raphael Warnock, a Baptist preacher from the church of Martin Luther King Jr., beat Republican incumbent Kelly Loeffler to become the first Black senator in the history of the deep South state. Jon Ossoff, a documentary filmmaker who at 33 would become the Senate's youngest member, held a narrow lead over incumbent David Perdue in the other race, with a final outcome not expected until later on Wednesday at the earliest. At last check, the two were locked in a dead heat with some absentee votes yet to be counted and as many as 17,000 military and overseas ballots due by Friday.
Along with a narrow majority for Democrats in the House of Representatives, a "blue sweep" of Congress could usher in larger fiscal stimulus and pave the way for President-elect Joe Biden to push through greater corporate regulation and much higher taxes.
Analysts generally assume a Democrat-controlled Senate would unleash a debt tsunami and thus be positive for economic growth at least in the short term, while boosting reflationary assets, and negative for duration assets such as bonds as well as the dollar as the U.S. budget and trade deficits will explode.
"A Democrat clean-sweep should lift expectations for U.S. growth, with fairly obvious consequences for bond yields," said Paul O'Connor, head of multi-asset at Janus Henderson Investors. "For equities the implications are more complicated, with the anticipated GDP boost being somewhat offset by the prospect of higher taxes and greater regulatory intrusion."
World stocks gained 0.28%, towards recent record highs, and European stocks rose 0.87%. European equities rallied after a choppy start, with the Stoxx 600 rising 0.9%, and the FTSE 100 markedly outperforming with gains of ~2.3%. Banks, oil & gas and construction names are the best performers. European tech sector lagged as Nasdaq futures extend Asia's losses, snapping through Monday's lows.
Asia's benchmark stock gauge swung between gains and losses as traders awaited the outcome of Senate runoff elections in Georgia, with the broader MSCI Asia Pacific Index little changed after an eight-day winning run. Equities in Southeast Asia and Australia were among the biggest losers. Benchmarks in the Philippines and Indonesia slid more than 1% on concerns over a potential resurgence in coronavirus infections and tighter government control measures. "Markets are letting go gains as races in Georgia are running tight, creating much political uncertainty that markets tend to dislike," said Margaret Yang, a strategist at DailyFX. "If Republicans win one of the two seats, it may hinder Biden's ambition to push through a larger stimulus plan and infrastructure projects." Technology and health care were the biggest losers among industry groups in Asia. Energy was the best-performing sector after Saudi Arabia surprised the market with a large cut in crude production. Chinese stocks rose. Internet giants Tencent and Alibaba climbed in Hong Kong, shrugging off President Donald Trump's order banning U.S. transactions with eight Chinese software apps. In South Korea, a bout of foreign selling saw the benchmark Kospi index reverse early gains that propelled it beyond the 3,000 mark for the first time
In response to the imminent Blue Sweep and resultant money printing bonanza, cryptos exploded and Bitcoin traded above $35,000 for the first time in Asia on Wednesday, rising to a high of $35,879 and extending a rally that has seen the digital currency rise more than 800% since mid-March. The world's most popular cryptocurrency crossed $20,000 for the first time ever on Dec. 16.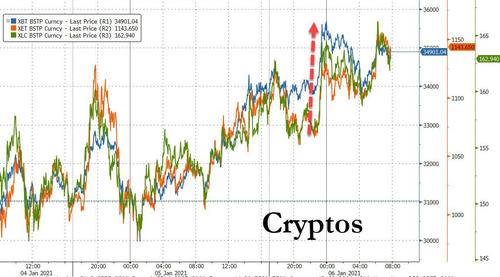 In rates, treasury futures rose off lows for the day, although cash curve broadly hold sharp bear-steepening move after Democrats captured one seat in the Georgia runoff elections and await results on the remaining seat to secure a narrow majority. Treasury 10-year yields peaked at 1.034%, cheapest since March before settling back down to around 1.01% into early U.S. session, still cheaper by more than 5bp vs Tuesday's close. The long- end led selloff aggressively steepened the Treasuries curve with 2s10s wider by nearly 5bp, 5s30s more than 3bp. Bund and gilt curves also bear steepened. Long-end treasuries traded ~4bps cheaper to bunds, 3bps cheaper to gilts. Peripheral spreads are marginally wider to core.
In FX, the dollar erased an intraday gain to fall 0.2% with the Bloomberg dollar index printing fresh lows for the week. "Underlying weakness of the greenback stays in place," said Toshiya Yamauchi, chief manager for foreign-exchange margin trading at Ueda Harlow Ltd. in Tokyo. "The market needs to confirm the results of Georgia's elections to determine trend of the dollar."
The euro rose to as high as $1.2344, a level last seen in April 2018, while the yen hit a 10-month high of 102.57 to the dollar. The dollar hit its lowest in nearly six years against the Swiss franc. G-10 ranges are relatively narrow, but the broader trend of dollar weakness persists. NOK, AUD and NZD top the G-10 scoreboard. TRY rallies 0.8% against USD to lead gains in EM FX.
In commodities, oil prices extended gains, rising to their highest since late February, after Saudi Arabia announced a big voluntary production cut, and as an industry report showed U.S. inventories fell last week. WTI futures rose to a high of $50.45 a barrel before trimming gains, having climbed 5% on Tuesday. Brent crude futures rose 0.49% to $53.86. Spot gold drifted higher, stalling near $1,959/oz. Base metals are in the green; LME copper outperforms with a ~1.8% gain.
Looking at the day ahead, the highlight will be the aforementioned joint session of Congress to count the electoral votes from the US presidential election. Otherwise, data highlights include the services and composite PMIs from Italy, France, Germany, the Euro Area, the UK, Brazil and the US, along with the preliminary CPI reading for December from France and Germany, as well as US data on November factory orders, and the ADP's December employment report. Finally from central banks, the FOMC will be releasing their December meeting minutes, and Bank of England Governor Bailey will be speaking before the Treasury Select Committee.
Market Snapshot
S&P 500 futures down 0.3% to 3,708.25
Brent futures up 1.7% to $54.49/bbl
Gold spot up 0.3% to $1,956.57
U.S. Dollar Index down 0.2% to 89.30
Top Overnight News from Bloomberg
Democrats' hopes of taking control of the U.S. Senate hung in the balance
Almost two months after President Donald Trump said he's cutting off U.S. investment in companies tied to China's military, confusion reigns on Wall Street over how to interpret his order. One certainty: Savers are losing billions
Saudi Arabia surprised the market with a large cut in crude production, an assertion of primacy over the global oil industry that came directly from the kingdom's de-facto ruler
Quick look at key markets courtesy of Newsquawk
Asian equity markets traded cautiously with markets fully focused on the Georgia Senate Run-off results which has been a close contest in which the Democrat candidates have led for most the day which saw an early bout of weakness in US equity futures as some began to price in a potential blue wave and increased prospects of higher corporation tax, as well as tougher regulations on large tech, but with price action limited given that the race was still too close to call. ASX 200 (-1.1%) weakened with tech leading the broad declines across nearly all sectors aside from energy which benefited from the OPEC+ agreement whereby Russia and Kazakhstan are to raise output by a total of 75k bpd in February and another 75k bpd in March, which Saudi Arabia have overcompensated for with a voluntary 1mln bpd cut. Nikkei 225 (-0.4%) was tentative heading into the state of emergency decision due tomorrow with Japan said to eye a 1-month emergency for the Tokyo region and KOSPI (-0.7%) was initially buoyed after breaching the 3,000 level for the first time ever but then succumbed to the widespread caution. Hang Seng (+0.1%) and Shanghai Comp. (+0.6%) were indecisive with sentiment not helped after US President Trump signed a fresh executive order banning transactions with 8 Chinese software applications including Ant Group's Alipay and Tencent QQ, while NYSE flip-flopped again and is reportedly considering reverting to the original plan for the delisting of Chinese telecom giants if they are confirmed to be part of the executive order banning firms with links to Chinese military. Finally, 10yr JGBs were subdued with price action stuck around the 152.00 focal point amid tepid 10yr JGB auction results which were mostly in line with the prior and alongside pressure in T-notes as the 10yr yield breached 1% with markets beginning to price in chances of a blue sweep which would increase prospects for greater stimulus measures and bond issuances.
Top Asian News
Gulf Arabs Agree to Restore Qatar Ties But No Word on OPEC Role
WHO Issues Rare Rebuke to China for Delaying Virus Team
Indonesia Tightens Curbs in Java, Bali as Hospitals Fill Up
Trump Targets Ant's Alipay, WeChat Pay in Latest App Bans
Cash bourses in Europe trade higher across the board (Euro Stoxx 50 +0.9%) following on from a relatively mixed APAC session, but focus has very much been on the US Georgia Senate run-offs in order to determine the limits of the incoming Biden admin policy via Congress. Democrats are now set to control Congress in what marks a blue-sweep after Democrat Raphael Warnock and Jon Ossoff were called by major news outlets in early European hours. That would leave the split in the upper house at 50/50, giving Vice President(-elect) Harris the tie-breaking vote in the event of a deadlock – full analysis available here. In terms of implications for stock markets, markets bid up value vs growth as portrayed by the tech-heavy NQ (-1.7%) posting losses of almost 2% and the value-driven RTY (+1.3%) gaining almost 2% at one point – with the former also bearing the brunt of more stringent regulations in large-tech alongside the reflationary play from prospects of further stimulus. For context, the pre-market sees losses among Apple (-1.8%), Amazon (-1.9%), Google (-2.1%), FB (-2.4%), Netflix (-1.9%) whilst Tesla (+2.1%) sees gains on climate policy hopes. Back to Europe, gains in a post-OPEC Energy sector and Banks (amid the high yield environment) tower other sectoral performances, with the FTSE 100 (+1.4%) benefiting from the firm upside in two of its heaviest sectors. The IT sector meanwhile lags amid value being favours and alongside follow-through from the pre-market performance in tech behemoths. In terms of individual stories, the Travel & Leisure sectors warmly received reports that airlines flying into the UK will be made to ban passengers from boarding the aircraft if they do not have a negative COVID-19 test within a 72-hour window of departure – thus narrowing the chances of further cross-country travel bans.
Top European News
LSE Calls for Overhaul of Rules to Boost Listings, FT Says
In FX, any semblance of support or even upside impetus from higher Treasury yields has been swept aside along with the Democratic tide that is heading for Congress after the Georgia state run-offs that seem destined to result in Republican defeats, albeit by narrow margins. Indeed, the Greenback has fallen further amidst more almost all round selling on the same multiple reflation, fiscal and global growth regeneration factors that have been prevalent ever since polls predicted a landslide Biden victory in the 2020 Presidential Election and clean Blue sweep. However, the DXY has clambered of fresh multi-year lows and is holding above 89.000 within a 89.644-219 range ahead of ADP, the non-manufacturing ISM and FOMC minutes.
NZD/AUD – A new day draws to a close down under, but the Kiwi and Aussie have both probed different round number levels vs their US counterpart and swapped places in the pecking order as Aud/Nzd tops out above 1.0700 again in wake of slowdowns in Aussie and Chinese Caixin services and composite PMIs. Nzd/Usd is now hovering just shy of 0.7300 and Aud/Usd around 0.7800 awaiting more independent direction via trade and housing data on Thursday.
EUR – The next best major or benefactor of Buck weakness rather than anything Eurozone specific, as the Euro reclaims 1.2300+ status and eyes 1.2350 to the upside as opposed to decent option expiry interest at the 1.2300 strike (1.1 bn). In fact, Eurozone services PMIs and composites were largely underwhelming and German state CPIs still soft, while there is the spectre of another Italian political debacle following tomorrow's coalition cabinet showdown – check out the headline feed at 9.38GMT for a primer.
CHF/GBP/CAD – All moderately firmer against the US Dollar as the Franc extends gains through 0.8800 towards 0.8760, Cable rebounds firmly from sub-1.3600 irrespective of the effective UK national lockdown and economic repercussions, and the Loonie consolidates post-OPEC+ gains alongside crude circa 1.2650 in the run up to Canadian trade and Ivey PMI releases on Thursday.
JPY – The G10 laggard as emergency status in Tokyo is extended following another record rise in daily cases of the coronavirus in Japan, while less contractionary PMIs were somewhat offset by a deterioration in consumer confidence. Usd/Jpy is still below 103.00 and looking technically weak nonetheless having tested 102.60.
SCANDI/EM – Eur/Nok has now managed an oil-powered breach of 10.4000 with additional momentum from firmer Norwegian credit and house prices, but Eur/Sek is still finding 10.0000 tough to overcome. Elsewhere, very familiar prudent, targeted and flexible monetary policy pledges from the PBoC have not really impacted the Cnh or Cny that are pivoting 6.4400 and 6.4500 respectively, but the Zar continues to underperform near 15.0000 post a fragile barely 50.0+ SA PMI and pre-stage 2 load shedding by Eskom.
In commodities, WTI and Brent front-month futures continue grinding higher in early European trade following somewhat of an overnight pause in the aftermath of the OPEC+ meeting. To recap, Russia and Kazakhstan will increase output by 75k BPD due to seasonality, but Saudi Arabia surprisingly announced it that will make additional, voluntary oil output cuts of 1mln BPD in February and March as a pre-emptive measure and has not asked any other country to join in. Oil prices unsurprisingly cheered the news with Brent almost hitting USD 54/bbl in the immediate aftermath, with prices also underpinned by a larger-than-expected draw in Private inventories (-1.7mln vs exp. -1.3mln). That being said, it begs to be asked what Saudi's demand outlook is for the complex in order to voluntarily provide cuts of this magnitude. Nonetheless, the crude complex has continued to grind higher in European trade with Brent now eyeing USD 54.50/bbl to the upside. Elsewhere, precious metals trade on a firmer footing amid the reflationary play coupled with a softer Buck, with spot gold extending gains north of USD 1950/oz (vs. low USD 1941/oz) and spot silver inching closer to USD 28/oz (vs. low USD 27.205/oz). Finally Shanghai copper rose to the highest in almost eight years amid the hopes of swifter US stimulus coupled with the weaker Dollar. US Private Energy Inventories (bbls): Crude -1.7mln (exp. -1.3mln), Cushing +1.0mln, Gasoline +5.5mln (exp. +0.6mln), Distillate +7.1mln (exp. +2.4mln).
US Event Calendar
7am: MBA Mortgage Applications
8:15am: ADP Employment Change, est. 75,000, prior 307,000
9:45am: Markit US Services PMI, est. 55.2, prior 55.3; 9:45am: Markit US Composite PMI, prior 55.7
10am: Factory Orders, est. 0.7%, prior 1.0%; Factory Orders Ex Trans, prior 1.0%
10am: Durable Goods Orders, est. 0.9%, prior 0.9%; Durables Ex Transportation, est. 0.4%, prior 0.4%
10am: Cap Goods Orders Nondef Ex Air, prior 0.4%; Cap Goods Ship Nondef Ex Air, prior 0.4%
2pm: FOMC Meeting Minutes
DB's Jim Reid concludes the overnight wrap
Overnight the big news is the preliminary results of the two Georgia Senate runoff elections that will decide which party controls the Senate for the next two years. With 98% of the vote in, initial indications point to both Democratic candidates – Raphael Warnock and Jon Ossoff – winning their races, making Vice President-elect Kamala Harris the tie breaking vote in a 50-50 Senate. The New York Times model, which takes into account likely leanings of outstanding votes (the majority of which are in heavily Democratic counties), gives Warnock and Ossoff over a 95% chance of winning the two elections, while betting markets have followed suit. This would give Democrats control of the White House and both chambers of Congress, allowing President-elect Biden to enact more of his agenda. Such a result would make moderate Democratic Senators such as West Virginia's Manchin and Montana's Tester the likely swing votes in the Senate. Our US economists have indicated that a Democratic Senate would likely lead to another large fiscal stimulus package, possibly including some priorities of the new Administration such as infrastructure. They see that as a material upside to their GDP forecast, which they currently see rising 4.3% Q4/Q4 in 2021. Markets seem to be pricing in some of the election effects as well overnight with S&P futures falling -0.54%, while the USD has rallied slightly (+0.09%), but the bigger move is in US Treasuries. 10yr USTs are up +4.2bps to within touching distance of 1.0% for the first time since March.
Asian markets are also trading largely lower this morning with the Nikkei (-0.39%), Hang Seng (-0.39%) and Shanghai Comp (-0.17%) all down while the Kospi is posting a modest gain of +0.03%. The decline in the Hang Seng and Shanghai Comp is coming against the backdrop of sweeping arrests, including an American lawyer, under a national security law in Hong Kong. Local media reported that some 50 people were arrested and Antony Blinken, Biden's nominee for secretary of state, said in a tweet that "The Biden-Harris administration will stand with the people of Hong Kong and against Beijing's crackdown on democracy." Meanwhile, President Donald Trump signed an executive order overnight banning US transactions with eight digital Chinese payment platforms including Ant Group Co.'s Alipay.
We also saw the final Asian December services and composite PMIs overnight which showed a modest improvement for Japan relative to the flash print with services at 47.7 (vs. 47.2) and the composite at 48.5 (vs. 48.0). Meanwhile, China's Caixin services PMI was softer at 56.3 (vs. 57.9 expected) bringing the composite down to 55.8 (vs. 57.5 last month). Australia's final prints for services (57.0 vs. 57.4) and the composite PMIs (56.6 vs. 57.90) were also a touch softer.
We have the rest of the global services PMIs today and their direction over the next few months will heavily rely on the vaccine roll-out. On this, we are generally quite optimistic on the logistics, even if there will be inevitable early teething problems, as many countries already have annual flu jab logistics in place. This will especially help those heavily using the Oxford/AZN vaccine which can be stored in a fridge like the flu vaccine. The U.K. could be the real trailblazer here as they are the first to use the Oxford jab and have one of the highest flu vaccination rates in the world. Yesterday we did a CoTD that showed global vaccination rates in the latest available flu season for over 65s. The U.K. and US are close to 70% and in the top three on this measure of the 31 countries we had data for. See the CoTD here.Yesterday the U.K. announced that it had now vaccinated over 1.3 million people of which around half were over 80 year olds taking the total to 23% of this cohort. Given the average age of covid fatalities is just over 80 we will surely see the impact of this in the fatality numbers over the next few weeks. The U.K. also announced that on official estimates as many as 2% of the population currently have covid (around 1.1m). So the U.K. is a contradiction between being the worst current breeding ground for the virus in the developed world, but potentially being the first (in at least the G20) to get herd immunity. See the table below for the latest vaccination numbers. We've shaded the countries with updated data over the last 24 hours.
Ahead of the results from Georgia, US equities stabilised yesterday following their poor start to the year, with the S&P 500 gaining +0.71% and the NASDAQ up a greater +0.95%. 20 of the 24 industry groups in the index were higher on the day, led by a sharp rise in energy stocks and material stocks as the reflation trade was back on. The anticipation of potential further stimulus and a strong print in the ISM manufacturing reading led to a selloff in rates, and by the close, yields on 10yr Treasuries were up +4.2bps to 0.955%. There was also a notable steepening in the yield curve too, with the 2s10s up +3.6bps at a 3-year high, which is a positive sign if you value the yield curve as a cyclical indicator. On the same theme, inflation expectations continued to rise as 10yr breakevens hit a fresh 2-year high of 2.03%. This rise in inflation expectations was given a bit of an implicit blessing from Fed President Mester, who said yesterday that the Fed may need to be more accommodative to get prices up to 2% and that she would not be "upset" if inflation rose to 2.5%. The latter comment showing how the central bank is embracing the new framework of average inflation targeting.
Against this backdrop, the dollar index declined further yesterday, falling another -0.48% to a fresh two-and-a-half year low. But the bigger moves were taking place in oil markets, where Brent crude (+4.91%) and WTI (+4.85%) both climbed to post-pandemic highs of $53.60/bbl and $49.93/bbl respectively, thanks to the news from the OPEC+ meeting that Saudi Arabia would make a voluntary cut in oil output of 1 million barrels a day in February and March. The move is seen as a preemptive strategy against further global lockdowns dampening demand through the end of the winter in the Northern hemisphere. Energy stocks responded positively to the news as mentioned, with the STOXX Oil & Gas index in Europe (+3.62%) and the S&P 500 energy group (+4.53%) rallying following the reports.
Back on US politics, today is actually another important one in the calendar because a joint session of Congress will be taking place later to formally count the Electoral College votes and declare the winner of the presidential election. Normally this is a procedural matter, but this year some Republican members in both the House and Senate have said they intend to object to the certification in a number of states. In practice, this won't have any effect, since the Democrats control the House and numerous Republican Senators have also objected to the plan, but it will cause a delay in what is normally a fairly swift process as members in both chambers vote on the proposals. Vice President Pence will preside over the joint session but it is largely a ceremonial role, and it is unlikely he will be able to affect the outcome.
On the coronavirus, further lockdown measures were announced yesterday across a number of European countries to deal with the continued rise in cases. In Germany, the government extended the country's lockdown until January 31, as expected, following a meeting between Chancellor Merkel and state premiers yesterday. Lockdown rules were also tightened in regions, with limits to nonessential travel and curbing private gatherings to just one person from another household, with children no longer exempt from the rules. Meanwhile both Italy and Ireland extended a number of their own restrictions, with the former implementing a "two guests per household" rule and the latter closing manufacturing and construction sites. Residents of Denmark saw the limit on public gatherings reduced from 10 to 5. Over in the UK, Chancellor Sunak announced a fresh £4.6bn package of measures to help businesses through the new lockdown announced on Monday.
With new lockdown measures being imposed in Europe, the equity moves were more muted, and the STOXX 600 fell -0.19%. In some countries where restrictions were tightened, bourses fell further such as the German DAX (-0.55%) and the Italian FTSE MIB (-0.52%). That said, European markets were catching up with the US selloff the previous evening, and in rates there was a similar move to the US, with 10yr bunds (+2.7bps), OATs (+3.0bps) and gilts (+3.6bps) all seeing yields move higher.
Looking at yesterday's data, the ISM manufacturing reading in the US unexpectedly rose to 60.7 in December (vs. 56.8 expected), which was its highest reading since August 2018. The production index also rose to its highest since 2011, at 64.8, while new orders were up to 67.9 as well. ISM Factory prices paid came in at 77.6 (vs. 65.4 expected), which is the highest reading since Spring 2018 and up from the pandemic low of 35.3 in April. Outside of three months in 2018, the price paid index has not been this high since 2011. Other data similarly surprised to the upside, with German unemployment falling by a stronger than expected -37k (vs. +10k expected) in December, as November retail sales rose by +1.9% (vs. -2.0% expected).
To the day ahead, and the highlight will be the aforementioned joint session of Congress to count the electoral votes from the US presidential election. Otherwise, data highlights include the services and composite PMIs from Italy, France, Germany, the Euro Area, the UK, Brazil and the US, along with the preliminary CPI reading for December from France and Germany, as well as US data on November factory orders, and the ADP's December employment report. Finally from central banks, the FOMC will be releasing their December meeting minutes, and Bank of England Governor Bailey will be speaking before the Treasury Select Committee.