By Tyler Durden
Indoor dining is banned; offices are empty; city dwellers are fleeing the metro area. 
The virus pandemic has deeply scarred New York City's economy that will have long-lasting effects. Many small- and medium-sized firms, entire industries, and livelihoods continue to unravel as the economic toll continues to rise nearly one year after the pandemic began.
Bloomberg reports the Bronx's unemployment rate stands around 16%, which is much higher than the national average of 6.7%. The virus-induced downturn could result in at least 33% of the city's businesses going under as the vaccine rollout has been incredibly slow.
"It is really going to be tough still in the coming months," said Tim Tompkins, former head of the Times Square Alliance, which hosted its annual New Year's Eve celebration without the public for the first time in more than a century.
Jobless rates across all five of the city's boroughs remain stubbornly high but off the highs seen in June.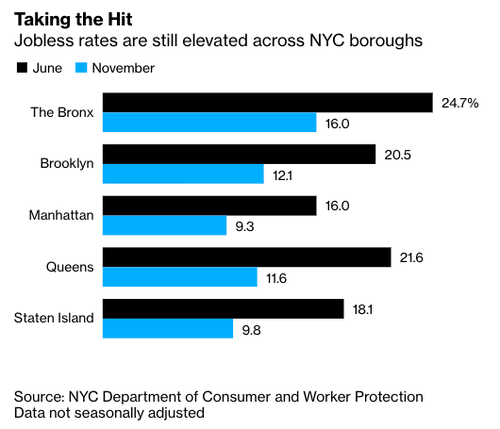 New Yorkers shouldn't be shocked if a multi-year economic downturn unfolds.
"This is an event that struck right at the heart of New York's comparative advantages," Mark Zandi, the chief economist for Moody's Analytics, recently said. "Being globally oriented, being stacked up in skyscrapers and packed together in stadiums: the very thing that made New York the pandemic undermined New York, was upended by it." 
Zandi said while the US economy "will be a long slog" from here, with estimates of a downturn lasting until 2023 – New York might not experience a recovery until 2025.
Zandi said NYC's recovery could take two years longer than the rest of the country as the virus-induced downturn has severely damaged five key industries – restaurants, hotels, the arts, transportation, and building services – most of which heavily rely on travel and tourism.
Airbnb Chief Executive Officer Brian Chesky explained that a significant problem is developing for large cities. He said this summer people would vacation not in big cities like New York but in small towns and rural communities. The shift in domestic travel trends will continue to pressure New York City's key industries, resulting in stubbornly high unemployment.
A recovery in the city is unlikely this year. As explained by the World Bank Chief Economist Carmen Reinhart on Wednesday, don't confuse the latest economic rebound with a "recovery."
Making matters worse, New Yorkers are leaving en masse – reports already indicate 300,000 people have fled the metro area because of the virus pandemic, social unrest, and increasing violent crime.
With the services industries decimated and a rapidly shrinking city, remaining businesses may add back fewer than 30% of the 662,000 jobs lost in 2020.
What does this mean? 
Some New Yorkers' livelihoods will be permanently destroyed as hundreds of thousands will be financially devastated as the labor market shrinks. Many have resorted to food banks and government assistance programs to survive. The situation is even becoming even direr for the working-poor as they owe a whopping $2 billion in back rent.
New York financial district gets it. They are also leaving as they understand the city is descending into years of socio-economic chaos.
Wall Street firms are packing up their bags and moving elsewhere. Other firms are shrinking their corporate footprint as work-at-home dominates.
The latest high-frequency data shows foot traffic inside the financial district is rolling over as Manhattan transforms into a ghost town once more. Check out some of the data showing recovery is nowhere in sight to begin the new year:
Apple mobility data for New York City is rolling over.
All of this has crushed the residential and commercial real estate markets.
Manhattan apartment rents have dived to decade lows as inventory swells to record highs. As for Manhattan's office space supply, well, inventory has hit highs not seen since the 2000s.
There are concerns that some CMBS tranches heavily exposed to New York City hotels and shopping malls could experience defaults as there is no significant improvement in the metro area's economic recovery.
To sum up, Paul Joseph Watson said, "New York City is dead, and it's not coming back."
Source: Zero Hedge
Top image: Pixabay
Subscribe to Activist Post for truth, peace, and freedom news. Send resources to the front lines of peace and freedom HERE! Follow us on Telegram, SoMee, HIVE, Flote, Minds, MeWe, Twitter, Gab and Ruqqus.

Provide, Protect and Profit from what's coming! Get a free issue of Counter Markets today.