By Tanay Warerkar Of Eater New York,
Yesterday, we reported that with in parallel with Andrew Cuomo's decision to once again shut down indoor dining in New York starting Monday, more than half of the city's restaurants are in danger of closing. Yet as Eater New York reports, many in the New York hospitality industry were dismayed by Cuomo's decision as it followed close on the heels of new state data which showed that restaurants and bars in the state accounted for just 1.4% of cases over the last three months. While most were prepared for the ban to be announced this week, many felt the decision seemed to contradict the data.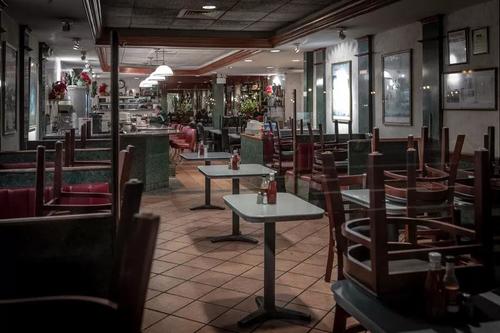 By comparison, private and social gatherings accounted for nearly 74% of COVID- 19 cases tracked by the state between September and the end of November, and the restaurant industry placed fifth overall among the various industries and activities contributing to the spread of the virus.
"This is insane," said Yann de Rochefort, founder of the tapas chain Boqueria.

"They are basically shutting down an industry and throwing thousands of people out of work because restaurants were linked to 1.4 percent of cases? It is criminal."
Some in the industry say that restaurants have undertaken tremendous expense — while facing a revenue downturn due to the pandemic — to fit their indoor spaces with new air filters and other safety equipment, and that an indoor dining ban could encourage people to congregate in other areas including the several illicit, underground parties that have been busted in the last few months.
"Today's news will do nothing more than incentivize more unregulated indoor household gatherings, which have accounted for a whopping 73.84 percent of exposures," said Melissa Fleischut, the CEO of the New York State Restaurant Association (NYSRA), in a statement.
Some others say they are again being forced lay off or reduce hours for a large number of their staff members just before the holidays, with no guarantee that another round of federal coronavirus-related aid will come through.
"I have to call my staff and break the news that they don't have a job come Monday," says Stratis Morfogen, the managing director of FiDi steakhouse Brooklyn Chop House. "I'm talking to busboys, dishwashers, wait staff and more to tell them the devastating news that they can't feed their families."
Cuomo, though, says the state is being proactive, as it has recently been able to identify that indoor dining is the fastest growing source of the spread of COVID-19. "Restaurants are one of the few areas we think we can actually make a difference," said Cuomo at a press conference Friday, adding that his government felt they had less control over the spread through other sources like air travel.
Cuomo also pointed to the Centers for Disease Control's latest guidance from last week that identified indoor dining as a high-risk activity during this second wave of the virus nationwide. Melissa DeRosa, the secretary to the governor, called out this guidance Friday saying it was impossible to eat indoors without taking off a mask, thereby creating a risky environment for the spread of the virus in an enclosed space.
Cuomo also noted that the state was going to indefinitely extend the eviction moratorium for commercial tenants, potentially protecting restaurants and bars from losing their leases while the indoor dining ban remains in place.
Since October, dozens of restaurants across the city have decided to preemptively close for the winter months — many never having reopened their dining rooms even after indoor dining was permitted at the end of the September — citing the safety of their workers, the downturn in business, and the weather. Though almost all said they had been able to negotiate agreements with their landlords in order to hit the pause button.
Owners of restaurants that are staying open — and the ones hibernating — say that without rent forgiveness and federal aid, the industry could be headed toward a raft of permanent closures during the winter months, when outdoor dining will become largely untenable as structures outside need to have at least two open sides to allow for airflow.
"Outdoor dining has declined dramatically, and losing indoor dining is going to be a nail in the coffin for a lot of business," says Carlos Suarez, the founder of the hospitality group Casa Nela, which operates restaurants like Rosemary's, Claudette, and Bobo.
Since the start of the pandemic, more than a thousand restaurants have already closed due to the business downturn. As we noted on Friday, a recent survey by NYSRA estimates that a little more than half of the state's restaurants are in danger of closing in the coming months without aid similar to the Paycheck Protection Program (PPP), funds for which have now largely run out.