Last week we reported that thanks to what may be the world's most sophisticated check kiting scheme, Chinese and Hong Kong banks were giving local retail investors a mindblowing 33x margin leverage with which they could then turn around and purchase stock in what is now the world's largest IPO – China's fintech Ant Financial, which is set to raise $34.5BN in new capital for its dual listing in Hong Kong and Shanghai ahead of its trading debut on Nov. 5, surpassing the former champion, Saudi Aramco.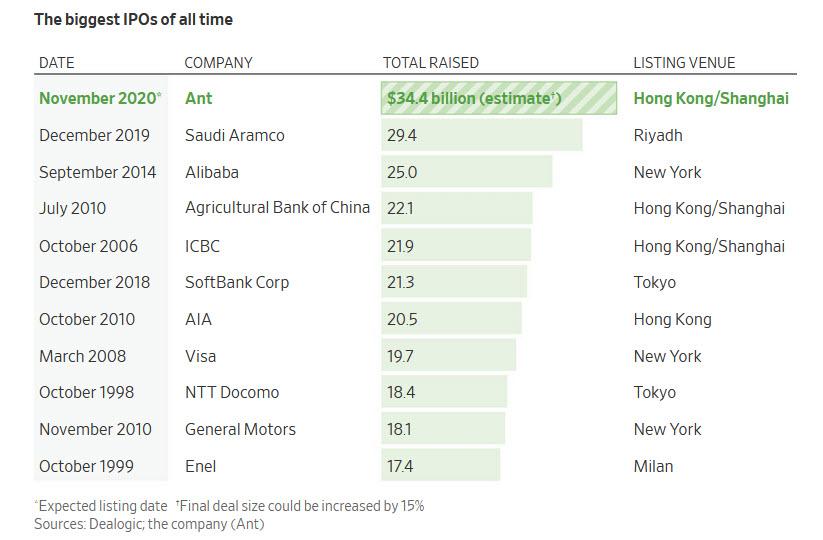 As a result, the retail portion was a ludicrous 870 times oversubscribed as bidding was so intense in Hong Kong that one brokerage's platform briefly shut down after becoming overwhelmed by orders. This in turn gave confidence to institutions that there is no way the stock would drop, leading to a mindblowing 284x oversubscription for institutional investors (this is real money).
Demand for Hong Kong shares was so strong that Ant stopped taking orders from professional investors a day earlier than scheduled. Institutions and strategic investors may take up about 97.5% of the offering in Hong Kong, according to Ant's prospectus, though the figures may change due to clawback and greenshoe provisions.
Putting these numbers in context, last Thursday, the Chinese financial-technology giant said individual investors in mainland China had placed the equivalent of more than $2.8 trillion of orders for their slice of Ant's record-breaking initial public offering, which is listing simultaneously in Shanghai and Hong Kong.
While it is hardly a surprise that investors, when given free 33x leverage, will go insane this number is simply staggering: according to the WSJ, it exceeds the value of all the stocks listed on the exchanges of Germany or Canada. Mom-and-pop investors in Hong Kong have also clamored to buy into this IPO, betting that Ant will soar in value after it goes public next Thursday.
While the number of orders is in itself mind-blowing, it is even more impressive given the high hurdles for participating in IPOs on Shanghai's new STAR Market, a Nasdaq-style technology-focused board that launched last year where Ant will trade: Individuals must have at least two years of stock-trading experience and brokerage-account assets totaling at least 500,000 yuan, the equivalent of $74,300. The IPOs are routinely heavily oversubscribed and stocks often soar after listing, which is to be expected: with retail investors putting down just 3% equity, anything less than a surge could lead to a historic crash.
In any case, with unprecedented, record demand for Ant shares, it is hardly a surprise that as Bloomberg reports overnight, institutional investors have been buying Ant's shares at a 50% premium in the gray-market, signaling the Chinese fintech giant is poised to soar in its debut this week following the world's largest initial public offering, as some trades were executed as high as  HK$120 ($15.50) in gray-market trading Monday, compared with the listing price of HK$80.
According to Bloomberg, in the so-called gray market, investors can bid for new shares before they officially start trading on a stock exchange.
The over-the-counter mechanism is often seen as an early indicator of investor demand for an IPO. Retail buyers will be able to trade through a similar channel a day before Ant's Thursday debut.
"This is huge: the largest IPO ever, priced at the top end and now this huge premium in the gray market," said Gary Dugan, chief executive officer of the Global CIO Office in Singapore, which didn't take part in the IPO. "It's pretty extraordinary given the backdrop and it shows you how much Asia is decoupling from the United States."
"The market's infatuation with growth stocks is very strong at the moment," said Arnout van Rijn, chief investment officer for Asia-Pacific at Robeco. With many investors betting China's domestic economy will be sheltered from the trade war with the U.S., "it's not surprising that there's more demand than supply for a stock like this."
Of course, with retail going all in the stock, it makes the margin of risk for institutions even more attractive as Beijing will not allow Ant to drop, crashing retail sentiment. As a result, the IPO is also attracting interest from some of the world's biggest money managers.  T. Rowe Price Group Inc., UBS Asset Management and FMR LLC, the parent of Fidelity Investments, are among the money managers angling for a piece of the deal, a Bloomberg source said.
All this foreign interest means that more than HK$252 billion has flowed into the city since September 14, forcing the Hong Kong Monetary Authority, the de facto central bank, to intervene almost 50 times to try to weaken the Hong Kong dollar.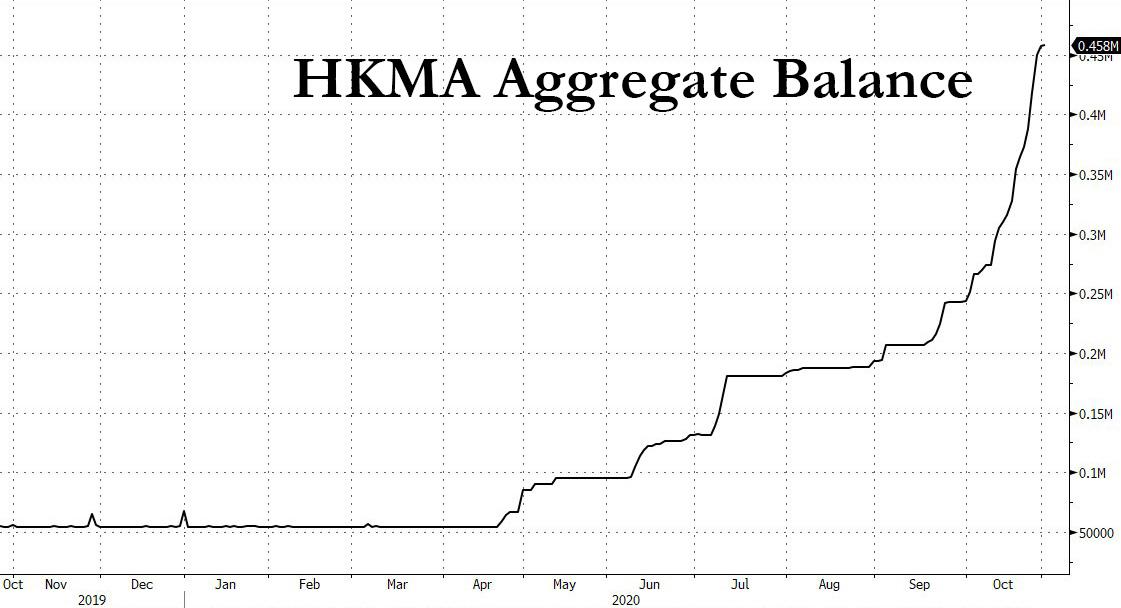 This is also why contrary to the expectations by China skeptics such as Kyle Bass, Hong Kong's fund flows continue to flood into the territory rather than out, because China has figured out that the simplest way to ensure it never has a dollar shortage is to guarantee that foreign investors will always make money on such massive equity offerings.
And as long as China has companies that go public – and are 1000x oversubscribed – the foreign capital inflows will continue. Which is the Ant IPO is about so much more than the world's biggest IPO – it explains how HK, and by extension China, funnels foreign (mostly dollar) capital to make sure that there is never a full-blown run on the world's reserve currency.