In case you needed further convincing that the reflation trade is still on (other than this morning's futures rally on a jobs number miss, as the market continues to expect more stimulus), Reuters published a great piece on Friday morning highlighting what the reflation trade actually looks like. 
First, it points out the obvious: the market is expecting more stimulus under a President Biden – something that appeared to be confirmed when Axios reported on Thursday night Biden was considering $3 trillion in tax and infrastructure stimulus, in addition to $2,000 stimulus checks. The trade has "pushed the 10-year TIPS breakeven inflation rate above 2% for the first time since 2018," the report noted.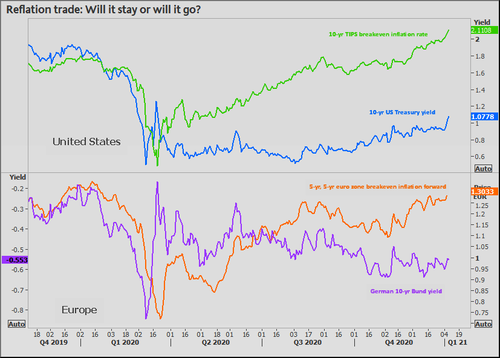 Also of consequence is going to be how the incoming administration handles Beijing. Under a President Trump, there has been the most scrutiny on U.S. listed China based companies in recent memory. Chinese firms will be held to U.S. audit standards and the U.S. has threatened to delist Chinese companies from major exchanges. Softening this stance by the Biden administration would cause U.S. listed ADRs to rally in 2021.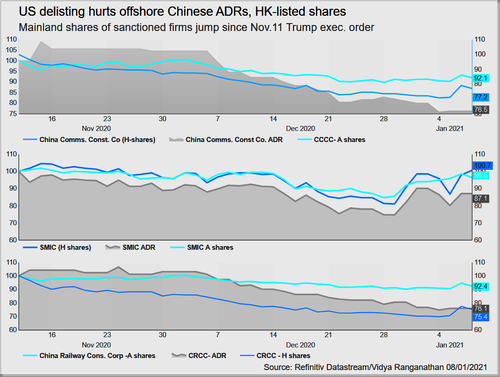 Focus in China has turned to both fiscal and macroeconomic policy as well as Covid recovery. We noted in a recent post that the country was looking to shore up both its fiscal and monetary policy heading into 2021. These assertions, expanded upon in a SocGen note from last month, conflict slightly with Reuters' report that "The People's Bank of China says monetary policy in 2021 will be targeted and flexible". Analysts do agree that rate cuts are likely over, but the Yuan and China's central bank will undoubtedly be in focus as a huge driver for the U.S. economy heading into 2021 – especially given the rising tensions between the two countries.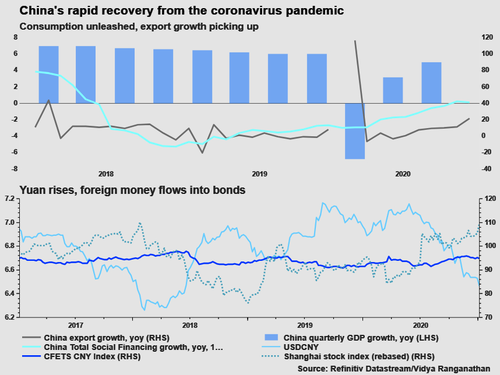 Domestically, banks have been the trade – recently gaining momentum after the Federal Reserve once again allowed buybacks for the sector after the results of its most recent stress test. Bank earnings for Q4 will start to trickle in this week and extend into next week. "Earnings for financial companies are expected to have dropped 6.6% in the fourth quarter against a 10.3% drop for S&P 500 companies overall," according to Refinitiv.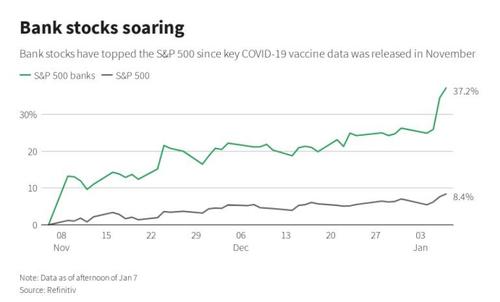 Finally, global trade will be a major focus for forecasting global GDP. Markets will watch to see if President-elect Biden's administration will continue the hawkish trade policies with China that President Trump attempted to put into place. As we noted in a Tweet yesterday, those policies don't seem to be having much of an impact anymore.
Trade war not going too well pic.twitter.com/ZcWl2f8sWW

— zerohedge (@zerohedge) January 7, 2021
Reuters writes that trade is moving in an overall positive direction for global GDP:
"Pandemic-related medical gear and goods linked to remote working dominate exports. Chip sales have led export growth in bellwether South Korea. This has also upped demand for copper, iron and other raw materials, benefiting African and South American exporters. Good news for global GDP, which is closely linked to trade and forecast to expand by more than 5% this year."