Just a day after the Chinese PLA Navy trailed a US warship through the contested waters of the Taiwan Strait, alarms have been further raised in the region given China just sent its newest domestic-built aircraft carrier, the Shandong, through the strait on Sunday. 
While it's ostensibly for the purpose of "routine drills" in the South China Sea, according to a PLA Navy statement issued Monday, Taiwan still mobilized large forces to monitor the carrier and accompanying battle group of ships.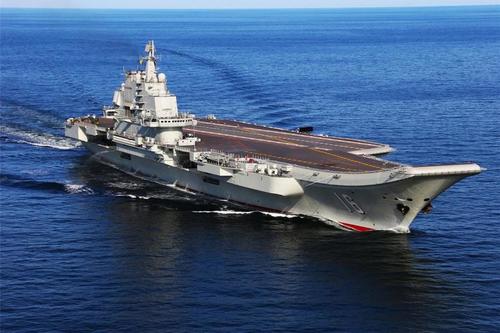 The PLA statement said it's part of "normal arrangements made in accordance with annual plans" and that "in the future, we will continue to organize similar operations based on training needs."
Taiwan scrambled a significant amount of naval and aerial assets in response to the Shandong carrier's sail through:
Taiwan's Ministry of National Defense said the Shandong was accompanied by four warships and had set out from the northern Chinese port of Dalian on Thursday. In a statement on its website, it said the convoy continued to move south.

Taiwan said it sent six warships and eight military aircraft to monitor the Chinese ships' movements.
As both the US and Chinese sides continue bolstering naval presence in the South China Sea, there's greater potential and likelihood of an 'accidental' military encounter, especially given the status of currently stalled military-to-military talks which are aimed precisely at de-escalation and avoiding unnecessary conflict.
Last week agreed upon China-US military maritime consultative agreement (MMCA) meetings broke down after each side blamed the other for being a "no show". At first the US blamed the Chinese officers for failing to participate. 
Two PLA aircraft (Y-9 EW and Y-8 RECCE) entered #Taiwan's southwest ADIZ in the afternoon of Dec. 21. Please check our official website for more information: https://t.co/otlgfKOWFC pic.twitter.com/APzUoqaXwO

— 國防部 Ministry of National Defense, R.O.C. 🇹🇼 (@MoNDefense) December 21, 2020
Following this, PLA spokesperson Liu Wensheng said, "The U.S. side did not abide by the consensus reached between the two sides and called black white to make the accusation."
"The US side insisted on forcing its unilateral agenda, arbitrarily reducing the length of the annual meetings and changing the nature of the talks," Liu said further of what was to be an online meeting. "The US side even tried to force China's participation without an agenda agreed by both sides."
Regional tensions are especially on edge given the unpredictable nature of Trump's continuing pressure campaign on China during his last weeks in office before Biden enters the White House.