A second Democratic leader is pushing for loosening COVID-19 restrictions, just days before President-elect Biden is set to be sworn in.
Following on the heels of NY Gov. Andrew Cuomo's call to "reopen the economy," Chicago Mayor Lori Lightfoot is now of the opinion that bars and restaurants need to reopen for indoor dining "as quickly as possible."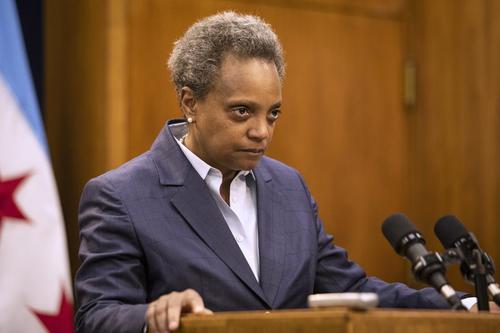 "I am very, very focused on getting our restaurants reopened. If we look at the various criteria that the state has set, we are meeting most if not all of those. So that's a conversation that I will have with the governor," she said at a Thursday press conference. "But I want to get our restaurants and our bars reopened as quickly as possible."
"Let's bring it out of the shadows, let's allow them to have some recreation in restaurants, in bars, where we can actually work with responsible owners and managers to regulate and protect people from COVID-19, so I feel very strongly that we are very close to a point where we should be talking about opening our bars and restaurants," she continued.
This would, as it turns out, help Chicago City Councilmember Tom Tunney (D), who was caught running an illegal 'COVID Speakeasy' out of his Chicago restaurant last month.
Lightfoot's call for reopening comes after she told people to cancel Thanksgiving with family, while the number of case counts across the state reversing higher over the last two weeks from a January 1 bottom. Meanwhile, while the Mayor is calling to reopen indoor dining (and gradually reopen schools), she oddly extended a stay-home advisory until January 22. We're unclear on exactly which science she's following.
The Chicago Tribune elaborates, saying it will ultimately come down to Governor. J.B. Pritzker (D) to make the call:
On Thursday, Chicago's test positivity stood at 10%, according to city statistics. Under the current pandemic rules, the city would have to have a positivity rate of 6.5% or less for three straight days in order for restaurants and bars to reopen.

Ultimately, it's Pritzker who will make the decision about when bars and restaurants can reopen for indoor service. The city can set rules that are stricter than the state's but not rules that are looser.

A Pritzker spokeswoman said in a statement Thursday that Chicago's coronavirus numbers aren't there yet, but the governor would "look forward to her call" on the matter.
Pritzker, as you may recall, ignored Lightfoot's "do not travel" order to  leave Chicago for Thanksgiving.
"As the governor announced last week, beginning tomorrow, regions who meet the metrics to go back to lower tiers in the resurgence mitigation plan will be allowed to do so," said Pritzker spokeswoman Jordan Abudayyeh. "Currently, the city of Chicago and Cook County do not meet the metrics to return to previous tiers."
Pritzker shuttered Chicago restaurants and bars for indoor dining in late October after the city surpassed the 8% benchmark for three straight days on average daily positivity.