With Moderna officially filing for expedited approval from the FDA yesterday, and Pfizer following up by announcing early Tuesday in the New York morning, With vaccine newsflow driving trading activity for yet another week, the team of analysts at Goldman Sachs has produced another handy guide to new developments in the race for a global vaccine.
Like the last update, Goldman's latest piece focuses on where the top performers are in the process, and which countries and regions have a step up in the race to 'reserve' precious resources.
One interesting addition to this week's chartbook is a summary of the 'outlook' for achieving 'widespread vaccination' in different parts of the world, featuring notable quotes from Dr. Fauci and Matt Hancock (the secretary of health in the UK).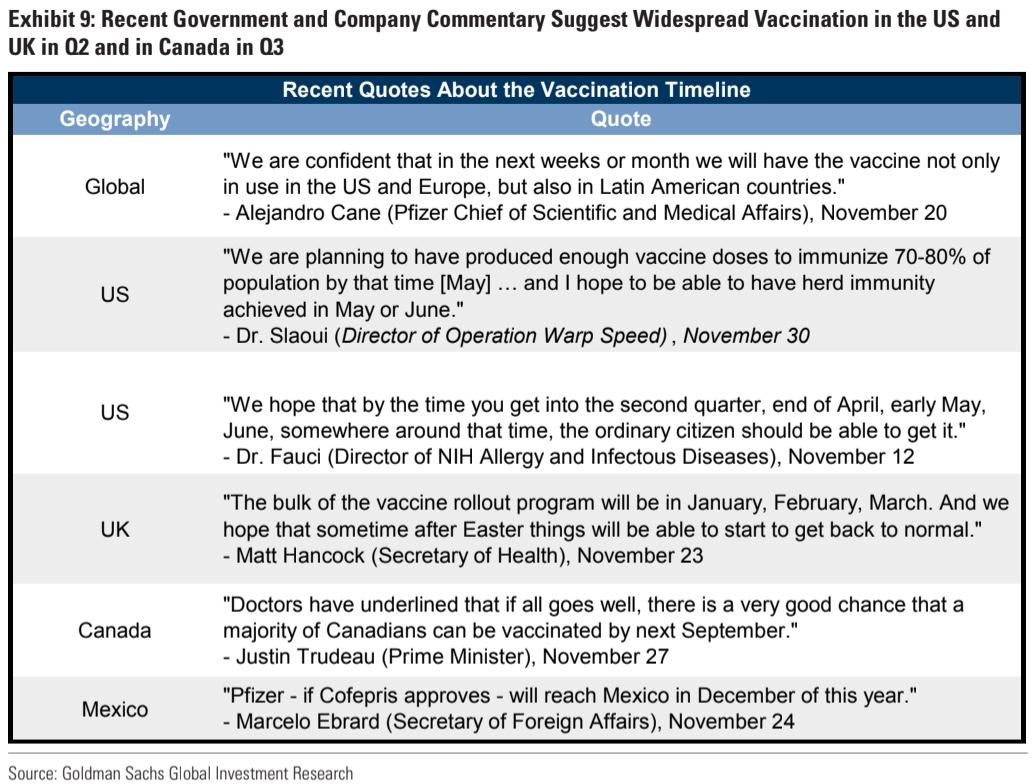 The team started with an update on the status of the three leading western projects, along with the vaccine from Russia's Gamaleya Institute.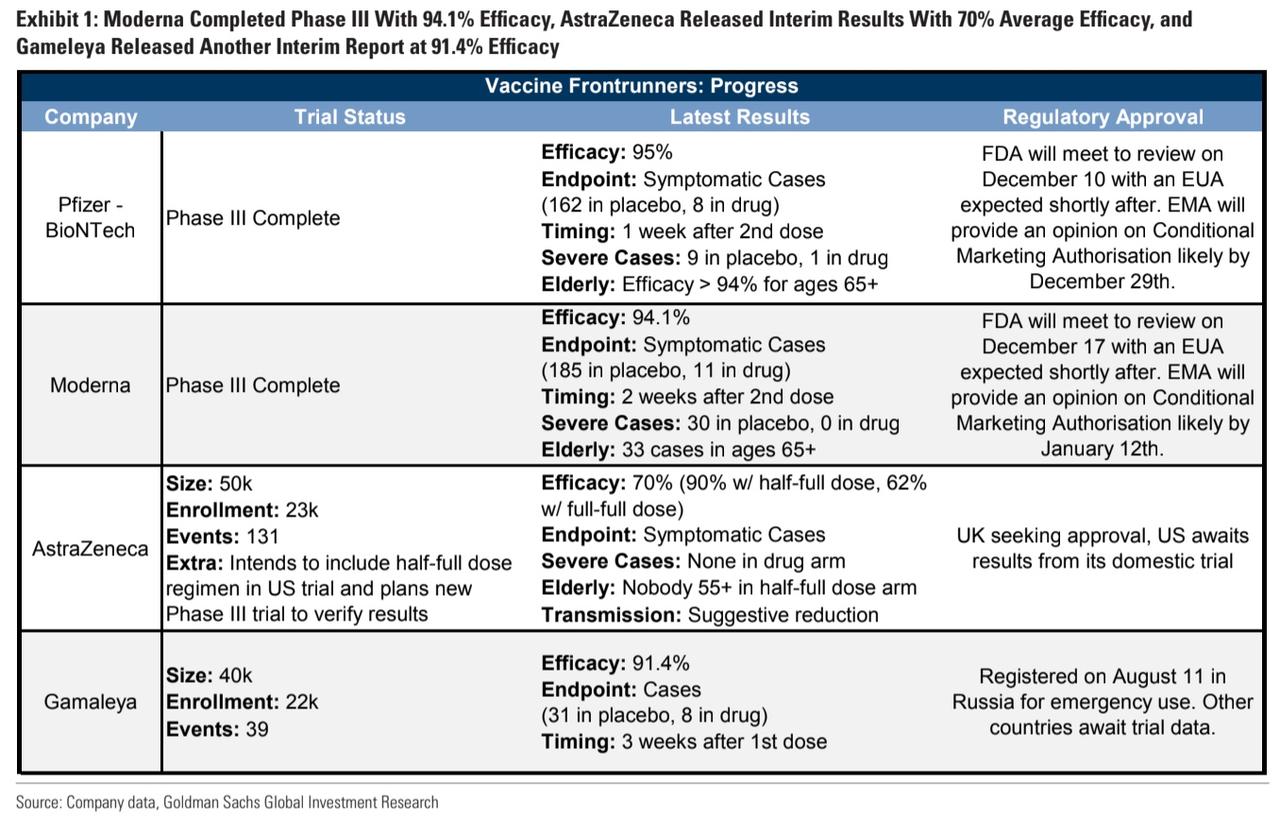 Before continuing on to some of the other top-tier projects that have released new data or information about trial enrollment etc.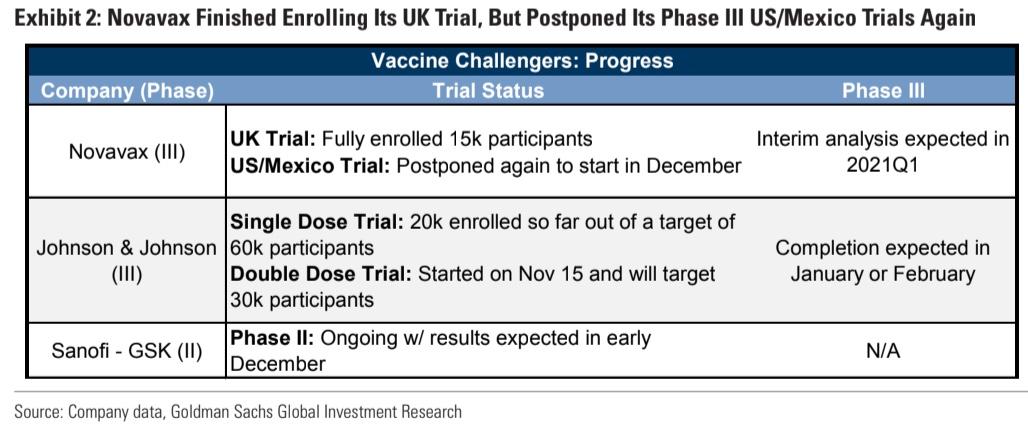 Here's where things stand in the US, UK and EU as far as vaccine makers and their projections are concerned.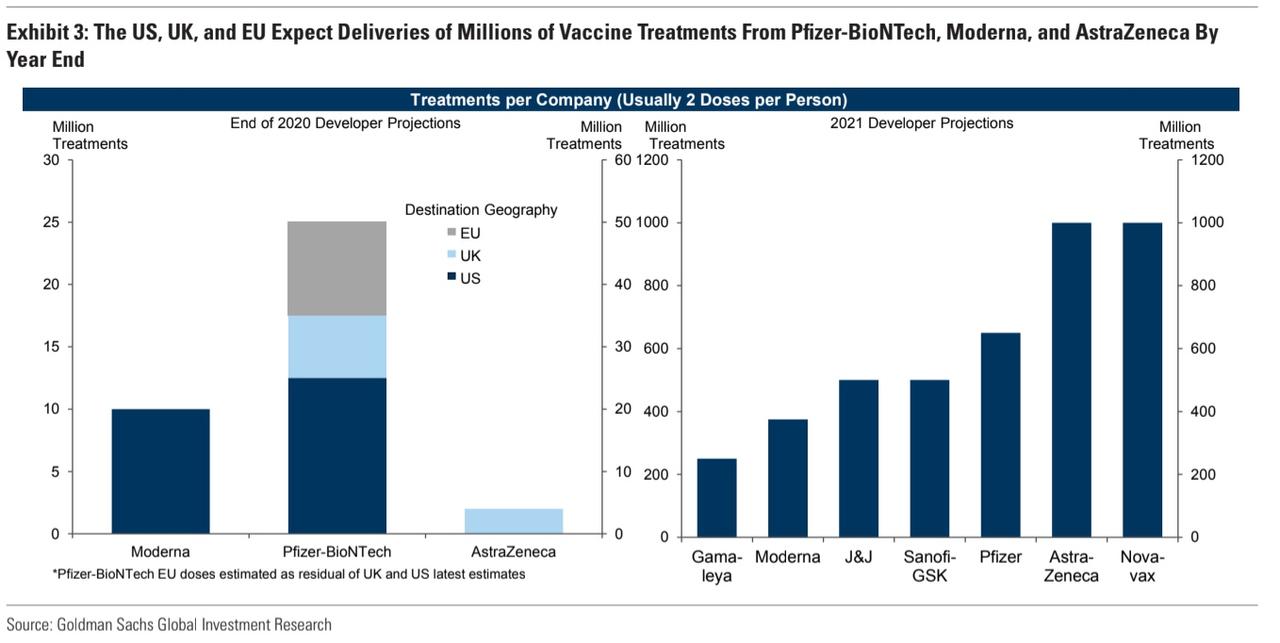 The researchers also broke down the various supply agreements between governments and manufacturers.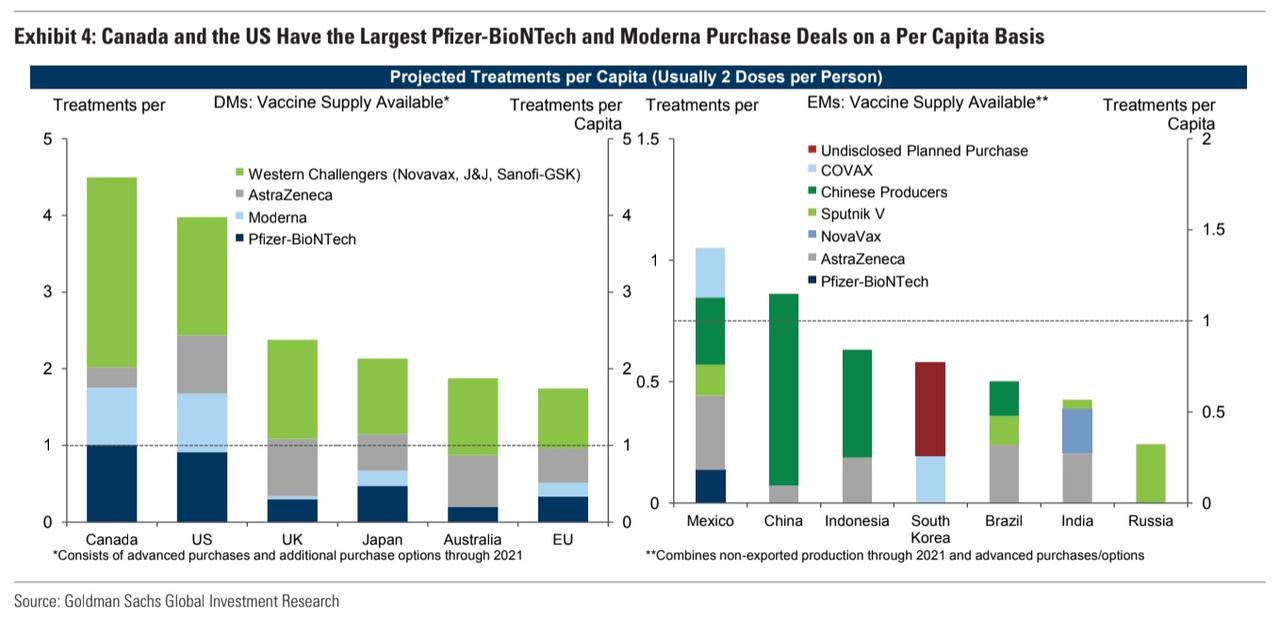 In the west, the deals have primarily been structured in the form of purchase options.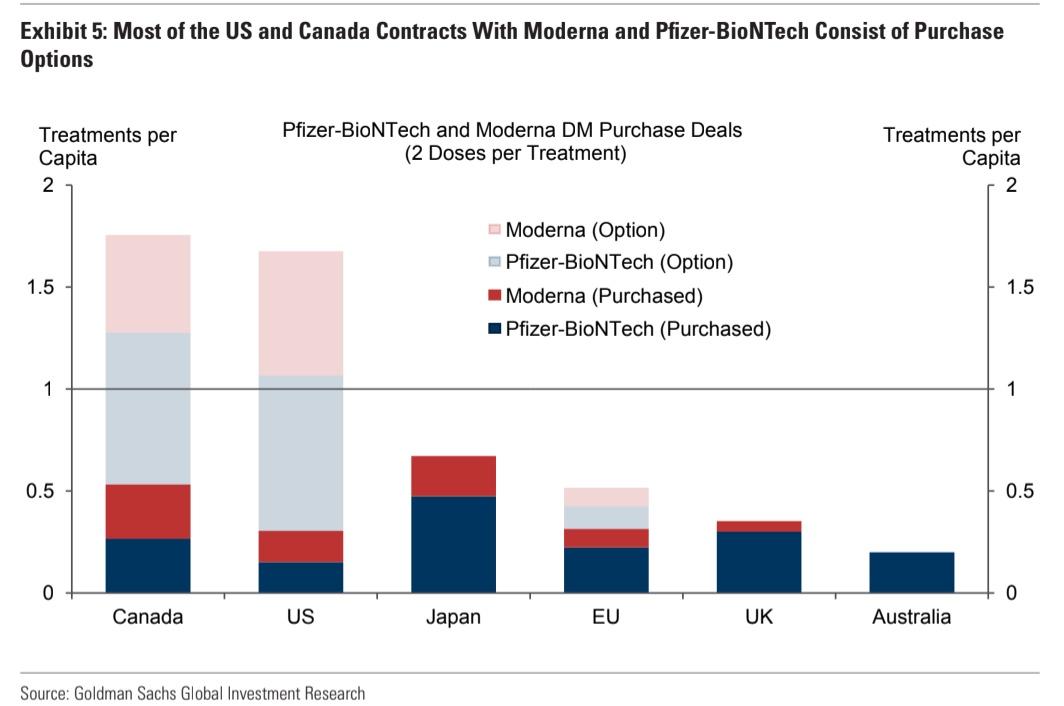 For at least the second week in a row, Goldman analysts say, public opinion polling has shown rising "demand" for a vaccine – that is, more people are allegedly willing to take the vaccine as soon as it's available than a month ago, as authorities attempts to shore up the "credibility" of COVID vaccines appear to be bearing some fruit.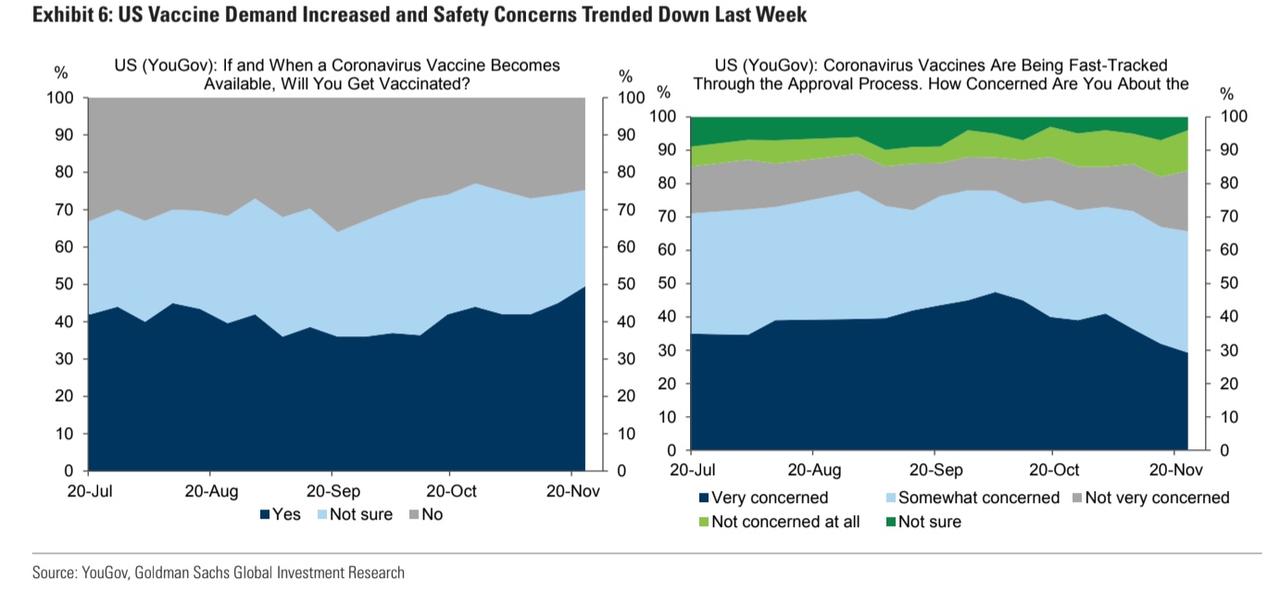 Finally, a team of superforecasters consulted by Goldman see a 71% chance that 25 million Americans – presumably mostly health-care workers, cops and other stuff – will be vaccinated by Jan. 21.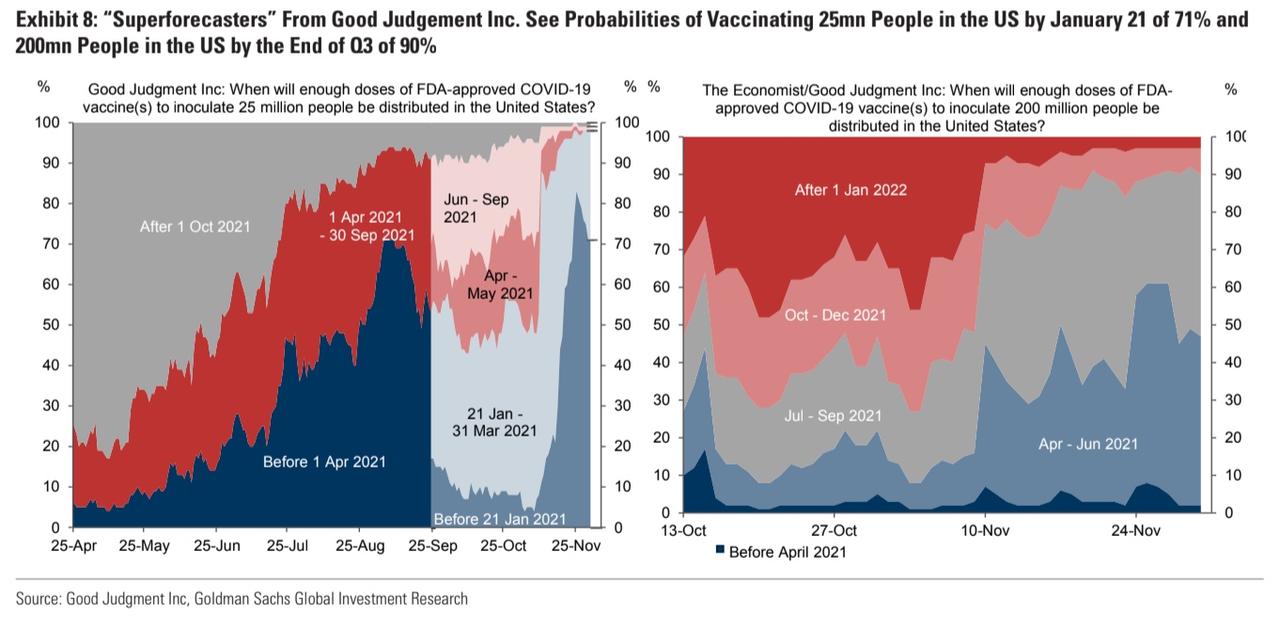 The odds that these vaccination milestones will be delayed until Q2 2021 are seen as pretty small, in the low-single-digits, percentage-wise. Meanwhile, the odds that 200 million Americans will be vaccinated by the start of Q4 are supposedly as high as 90%.
With so much still unknown, and companies like Pfizer and UPS scrambling to build special packages to ship the dry ice necessary to preserve and transport the Pfizer vaccine.
We'll need to revisit these predictions a year from now and see how they worked out.