Stocks are leaking lower Monday morning, erasing some of this morning's vaccine-induced (and possibly dollar- and Brexit-induced) bump,after NYC Mayor Bill de Blasio brought up the possibility of a "full shutdown" of NYC on Monday, the day that restaurants in the city were forced to close as new bans on indoor dining went into effect.
As restaurant workers across the city took to social media to offer closing restaurants (many of which will probably never reopen) one last toast, the mayor warned that there could be even more economic pain ahead, as COVID numbers and hospitalizations climb across the city and across the state, even as its health-care workers will be among the first in the country to get the vaccine).
"There's the potential of having to do a full pause, a full shutdown, in the coming weeks, because we can't let this kind of momentum go," de Blasio said on CNN when asked Monday morning about comments made by Gov. Andrew Cuomo last week, when the governor warned about a bigger shutdown.
"We're seeing the kind of level of infection with the coronavirus we haven't seen since May and we have got to stop that momentum — or else, our hospital system will be threatened," de Blasio added, before warning that the virus must be stopped at whatever the cost due to the threat of "too much damage".
"This kind of momentum that the disease has right now? We've got to stop it. We've got to stop it before it causes too much damage, too much pain…and we have to stop it to give time for the vaccine to really be properly distributed."
Presumably, not economic damage, though.
Stocks are moving lower…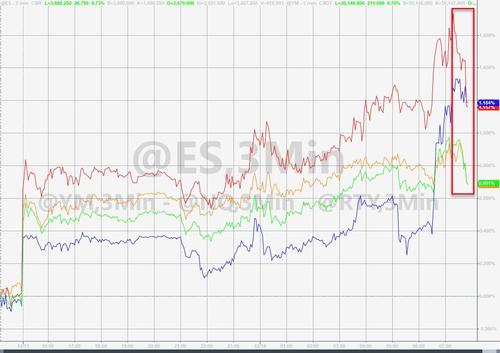 …and gold is ripping.
Conversely, NYC will push ahead with plans to return schools to in-person learning, with the city already moving to five days a week for as many schools as possible. With schools staying open, de Blasio explained "full shutdown"
Earlier, the mayor traveled to a city hospital to watch a New York City nurse become one of the first health-care workers to receive the vaccine as part of the nationwide rollout.