So, the first week of the year brought us – the worst first day for stocks in two decades, the "darkest day in American democracy", a dismal jobs print (far worse than expected), ISM beats that were almost entirely predicated on model misattribution of global supply chain disruptions, a blue-sweep of government (fiscal-palooza), and the highest levels of COVID "cases" and deaths.
What really mattered? The Fed said "no taper" anytime soon, and promises of more $2000 checks and more and more – both of which sparked 'reflation' trades everywhere with cryptos soaring, bond yields spiking and Small-Caps surging relative to Big-Tech.
After the S&P 500's worst start to a year since the Dot-com mania, markets took off with Small Caps by far the week's biggest gainers…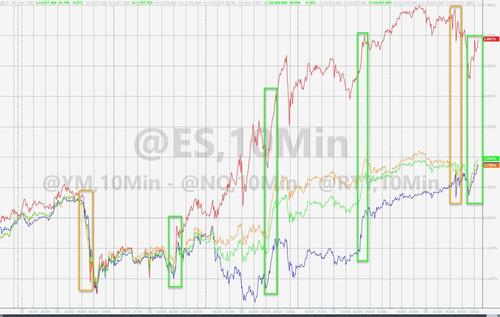 Everything was fine today until a) 10Y Yields broke above 1.10% (VaR shock impacts on stocks), and b) Sen. Manchin spoiled the party by saying he would not support $2000 checks)…
But Biden saved the day late-on with promises of lots of money for all…$15 min wage for all… and stimulus in the trillions… stocks went wild! (Small Caps had a down day today)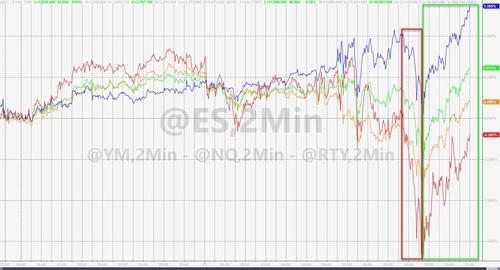 Small Caps continue to push up towards the key downtrend against Nasdaq…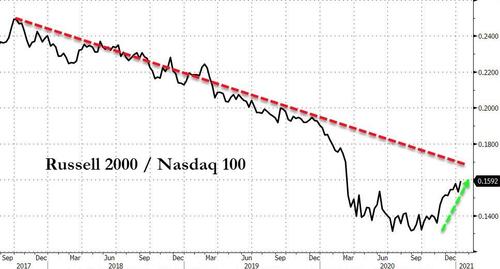 Source: Bloomberg
The S&P 500 was noisy around the 3800 level, before being panic bid after Biden spoke…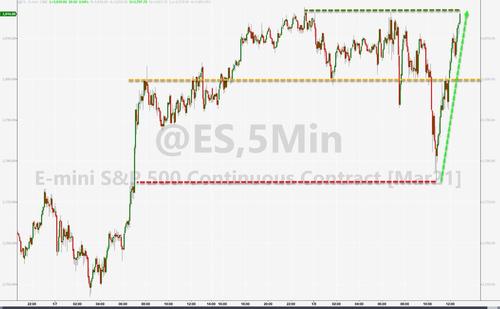 Which, as SpotGamma notes, is a key technical level from the options market…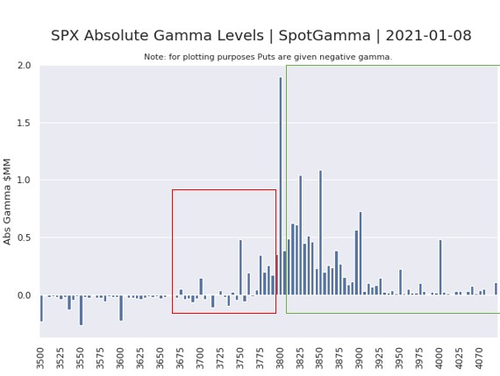 Banks were bid as yields rose all week but fell today as the velocity of the yield spike spooked some…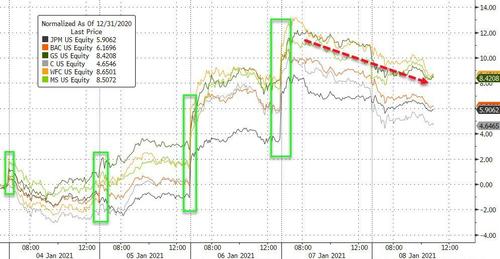 Source: Bloomberg
Biotechs soared all week (until this afternoon) with Nasdaq Biotech Index topping 5000 for the first time…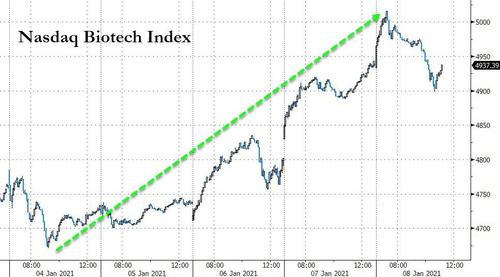 Source: Bloomberg
And then there's TSLA!!… which surpassed FB in market cap today with its best week since July…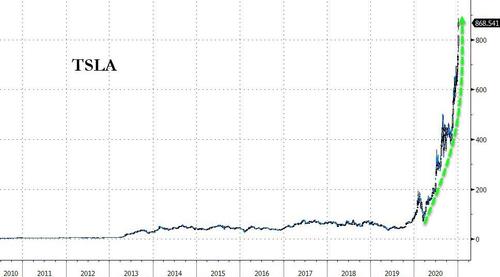 Source: Bloomberg
It's been quite a wild ride…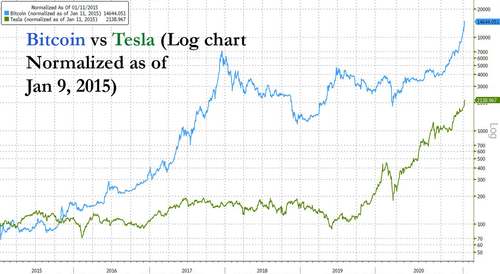 Source: Bloomberg
Bond yields surged higher on the week – the biggest spike in 30Y yields since June 2020…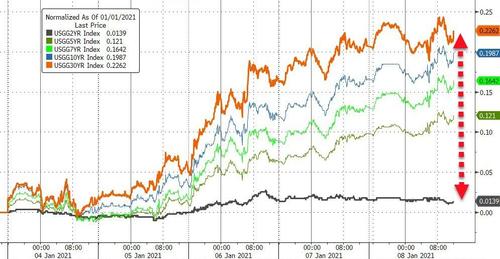 Source: Bloomberg
10Y Yields broke out this week…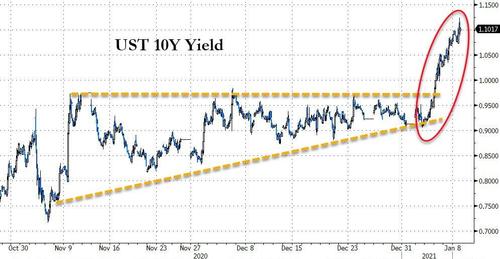 Source: Bloomberg
…back to their highest since March…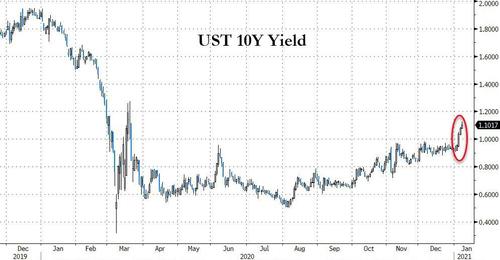 Source: Bloomberg
Real Yields soared this week (biggest spike since March 2020), after hitting record lows, weighing heavily on gold prices…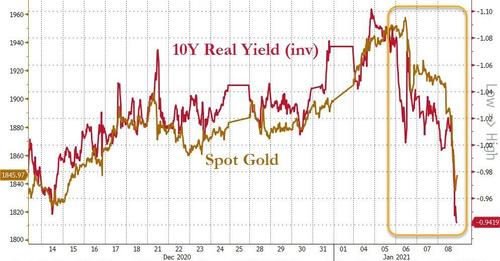 Source: Bloomberg
Notably for European and Japanese traders, FX-hedged Treasury yields are the most attractive since 2017…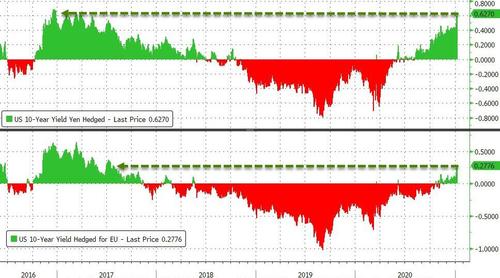 Source: Bloomberg
Additionally, Japan's 30-year bond yields have dropped below currency-hedged 10-year Treasury yields for the first time since 2017…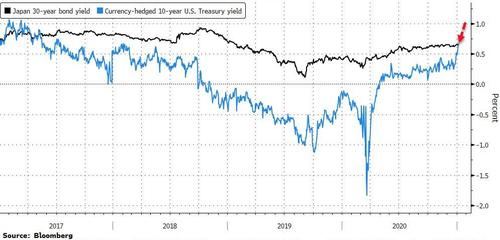 Source: Bloomberg
The dollar rallied on the week with a decent spike yesterday and follow through today…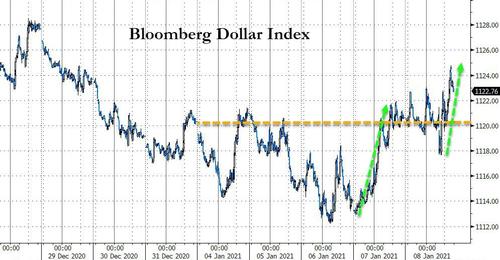 Source: Bloomberg
Cryptos were the major headline makers on the week, with ETH up over 60% and BTC up 40%…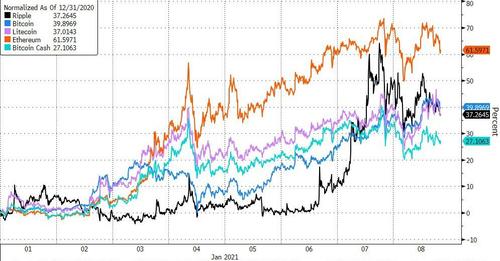 Source: Bloomberg
With Bitcoin tagging $42,000 intraday at its peak…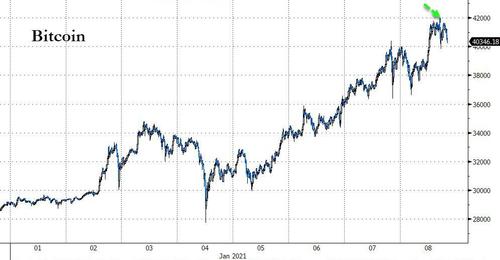 Source: Bloomberg
And Ethereum nearing $1300 twice…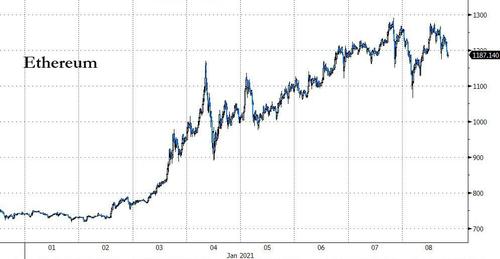 Source: Bloomberg
Is Bitcoin tracking 1970s gold?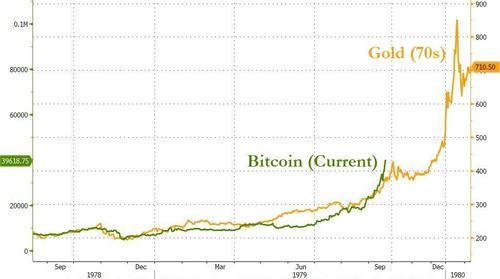 Source: Bloomberg
Gold was clubbed like a baby-seal this week after a strong start up to pre-vaccine levels…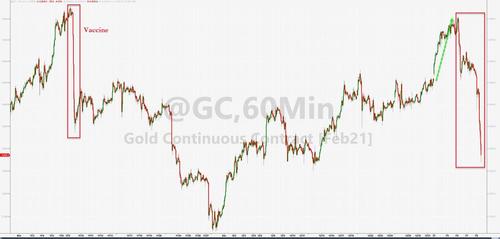 WTI continued its post-election, post-Fed, post-vaccine (and now post-Saudi fold) surge nearing $52 this week…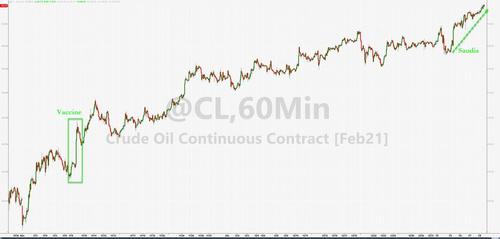 Copper closed higher on the week but was weak today…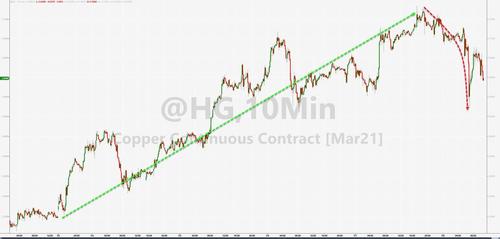 Finally, there's Goldman Sachs CEO David Solomon:
"The markets have been quite ebullient as of late. You know, I think there's some excess in markets."

"I think there's a lot of retail participation in markets that's certainly making markets a little bit more ebullient. I'd be cautious about some of that."
And then there's Fed Vice Chair Clarida who said he's "not worried by stock market values… they're adjusting to a more positive outlook."
Very positive indeed.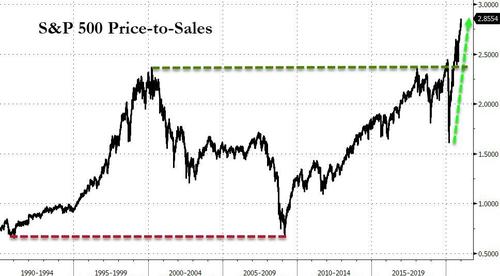 Source: Bloomberg
Of most note today though was the reaction of stocks to bond yields' spike – be careful what you wish for…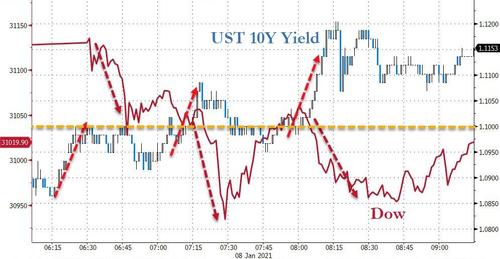 Source: Bloomberg