The U.S. Marine Corps is fielding tens of thousands of suppressors designed for automatic rifles as a move to reduce noise signature on the modern battlefield, according to Military.com. 
Marine Corps Systems Command (MCSC) is in the process of fielding the first of the suppressors designed for M4 and M4A1 carbines and M27 infantry automatic rifles to Marines stationed at Camp Lejeune, North Carolina. By 2023, the service expects as many as 30,000 suppressors will be fielded, which is the largest deployment of suppressors by any military.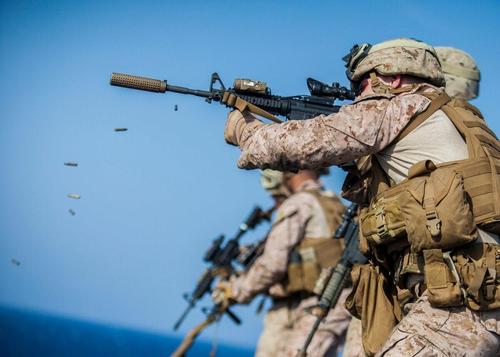 "We've never fielded suppressors at this scale," Maj. Mike Brisker, weapons product manager in MCSC's Program Manager for Infantry Weapons, said in a recent press release. "This fielding is a big moment for the Marine Corps."
Suppressors on automatic rifles firing a 5.56mm round will reduce noise by 30-40 decibels. This means each shot will sound more like a 22 caliber. 
Reducing noise adds stealth to Marines, making it harder for the enemy to locate them. 
Suppressors help decrease their "audible and visual signature, making it more difficult for the enemy to ascertain their location," Chief Warrant Officer 4 David Tomlinson, MCSC's infantry weapons officer, said in the release. 
Besides reducing sound, suppressors also eliminate muzzle flash, which adds to the stealthiness of Marines. 
Another big reason for the adoption is that it makes it easier for Marines to communicate with each other in combat. 
"I would say the most important thing the suppressor does is allow for better inter-squad, inter-platoon communication," Tomlinson said in the release. "It allows the operators to communicate laterally up and down the line during a firefight."
Marine officials also hope the suppressors will reduce hearing damage suffered by infantry Marines in combat. 
Watch as Marines conduct a training exercise using suppressors. 
To sum up: Washington continues to modernize forces as uncertainty and risk of military conflict continue to rise in the early 2020s.