No one predicted that the shipping container industry would be absolutely on fire this year, considering China's strong economic rebound following the virus-induced downturn. Now a shortage of shipping containers in Asia are sending container spot rates to multi-year highs, has already started to crimp China exports. 
Just how high can Asia-U.S. East Coast spot rates go? Well, the cost of chartering a 40-foot container from China to the US East Coast soared to nearly $5k this week, up 85% since June 1, according to Freightos data in Refinitiv Eikon.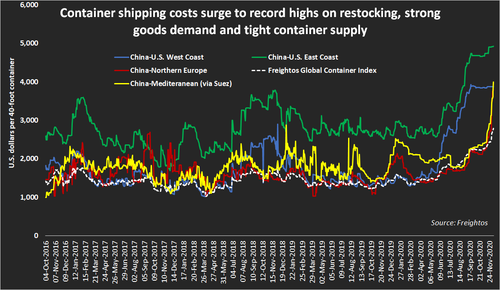 A shortage of containers in China comes as exports in the country surged 21% in November from a year ago. Chinese factories are pumping out appliances, electronics, toys, clothes, and personal protective equipment to the world. 
As explained by Reuters, a "severe shortage" of containers in the Asian country is starting to hit export flows: 
But due to China's lopsided trade balance – exporting three containers for every one imported recently – and delays in containers returning to China due to the pandemic overseas, a severe shortage is now starting to pinch export flows. Roughly 60% of global goods move by container, and according to United Nations trade data there are close to 180 million containers worldwide. -Reuters
Charles Xu, a mirror salesman, located in Yiwu's export hub in Zhejiang province, which supplies major US retailers, told Reuters that "we ve so many orders but just cannot ship things. Boxes are piling up at our factory and we don't have much space left. It's just hard to book containers, and everyone is bidding for them with high price." 
China Container Industry Association said the average container turnaround has jumped to 100 days from 60 days because of virus-related capacity cuts in the US and Europe, which has greatly increased the shortage of containers in China. There have already been reports of some US importers not being able to receive shipments in November. 
In September, we first noted that demand for ocean freight out of China was "leading to equipment shortages in Asia."
"The surge in volumes is leading to equipment shortages in Asia. Some shippers are paying premiums on top of spiking rates to guarantee containers and space. The imbalance is also putting pressure on overwhelmed US ports and importers to process and return empty containers quickly."
Spot container rates from China are soaring worldwide: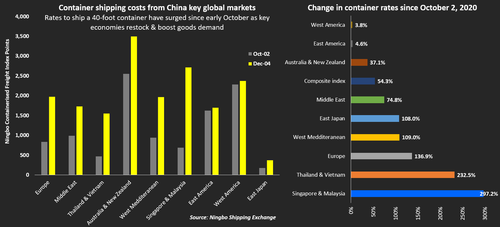 Even with Chinese container manufacturers boosting capacity to keep up with demand – their efforts are still falling short. Mainly because distorted trader flows have resulted in record build-up in containers elsewhere. 
For instance, the Port of Los Angeles, the nation's top port, imported 3.5 containers for every one it exported in October. There are currently 326,000 empty containers sitting at the port, according to shipping organization BIMCO.
One Chinese vendor with clients in the US said, "right now waiting for container is two to four weeks. I still don't know if I will have a container or not." 
Shortages could persist well into the first quarter of 2021 as container manufacturers in China are booked through Feburary. 
And what could this mean for US consumers? Well, this is what we said back in October: 
"Inventories are historically low. There is rising concern that companies will not be able to import and deliver enough goods to meet consumer demand during the holiday season."
Frederic Neumann, co-head of Asian Economics Research at HSBC, suspects this "unusually high demand for goods globally, which is likely to cool as we move into 2021 because of the (expected) service-led recovery, particularly in Western economies."