As Bloomberg markets live editor Jeffrey Chaffa writes, "never in Bitcoin history has volatility been lower during a similar price rally" which he thinks sets the stage for a more orderly rally for the cryptocurrency, one which could push it to 6-digits: "we see signs of a multi-factor rise toward $100,000 in 2021 if past patterns repeat, as Bitcoin is in early recovery days from new lows versus the market", writes Bloomberg Intelligence commodity strategist Mike McGlone.
As shown in the chart below, Bitcoin's 90-day volatility versus the annual S&P 500 measure is near the lowest level on record since 2010.
Putting a potential move in context, in 2012, when this relative risk measure bottomed, Bitcoin surged about 130x to the peak and about 40x from a similar base in 2016. History suggests the about 3x gain through Jan. 11 from the summer volatility low and consolidation around $10,000 is quite tame.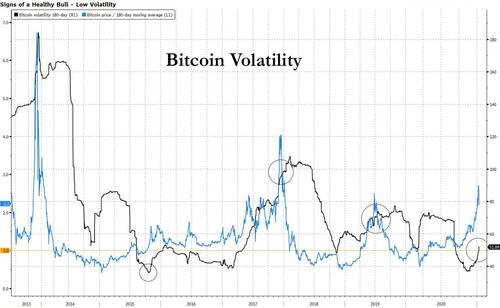 Of course, if bitcoin were to rise merely 40x from here, it would be trading above $1 million…