Sitting around at home with nothing to do during the pandemic? Why not become a corporate whistleblower! It allows you to exact revenge on your boss and co-workers for years of misery and can also pay well!
That must be exactly what many are thinking, as it is being reported that since the work from home boom started, whistleblower tips to the SEC have soared. The SEC received 6,900 tips for the fiscal year ending September 30, 2020, which marked a 31% rise from the previous 12 months, Bloomberg reported. 
The increase in tips "really started gaining traction in March when Covid-19 forced millions to relocate to their sofas from office cubicles," the report notes.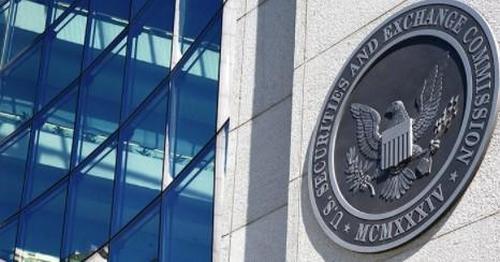 Jordan Thomas, a former SEC official who helped set up the agency's whistle-blower program, said: "You're not being observed at the photocopy machine when you're working from home. It's never been easier to record a meeting when you can do it from your dining room table."
Adam Waytz, a psychologist and professor at Northwestern University's Kellogg School of Management, said: "When you feel disconnected from work, you feel more comfortable speaking up."
And the increase in tips has led to larger and more consistent payouts from the SEC. Since the beginning of the pandemic, the agency has paid out $330 million in awards, including one award of $114 million to a single tipster in October. The payments are likely tied to cases prior to the pandemic, but are indicative of a trend of growing payouts. 
The SEC has been paying whistleblowers since the 2010 Dodd-Frank Act, which was put into effect as a result of massive financial blowups like Madoff and Enron. Bloomberg wrote:
Under the program, tipsters can receive financial awards if they voluntarily provide unique information that results in an enforcement action. Payouts can range from 10% to 30% of the money collected in cases where sanctions exceed $1 million. Awards are paid from a fund set up by Congress — not money owed to harmed investors.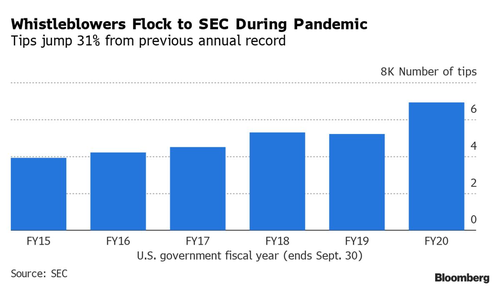 Whistleblowers are never named and, on occasion, when working with lawyers, the SEC may not even know the name of a whistleblower. 
Joseph Grundfest, a former SEC commissioner, said: "Corporations and their lawyers are acutely aware of the fact that tips are flooding in and that whistle-blower awards have ballooned. You pay whistle-blowers more than $100 million, you're going to get more whistle-blowers."'
"Making more awards — certainly larger awards — all those things do go toward incentivizing whistle-blowers to come forward," former SEC Enforcement Director Stephanie Avakian said.
"The problem is that they're being flooded with tips and don't have a robust mechanism for separating the wheat from the chaff," Grundfest concluded. 
Since the program's inception it has paid out about $737 million.