In case anyone was wondering why Anthony Scaramucci all of a sudden has decided to make a pivot to Bitcoin, the 2020 returns for SkyBridge Capital could hold the answer.
Scaramucci posted ugly numbers for 2020, with his fund losing 7.5% of its value – its worst annual performance since 2008. The kicker is that Scaramucci said the 7.5% loss actually represented a bounce back, and that the fund was down 24% in March, according to FT. 
He called 2020 a "rough year".
The fund saw its biggest hits from structured credit, which was hurt from the market collapse in March. The ensuing decline in valuations across the sector then "triggered a wave of redemption requests from investors" and SkyBridge saw a net outflow of $1.4 billion during the year.
The fund's AUM shrunk to $7 billion at year end. Perhaps this shrinking of AUM is why Scaramucci has now turned to more widely adopted (trendy?) Bitcoin; with his firm announcing a Bitcoin fund just days ago. The fund was already sitting on $100 million in profits from Bitcoin it purchased in November of this year, the report notes. 
Scaramucci says his SkyBridge Bitcoin Fund is aimed at "democratizing bitcoin for mass affluent and accredited investors". In other words, bringing in new cash.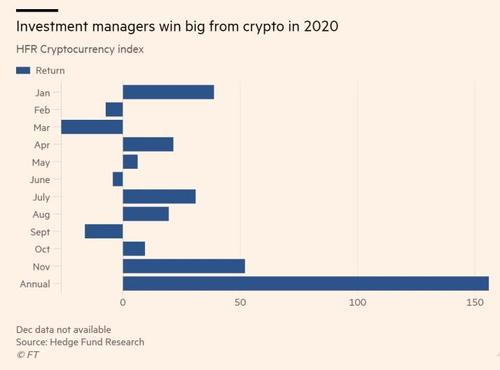 He continued: "Bitcoin started out in the Wild West and is now an asset being institutionalized. A lot more institutional order flow is coming in 2021. We are telling people who are affluent or qualified investors that they can get in ahead of institutions."
Except for all of the institutions and investors who got in before us…
SkyBridge joins other institutional investors like Mass Mutual and Ruffer Investment Management diving into the crypto currency. 
"Bitcoin has trumped rivals in the last 11 years and it's the digital leader," Scaramucci said. "I started out as a skeptic, but now that bitcoin has a market value of $500bn it is being recognized as a leader in the digital space. It is Google, not Yahoo. A Facebook, not MySpace."
For context, here is how SkyBridge stacked up against the Top & Bottom 20 funds of 2020.