Submitted by Christopher Dembik of Saxo Bank
The below chart about OECD private sector confidence perfectly summarizes the macro picture at the end of 2020 characterized by a strong divergence between manufacturing confidence and consumer confidence.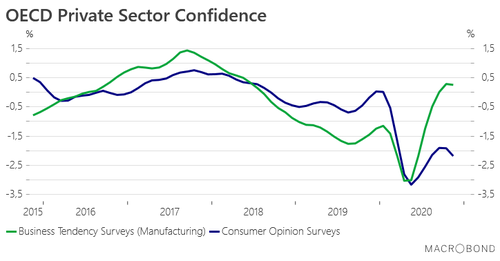 As soon as the global lockdown from last Spring was lifted, confidence in the manufacturing sector has strongly rebounded, mostly fueled by China's economic rebound, improved global trade outlook and supply chain recovery. In November, the index was slightly below the 100 threshold (a figure above 100 indicates optimism for the future) with the year-on-year rate increasing by 0.2%.
Based on more up-to-date manufacturing indicators from the United States and the EU, the recovery in the manufacturing sector is certainly not over yet. In December, the UK manufacturing PMI index was out at 57.5, versus 55.2 in the Eurozone. Meanwhile, in the United States, durable goods orders are almost back to pre-crisis level. We thus expect that the OECD manufacturing sector index will climb above 100 in coming months.
In contrast, the picture for consumer confidence was still gloomy in year-end and there is little sign of improvement in the near term. The recovery has also started when the global lockdown was lifted but, in that precise case, it was short-lived due to unemployment concerns and the re-imposition of restrictions, with the index falling again in November at 98.4.
The year-on-year rate is also negative, with a sharp drop of minus 2.1% in the last print. What we have learned in previous years is that consensus often breaks in the first weeks of new year, and this is likely to be proved right in 2021 again. While many economists expected in their 2021 forecasts a strong rebound in consumer confidence on the back of positive vaccine news, this scenario is unlikely to unfold in the coming months.
With the near term reality of lockdowns back in fashion (strict lockdown in the UK, extension of lockdown in Germany until the end of this month, Canada mostly in lockdown, emergency situation in Tokyo etc.), it is highly probable that consumer confidence will keep falling in the next two to three months and will probably reach levels last seen in Spring 2020. In terms of economic data, it is not certain that investors are ready to very rough Q1 global indicators.
With the sharp drop in mobility data we observe, especially in Spain, the United Kingdom and Italy, we consider that several European economies could fall into recession in the first part of the year. What was once unimaginable is becoming plausible once again.