Just day after OPEC+ reached an agreement to ease production curbs (in order to keep UAE happy) but assess production levels monthly in order to ensure that oil prices don't slide after reaching an 8 month high on covid vaccine optimism, Saudi Arabia raised oil pricing for customers on Sunday for its main market of Asia.
The increase, the biggest in five months, indicates the world's largest oil exporter is confident global – or at least Asian – energy demand is strong enough to absorb the modest increase in output from OPEC+ members next month and that markets will remain tight even with parts of Europe and the U.S. in lockdown.
Saudi state producer Aramco raised pricing for Arab Light crude for Asia by 80 cents a barrel to 30 cents above the benchmark from a 50 cent discount the previous month.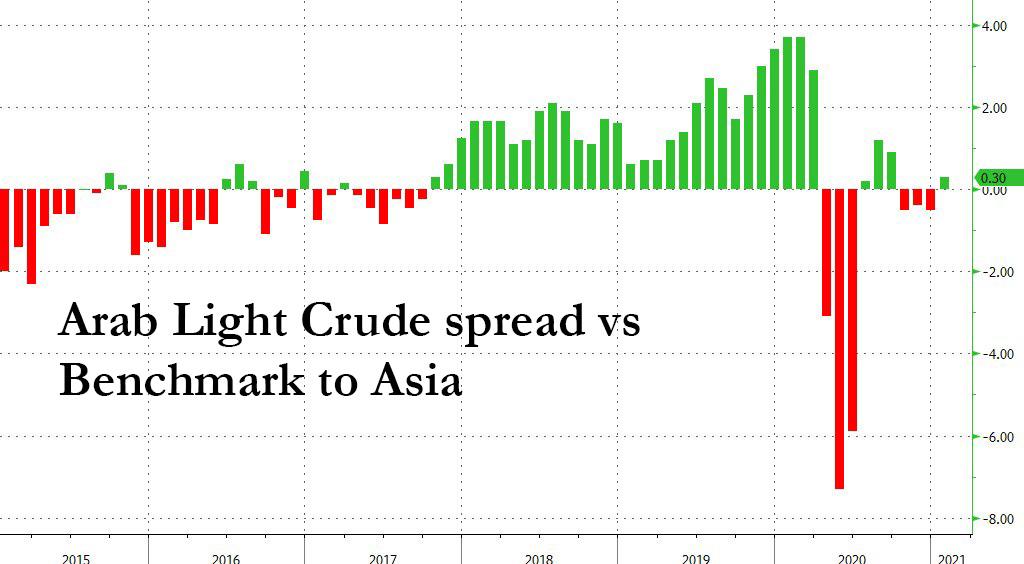 The price increase comes after price cuts from the Saudis in September, October and December as virus cases surged, sending oil demand sliding and depressing Brent prices.
Still, the hike is less than half consensus expectations: Aramco had been expected to increase pricing for the grade by 65 cents, according to a Bloomberg survey of seven traders and refiners.
Aramco also increased pricing for light crude grades to the Mediterranean region but kept them unchanged for northwest Europe. Meanwhile, Saudi Arabia lowered pricing for all grades to the U.S. to the lowest since May as Saudi exports to the U.S. have plummeted this year.
The price increase comes as Brent rose 2.2% last week to $49.25 a barrel, its highest level since early March, although the price remains down about down about 25% this year.