The Saudis are alarmed at President-elect Joe Biden's prior signaling that he'll take a much tougher stance on the kingdom after Trump's previously close relationship with the Saudis and Crown Prince Mohammed bin Salman (MbS) in particular – the brief icy tensions following the state-ordered Jamal Khashoggi murder notwithstanding. While on the campaign trail Biden had specifically decried that Trump had written the Saudis a "dangerous blank check".
"The Kingdom of Saudi Arabia is on a hiring spree for lobbyists" according to a new detailed report, in attempts to ensure things don't drastically change after Biden takes office on January 20.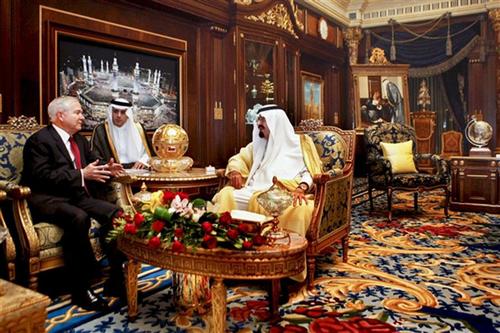 The Saudis are reportedly focusing their efforts on GOP leaders in Congress in hopes they could block or stall any aggressive or negative measures directed at the kingdom, such as related to the Yemen war for example. 
Previously Biden vowed: "I would end U.S. support for the disastrous Saudi-led war in Yemen and order a reassessment of our relationship with Saudi Arabia," at a Council on Foreign Relations (CFR) event. "It is past time to restore a sense of balance, perspective, and fidelity to our values in our relationships in the Middle East. President Trump has issued Saudi Arabia a dangerous blank check," he added.
Among the multiple new lobbying firm contracts detailed in a CNBC report includes the following:
One of the recent hires came through the Larson Shannahan Slifka Group, an Iowa-based public affairs shop that signed a lucrative contract with the Saudi Embassy last year. Also known as the LS2group, the embassy agreed in 2019 to pay it $1.5 million for one year.

New records show LS2 recently brought on Arena Strategy Group, for actions that will "include informing the public, government officials, and the media about the importance of fostering and promoting strong relations between the United States and the Kingdom of Saudi Arabia," a foreign lobbying report says.
Figures analyzed by the nonpartisan Center for Responsive Politics show the kingdom spent over $30 million on lobbying activities in 2018.
CNBC documents further that one D.C. firm is being paid $75,000 each month to help improve the kingdom's image on Capitol Hill. This is also no doubt focused on reversing the reputational damage wrought in the wake of the October 2, 2018 killing of journalist Jamal Khashoggi at the Saudi consulate in Istanbul.
Reports by the United Nations as well as the CIA reportedly pointed the finger at the highest levels of the Saudi monarchy as behind the gruesome killing, including MbS himself.