Russia is believed to be greatly expanding and beefing up its ability to wage warfare in extreme cold and icy conditions after it was announced Thursday that a Soviet-era laboratory has been reconstituted and newly opened in order to test weapons in Arctic weather.
"The Central Scientific-Research Institute for Precision Machine Engineering, that makes weapons for Russia's military, said it had restored testing chambers to simulate extreme conditions," Reuters reports of the facility which was shut down since the the end of the Soviet Union in 1991.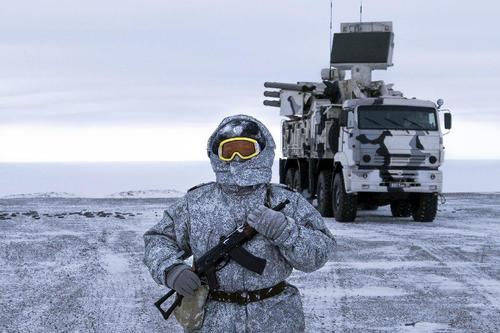 The Institute issued a press release saying "the certification is the final step towards restoring this unique technological capability that had been lost after the fall of the USSR." The complex's test chambers will actually be able to simulate a variety of conditions to also include extreme heat as well as wet weather.
Russian media cited a senior technician, Sergei Karasev, as detailing further:
He said the test site will begin work on a number of weapons, including rifles, specially-made grenade launchers and small caliber cannons in "extreme temperatures" as low as minus 60 degrees.

The conditions are designed to mimic environments like the Arctic, but the facility will also recreate a number of other potential battlefields. Tests to see whether weapons can withstand tropical climes will be carried out in a combined heat and rain chamber, while a dust chamber mimics the pressures that deserts exert on firing mechanisms.
Typically when temperatures reach such extremes as minus 60 degrees Celsius, cars and machinery break down unless they are specially outfitted to operate in the extreme cold. 
Without extensive protections even a person's face can become frostbitten in just minutes after being exposed to such temperatures. 
The post-Cold War picture of Russia as weak and declining is outdated. Today's Russia is formidable in cyberspace and a resurgent global power, from Crimea to Syria to the Arctic and beyond, writes Kathryn E. Stoner. https://t.co/1t0L8EErBK

— The Wall Street Journal (@WSJ) December 23, 2020
In remote locations like Russia's Sakha Republic (Yakutia) for example, schools, colleges and public places will only stay open until temperatures as low as -52°C, but upon reaching that limit will shut down for safety reasons.
Much standard military equipment would also not work properly in these conditions, hence Russia's focus on developing and testing weapons that are optimal in Arctic conditions. The plan is to also simulate how battlefield tactics would change in extreme and varied conditions.