Andrew Ross Sorkin's DealBook newsletter just got a big ol' scoop, and it has nothing to new with the closure of restaurants and other small businesses, or other claims about COVID-19 "science" (for reference, see his latest spat with colleague Rick Santelli, and this morning's news about new evidence of deadlier strains in the UK).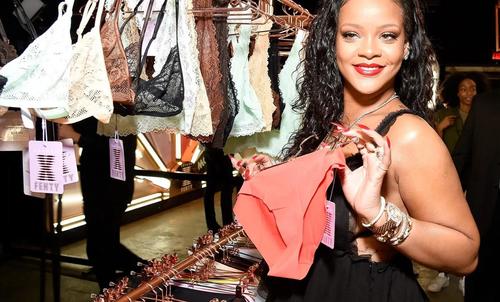 Dealbook reports that Rihanna is about to launch her most ambitions collaboration yet: Fenty x Goldman Sachs. The singer-turned-designer is reportedly looking for Goldman Sachs to raise $100MM in capital allowing the singer, whose last name is "Fenty", to expand what has become a conspicuously successful enterprise, aided by a flood of free advertising from models and influencers across Instagram.
The new round of funding could give the company a valuation of $1BN, putting Rihanna on the road to becoming a self-made billionaire for real.
Since its May 2018 launch, Savage X Fenty has already raised $70MM with backing from Marcy Venture Partners (for those who don't know, that's Jay-Z's venture capital firm. the mogul helped launch Rihanna's career as a pop artist as well), ACME Capital, TriplePoint Ventures, and Avenir Growth Capital, according to BI. The brand generates roughly $150MM in annual revenue but – importantly – is not yet profitable (though that small detail probably won't stop the company from attaining a $1BN valuation).
The brand has earned acclaim not only due to Rihanna's celebrity, but by its push for "inclusivity" – that is, featuring models of all colors shapes and sizes, most of whom happen to have at least 1MM followers on Instagram.
For Goldman Sachs, which is still getting over being stiffed by its former president and the reputation hit from the 1MDB scandal, working with the brand would dovetail with CEO David Solomon's own "diversity" push, which includes requiring companies to have at least one minority board member (ie not be all white men) for Goldman to deal with them.