Dining restrictions and cold weather have derailed the restaurant recovery in December. 
Market research firm NDP Group, which tracks 75 restaurant chains, said transactions at major chains slumped 10% in December versus the same month one year ago. 
"Up until December, monthly restaurant transaction declines had been improving consecutively since April. November transactions were down just 8%," CNBC said, citing the report.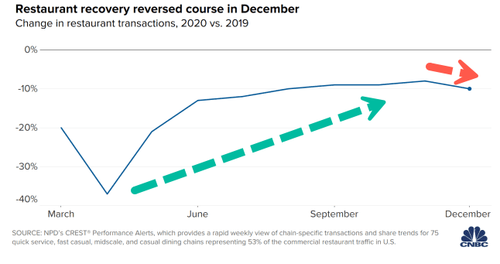 A reemergence of the virus pandemic, new indoor dining restrictions, and colder weather dissuaded patrons last month from returning. 
The full-service restaurant segment has been some of the hardest hit, unable to adapt, or has had a more challenging time overhauling their business models to accommodate delivery and takeout.
In April, the full-service segment saw transactions plunge by more than 70%. In December, transactions fell 30% due to indoor dining limitations or bans. 
UBS Evidence Lab found that even if these restaurants could pivot to takeout, many of these stores will still fall short of revenue to sustain operations. 
Some of the latest Bank of America consumer spending data shows chain restaurants are fairing much better than mom and pop ones. 
While the industry struggles and requests for more relief, the Bureau of Labor Statistics reported last Friday that food services and drinking places lost 372,000 jobs in December. 
Goldman Sachs pointed out that colder weather would accelerate infections. This means local and state governments would be forced to limit or continue the ban through early 2021, crushing the industry even further. 
With more than 110,00 restaurants already collapsed, the stage is being set for an epic bust in commercial real estate.