SANTA CLARA, Calif.—This year marks the 31st anniversary of the Tiananmen Square student pro-democracy movement. The creator of the documentary "Tank Man" about the Tiananmen Square Massacre shared with The Epoch Times about the importance of the film and the difficulties he went through in making it.
On June 4, 1989, students gathered at Tiananmen Square in Beijing to protest for freedom and democracy. However, the Chinese Communist Party (CCP) silenced them with military tanks, troops, and assault rifles.
Robert Anthony Peters, director of the 15-minute film "Tank Man," released the documentary last year for the event's 30th anniversary.
It reenacts the events leading up to the iconic moment in which a man stood alone in front of a line of tanks.
This year, during shelter-in-place orders, Peters held webinars to talk about his film and the historical event.
A Propaganda-Covered Truth
Peters told The Epoch Times that the image of the man standing in front of the tanks at Tiananmen Square always stuck out to him, and he was curious to know why the man did that.
"It takes a tremendous amount of courage to walk in front of not even one tank. I mean, one tank would be outstanding, but it was like a line of tanks that this guy walked in front of," said Peters.
Nobody knew who that man was, so Peters decided to create a possible scenario to try to uncover why he made such a decision.
He started with the historical footage and image.
"Just kind of looking at him, what he looked like, how he dressed … and kind of work backwards from there," he said.
He also did a lot of research on that period of time. This included reading a book titled "Tiananmen Papers" and internal documents surrounding the protest, as well as researching Chinese culture, history, philosophy, and religion.
He did the filming in Los Angeles, but he tried to add as many details from his research as he could to make it as realistic and authentic as possible.
Peters wants to make a longer feature film about the 1989 Tiananmen Square events. However, since China's communist regime is funding Hollywood, he says there are challenges in working with Hollywood to make a film critical of the CCP.
Even with his 15-minute film, he encountered obstacles. He wanted it to be an all-Chinese cast, but actors wouldn't audition when they discovered what it was about.
"As the audition process went on, they said, 'I can't be involved in this because I've got family in China,' or 'I'm a Chinese national, I can't do this and go back,' or 'I'm afraid of repercussions' for one reason or another," said Peters.
In the end, the actors participating were U.S. citizens, had fewer connections in mainland China, or wanted to do something meaningful.
Even after the film was released, he had trouble showing it at many Asian events.
"I've tried to book screenings to rent out the cultural center. I tried to do it in the town I live in, Tucson, and as soon as I told them what the film was about, they wouldn't respond to my emails," he said. "We've only gotten accepted to two Asian film festivals, one in Hong Kong and one in Dallas. Every other Asian film festival has rejected us."
He was able to do a lot of screenings at universities, but he received some backlash from mainland Chinese students. In response, he directed them to the firsthand interviews and historical resources that are available.
"I hope it inspires people to take strong, bold actions for the things that they believe are right," he said. "I think it's important that we see the power of even what one individual standing up against the state can do."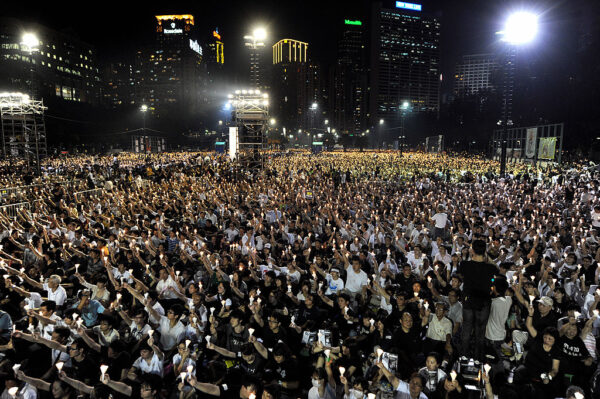 In regards to China's timing for the National Security Law that was passed for Hong Kong this year, Peters believes there's more to it.
"If it's any wonder that the National Security Law comes within a week of Tiananmen Square [events], just like last year when they shut down WeChat and other things for upgrade right before [the] Tiananmen Square anniversary, I don't think these things are coincidental," he said.
He says he feels fortunate to be in America and to be able to make a film to tell such a story.
"[If] nobody in China could make this film, then I make it for them," he said.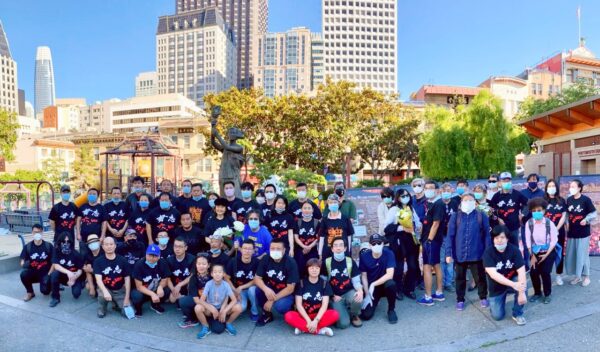 The Boy Who Survived
Fang Zheng, president of the Chinese Democracy Education Foundation, was one of the students at the 1989 Tiananmen Square student pro-democracy movement. He lost both of his legs after a tank rolled over his body during the Tiananmen Square Massacre. He arrived in the United States in 2009 and now lives in the San Francisco Bay Area.
Every year around the Tiananmen Square anniversary, Zheng and other pro-democracy supporters clean the Goddess of Democracy statue at Portsmouth Square in San Francisco's Chinatown. They also put up signs to educate people passing by the area.
"The June 4 incident happened 31 years ago, but for us witnesses and victims, that day is not something of the past. It still exists, because the Chinese communist regime hasn't changed," Zheng told the Chinese language edition of The Epoch Times.
He said that the CCP has recently been trying to take control of Hong Kong, compromising the freedom of Hong Kong people.
"June 4 must be officially remembered as the day the CCP massacred," he said. "Acknowledge the CCP's true nature. When everyone acknowledges the CCP's true nature, I think its destruction will arrive soon."