Crime in Los Angeles went "absolutely haywire" in 2020 according to Capt. Paul Vernon, head of the LAPD Compstat crime-tracking division.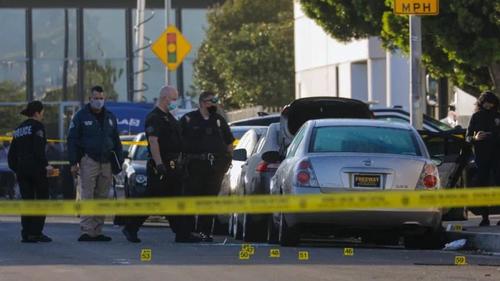 According to the Los Angeles Times, robberies, rapes and small-scale property crimes were down on the year, while killings, shootings and auto robberies spiked.
After years of sustained declines, homicides reached the highest level in a decade, while shootings were up by around 40%. Robberies, however, were down 17%, while rapes fell 25%. The city exceeded 300 homicides in a single year for the first time since 2009, something which takes Chicago about  six months to achieve. In December, Los Angeles saw 14 killings and 45 shootings in one week, vs. four killed and 17 shot in 2019. The Times estimated that there were 349 homicides in 2020, a 38% boost over 2019. 
Of the country's largest cities, New York, Los Angeles and Houston all saw homicide increases of 30% or higher — with Chicago seeing an increase of 55% — compared to the same time last year. https://t.co/R833qQNYbN pic.twitter.com/6pmlGnKaHg

— CNN (@CNN) January 2, 2021
"You can only make inferences [based on] what's happening and what's not happening," said Vernon, who analyzed shifts in major crimes on a 2020 timeline of significant events and concluded that COVID-19, and the ensuing lockdowns had a major impact on these trends starting in March.
"I cannot say enough that cops count, police matter, the presence of our officers in communities makes a difference," said LAPD Chief Michael Moore in a statement to the Times.
Between January and February, gun violence was above the trend vs. the first two months of 2019, while other crimes were in-line. After the lockdowns began, however, the numbers "radically" changed, according to the Times, with property crimes, street robberies, sexual assaults and other violent offenses falling significantly. As Summer began, however, shootings and killings spiked, increasing as time went on. Perhaps stir-crazy Californians were sent over the edge? Critics of the police suggest that increasing funding for social services for the poor, homeless, mentally ill and addicts would go a long way towards helping.