Authored by Mark Glennon via Wirepoints.org,
Gov. JB Pritzker on Tuesday ordered state spending cuts totaling $711 million for the current fiscal year as a "first step" to address the year's budget hole. Here's where those cuts will be made: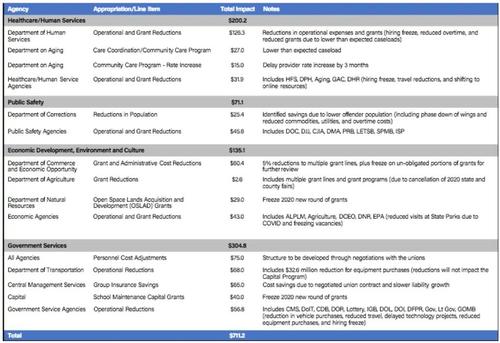 For some perspective, the total is about 1.7% of the budget.
Do not expect the Pritzker Administration, legislators in either party or us to come up with a simple alternative that solves much. That's impossible. We say now precisely what we said during the Rauner Administration:
The budget is a sideshow compared to the epic production we need—a multiyear, credible plan that would make Illinois competitive and fiscally stable again…. A credible five- or seven-year plan would have to be drastic and comprehensive. It would have to encompass local fiscal issues because our crisis is consolidated and driven heavily by formulas that share funding…. Beyond that, pretty much every reform ever proposed, implemented as quickly as possible, would have to be included in a credible plan. A credible five- or seven-year plan would have to be enough to cause many to say, "OK, I can stick it out through that."
No such attempt has ever even discussed. Instead, Illinois chose incrementalism – short-term patches – instead of major structural reforms, so now the crisis has deepened.
And incrementalism, once again, appears to be in the cards.
That said, here are a few specific thoughts on Pritzker's cuts and on some of the reaction thereto:
$711 million is indeed a first step, even for the current budget.
The administration estimates the current budget gap at $3.9 billion, but the reality depends heavily on how quickly the economy revives and on hoped-for federal assistance. The five-year budget forecast shows shortfalls growing to $4.2 billion even while unpaid bills grow to $33 billion.
But that's just about the cash budget which – we can't say this often enough – does not include growing debts, which is the real problem. Biggest among those growing debts are unfunded pension liabilities.
The budget line items to be cut seem almost deliberately selected to evoke sympathy and opposition, and therefore are likely to change.
Human services are at the top of the list with the biggest cuts, yet those probably enjoy the most public support – for good reason. Maybe that's an effort make to tax increases more palatable, which are likely to be added to the mix. If that suspicion is right, priorities may change as additional measures are negotiated.
A better approach, in general, would include across the board pay cuts.
Painful as those are, that's what it takes to live to fight another day.
New taxes undoubtedly will be added to the mix, but they will backfire.
Our view is that any new taxes might raise additional revenue initially, but in the longer term they will accelerate flight of people and employers from the state, further impairing the tax base and reducing all revenue forms. Only a credible, long-term plan will reverse that.
That requires an amendment to the state's constitutional pension protection clause, but savings could begin now.
The blame game has worn thin, destroying the credibility of those who play it.
Pritzker, as usual, blamed Rauner. While announcing the budget cuts, he said, "I promised to be a governor who balances the budget and begins paying down the bills that my predecessor left behind." But Rauner, too, inherited a disaster, as did Pat Quinn before him. Illinoisans know that and are tired of the finger-pointing.
And on the pending federal relief bill, Chicago Mayor Lori Lightfoot resorted to her usual insults, blaming the holdup on Republicans, as have Pritzker and other Illinois Democrats. "If we give in to the heartless [Republican Senate Majority Leader] Mitch McConnell on so many issues, where is the floor?" asked Lightfoot on Tuesday. "Because what it says is, if Mitch McConnell draws the line — no matter how unreasonable — we are gonna capitulate to that heartless man who has done so much harm to this country," she said.
For a better account about why the federal aid package has languished, see left-leaning Matt Taibbi's outstanding column here.
No real progress will be made until Illinois stands up to public unions.
Reacting to Pritzker's announcement, Roberta Lynch, Executive Director of AFSCME Council 31, issued a statement saying this: "AFSCME is firmly opposed to any demands that unfairly target state employees. We are, however, fully committed to revenue measures needed to keep Illinois working."
In other words, expect nothing from her union's members. Just raise taxes.
She made the astonishing claim that "it is grossly unjust to suggest that frontline state employees who have already sacrificed so much in our current public health crisis should bear an outsized share of the burden of fixing the state's fiscal crisis as well." She added that, "rather than asking everyone to pay their fair share, state employees—hard-working middle-income taxpaying Illinoisans—are now being asked to shoulder a bigger share of the budget burden. That is simply not acceptable."
No, Ms. Lynch, state employees have faced no cuts and received full pension accruals, even those who have not been working during the pandemic. There has been no shared sacrifice whatsoever.
Lynch went on to blame the budget problems on defeat of the progressive tax amendment. Though Illinois voters saw through the math on that, Pritzker made the same claim, saying, "I want to be clear. Because tax fairness was taken off the table there will be a real human impact here."
*  *  *
How the rest of the process will play out is unknowable, but it will be long and painful. Budget cuts and structural reforms have long been inevitable for Illinois. But the same powers and interests that crippled the state hold the scalpel. Their blame games and incrementalism will continue until they are forced to stop.