US Secretary of State Mike is demanding that China immediately release a citizen journalist jailed for her earlier social media reporting from Wuhan, the global coronavirus epicenter of the COVID-19 outbreak. The case has sent shockwaves across the globe given it's such a blatant crackdown on mere speech and reporting in the Communist-run country.
Zhang Zhan, the 37-year old former lawyer who essentially live-blogged widely shared posts describing the chaotic and mismanaged efforts of Chinese authorities to get a handle of the virus during its early spread in Wuhan was on Monday sentenced to four years in prison by a Shanghai court for "picking quarrels and provoking trouble".
Pompeo said in his Tuesday statement: "We call on the PRC government to release her immediately and unconditionally." He also charged Beijing with "lying" which he called a "feature" of China's "authoritarian regime".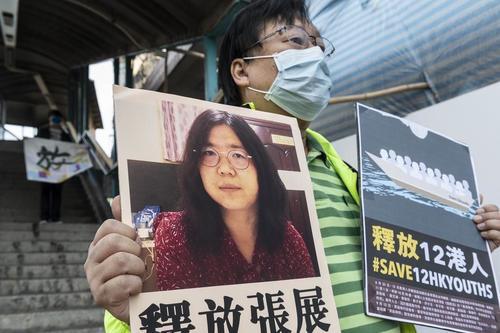 "The Chinese Communist Party has shown once again it will do whatever it takes to silence those who question the party's official line, even regarding crucial public health information," he said in the statement.
Zhan had initially been arrested in May, with her Monday court proceedings only taking three hours before the stiff sentence was handed down.
International reports noted the intentional timing of it by authorities who feared it would create an avalanche of international condemnation, which it has. CBS reported the following:
"The pronouncement of sentence in court was quite rare and unexpected," said defense lawyer Zhang Keke. "It has something to do with the holiday timing in the West."

China's communist authorities have a history of putting dissidents on trial in opaque courts between Christmas and New Year's to minimize Western scrutiny. 

The trial comes just weeks before an international team of World Health Organization experts is expected to arrive in China to investigate the origins of COVID-19. 
US calling for immediate and unconditional release of citizen journalist jailed in #China, according to a statement from @SecPompeo. pic.twitter.com/4UkiLdy85M

— Steve Herman (@W7VOA) December 29, 2020
In his statement Pompeo further underscored Zhan's trial was "hasty" and not in accord with international standards of justice.
"Her hasty trial, to which foreign observers were denied access, shows how fearful the CCP is of Chinese citizens who speak the truth," Pompeo said.
An EU statement also condemned the proceedings, her sentence, and treatment while in custody. "Ms Zhang has been subject to torture and ill-treatment during her detention and her health condition has seriously deteriorated," an EU external affairs spokesman said.