On the same day the US embassy in Baghdad's Green Zone came under attack by a hail of eight rockets fired by unknown militants, the United States threatened Iran with military action should it decide to pursue any future retaliation for the US killing of IRGC Gen. Qassem Soleimani last January.
Sunday's attack, widely believed the have been the work of Iran-backed Shia militia or an allied group, triggered the embassy's counter-rocket defense system and resulted in at least one Iraqi civilian death and limited damage to the embassy complex.
General Kenneth McKenzie, who heads the US Central Command (CENTCOM), is currently touring the region ahead of the anniversary of the Jan.3 killing of Soleimani. The trip was unannounced and is being widely interpreted as sending a strong "message" to leaders in Tehran.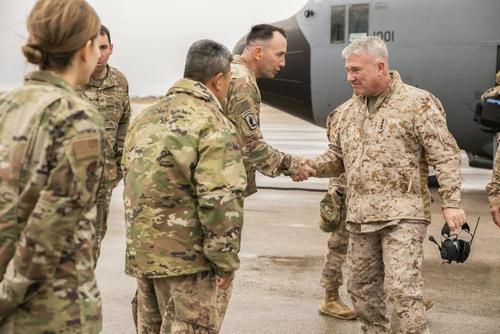 "We are prepared to defend ourselves, our friends and partners in the region, and we're prepared to react if necessary," Gen. McKenzie told journalists.
"My assessment is we are in a very good position and we'll be prepared for anything the Iranians or their proxies acting for them might choose to do," the four-star Marine general said further at an undisclosed location in the region.
McKenzie further explained that even amid the continuing White House ordered troop draw downs from Afghanistan and Iran – at 2,500 each country – the Pentagon is making preparations toward greater readiness ahead of Jan. 3.
It's now emerging that Sunday's attack included a direct hit on the embassy compound, resulting in damage.
Rocket attacks by "Iran-backed militias" into an area housing the U.S. embassy in Iraq killed at least one local civilian and damaged the embassy compound, according to U.S. diplomatic sources. https://t.co/qOaLQKGVEM

— NPR (@NPR) December 21, 2020
Days after the Soleimani assassination the region was on the edge of war, also given Iran responded by launching multiple ballistic missiles on American bases in Iraq, which the Pentagon at first claimed resulted in no casualties, though later it was revealed troops suffered widespread concussions from the missile attack, dubbed Traumatic Brain Injury.
At the very least, mass anti-American protests are expected both in Iran and Iraq, likely outside of the Green Zone near the US Embassy. The Pentagon and State Department have signaled they are making full preparations to beef up security ahead of the first week of January.