Summary:
PA suffers daily covid record
Italy sees new record
Global cases top 48 million
Regeneron working on to distribute antibody drug to the poor
New record or near-record numbers seen in Greece, Italy, Poland and the Czech Republic
World suffers record daily deaths, cases
7-day average for 5 main European countries hits new record
Greece expands lockdown nationwide
Germany cases come roaring back
Poland, Czech Republic see record numbers
AstraZeneca preparing to toll our vaccine supplies
India reports just 50k new infections
* * *
Update (1430ET): Pennsylvania just reported a record number of new COVID-19 cases, as the world focuses on the state as the potential "tipping point" in the US presidential race.
The 2,900 new cases bring the state total to 220,566, while 47 more deaths brought the death toll to 8,937. The news comes as the US just topped 100,000 daily cases for the first time.
"As we have entered a fall resurgence in Pennsylvania, we see case counts on the rise in our counties," Gov. Tom Wolf said, according to PennLive. "We cannot relax our mitigation efforts."
Of more than 1,500 hospitalized coronavirus patients in Pennsylvania, most are 65 or over. About 22% of hospitalized patients are in intensive care.
Meanwhile, Romania will impose more stringent restrictions starting Monday, including a nighttime curfew to try to limit a significant surge in new virus cases.
More than 85% of French hospitals' initial intensive-care capacity is now taken by severely ill Covid-19 patients, Health Minister Olivier Veran said in a briefing on Thursday.
The UK will tell people arriving from Germany and Sweden to self-isolate upon arrival, according to a tweet from Secretary of State for Transport Grant Shapps. Those arriving from 4 am Nov. 7 will need to self-isolate.
Italy reported a record daily 34,505 cases a few hours before latest restrictions, including a night-time curfew from 10 p.m., become effective. Daily fatalities rose to 445, the highest since early May, according to the health ministry.
* * *
Update (1300ET): It's Thursday afternoon on the East Coast, and by the look of it, Europe has notched another near-record day in terms of cases and deaths, as Greece, Italy, Germany, Poland and the Czech Republic have reported record deaths.
In France, more than 85% of the country's ICU beds were filled with seriously ill COVID-19 patients
Some scientists in the US warned that a lockdown might be inevitable, perhaps even before the Thanksgiving Day holiday, if the country continues to report roughly 100k new cases a day.
The global tracker from JHU surpassed 48.3 million cases as deaths worldwide also topped 1.22 million. In Arizona, the site of one of the most tense battles for the presidential vote, more than 2,000 new cases were reported Thursday for the first time since August.
Finally, the FT reports that Regeneron on Thursday said it is working to address questions about how the company will distribute badly needed doses of the medication in time to save some seriously ill patients. The drug works best on patients who can't produce a strong enough immune response.
Regeneron CEO Dr. Schleifer said Regeneron is working with its partner Roche, which has a large diagnostics business, to see if they could use their Covid-19 antibody tests to discover whether patients are struggling to produce their own. 
The antibody drug's makers are seeking permission to distribute directly to patients, allowing them to administer the rug has no
* * *
After locking down Athens, and then Thessaloniki (Greece's"second city"), the Greek government, led by Prime Minister Kyriakos Mitsotakis has extended the Greek lockdown country-wide as cases continue to hit records.
Greece recorded a new daily record high of 2,646 cases on Wednesday, while the occupancy rate of ICUs currently stands at 69%. The total number of infections in Greece (a country of 11 million) is now 46,892.
"If we continued to see the same rate of increase in cases as in the past week we'd have thousands in our hospitals," Mitsotakis said in a nationally televised address.
The national lockdown is expected to begin on Saturday.
Elsewhere in Europe, cases in Germany came roaring back on Thursday after a brief respite for Europe's biggest economy economy. The Czech Republic and Poland also saw record highs. In Belgium, ICU beds are filling at an unprecedented rate.
A similar pattern played out in the US, where hospital beds are filling up at the fastest pace in months.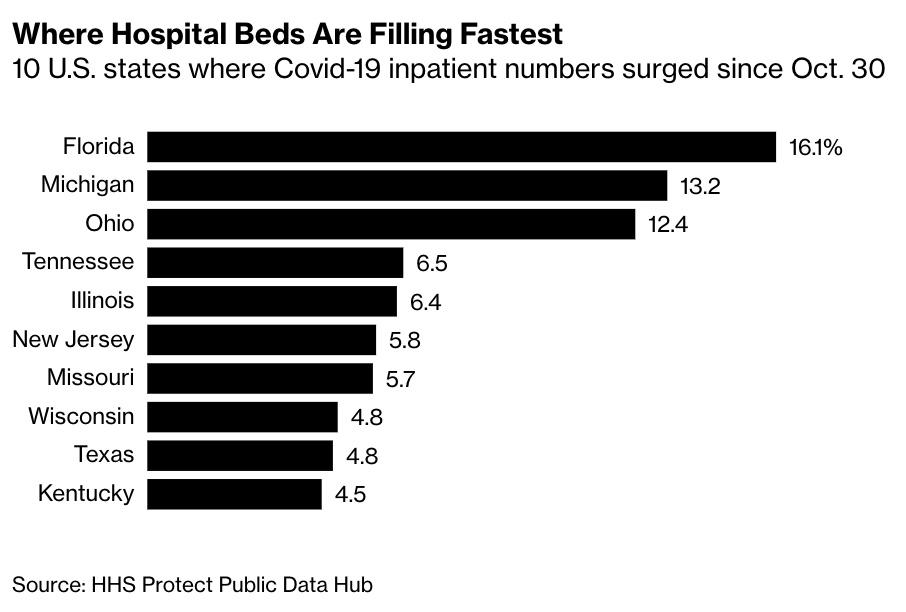 As we first reported last night, new COVID cases in the US hit a record 103,090 yesterday, boosting the 7-day average to 88,970, more than double the 34,000 in mid-September. Growth remains exponential at about 20% per week for several weeks now. State health officials have projected that Colorado is on course to exceed ICU bed capacity by December, with overall hospitalizations in Denver and surrounding areas expected to reach maximum capacity within days.
18 states, including most of the Midwest, reported record numbers of new COVID-19 infections yesterday. Nationwide, daily hospitalizations have doubled since mid-September to 2,200, while daily COVID-related deaths have risen from a low of 670 a month ago to 922.
The 7-day average of new cases in the five major European countries – the UK, France, Italy, Germany and Spain – also hit a new high of 133,000 yesterday. The weekly growth rate is slowing from an extremely high 50% a week ago to 18% this week. At least in the UK, cases have stabilized over the past week.
The 7-day average of COVID-linked deaths across the EU-5 has doubled over the past ten days from 750 to 1,460. Globally, the 7-day average of new cases stood at over 518,900, a 12% increase from a week ago. Meanwhile, the 7-day average of COVID-related fatalities across the globe was 7.3k yesterday.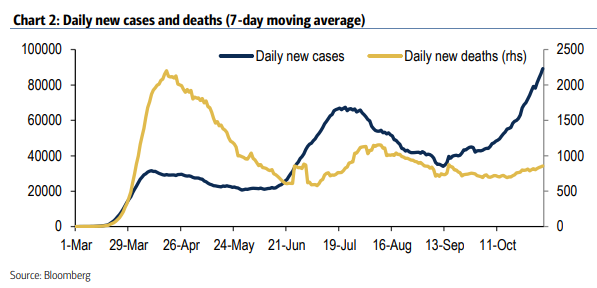 While daily coronavirus deaths worldwide set a new record of more than 10,000 on Thursday, while global infections passed 600,000 in a day for the first time as the pandemic worsened, according to data from Johns Hopkins University.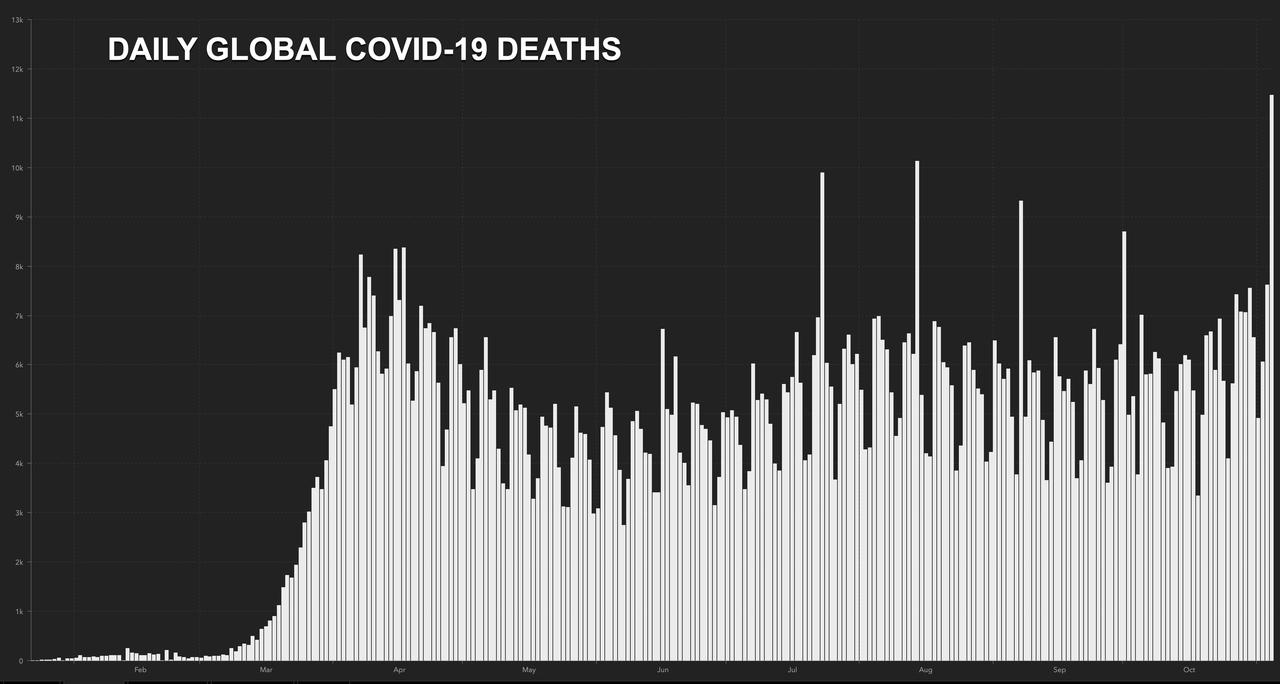 Meanwhile, here's more COVID-19 news from overnight and Thursday morning:
Infections in Japan's northern-most prefecture Hokkaido, where cases have spiked since October, may break through 100 for the first time today, according to local broadcaster FNN (Source: Nikkei).
China will temporarily suspend entry by non-Chinese U.K. nationals who hold valid visas or residence permits, the Chinese Embassy in the U.K. said in a statement (Source: Bloomberg)
Sweden's economy grew less than expected in the third quarter, when a lull in the virus during the summer months allowed businesses and households to return to near normal levels. Its GDP grew 4.3% from the previous quarter, Statistics Sweden said on Thursday, less than economists' predictions of 5% (Source: Bloomberg).
AstraZeneca Plc is poised to unveil coronavirus vaccine test results by year-end and to begin supplying the world with hundreds of millions of doses shortly afterwards if it gains approval from regulators, Chief Executive Officer Pascal Soriot said on Thursday. Soriot dismissed reports of delays and manufacturing snags (Source: Bloomberg).
All residents of two counties in China's far western region of Xinjiang are being tested for Covid-19 for a fourth time in just 12 days after a fresh outbreak was reported last month. Authorities made the decision after 116 people tested positive without symptoms in the previous round of testing, which ended on Tuesday night. All of those infections were linked to the township where the first case was reported on October 24. By Tuesday, Xinjiang had recorded 64 cases in the latest outbreak, with 330 people testing positive who have yet to show any symptoms (Source: SCMP).
India reported 50,210 new infections Thursday, the first time in 10 days that cases have topped 50,000. Daily infections have dropped from a peak of more than 97,000 in mid-September, but a rise in cases is expected as India kicks off its festival season – culminating in Diwali on Nov. 14 (Source: Bloomberg).