By Tyler Durden
Soaring coronavirus cases, a slumping economy, and continued social unrest plague France at the moment.
According to RT News, thousands of protesters flooded the street of Paris Saturday to denounce President Emmanuel Macron's "Global Security" bill.
On Nov. 27, the French National Assembly approved the Global Security bill's Article 24, which makes it illegal to distribute images or videos of police officers that can easily be identified.
The security bill has been criticized by activists and journalists, who warn the government is set to increase its surveillance tools and restrict rights of posting images and videos of police officers online. Journalists say this violates freedom of the press.
According to Reuters, the demonstration began peacefully in Paris then quickly spiraled out of control as protesters and police clashed on city streets.
Protesters were seen torching multiple cars.
VIDEO: #Paris #France 🇫🇷 pic.twitter.com/sZAI1wnlOw #Macron

— Sam Pye (@freddie1999) December 5, 2020
Riot police pushed back as protesters advanced.
Law enforcement in Paris is forced to retreat while anarchist black bloc militants run up and attack them at the riot. pic.twitter.com/XqTcWFRK76

— Andy Ngô (@MrAndyNgo) December 5, 2020
Protesters were throwing fireworks at the police.
🇨🇵In Paris, tensions between protesters and police begin. The police receive projectiles, firecrackers and fireworks.
#LoiSecuriteGlobale #marchesdeslibertes #StopLoiSecuriteGlobale #France #FranceProtests pic.twitter.com/K5hvcTeeiP

— Activist Jayden (@activistjayden) December 5, 2020
A chaotic scene is unfolding across Paris today.
La policía de #Macron y #Lallement retrocede
SIEMPRE NOS QUEDARÁ PARÍS
Enfrentamientos en la manifestación contra la ley de seguridad. #StopLoiSecuriteGlobale
Piedras y fuego contra el Estado policial Macroniense.
videos de Charles Baudry@motoreco_ok @GueguenMary @Karol_en_Red pic.twitter.com/kPOpMEWea6

— La Nave Comunica 2 (@LaNaveComunica2) December 5, 2020
Some of the protests were peaceful.
Nouvelle manifestation à #Lyon contre la #LoiSecuritéGlobale. Plusieurs milliers de manifestants. (@Bismuthback) #5decembre #StopLoiSecuriteGlobale
pic.twitter.com/PqhWHCc2CD

— Anonyme Citoyen (@AnonymeCitoyen) December 5, 2020
Police are holding the line.
Marche des libertés et anti loi global #paris pic.twitter.com/pRc0nHwnkz

— HaSaN AkÇaY (@GeRDN7) December 5, 2020
Possible looting.
🇫🇷 FLASH – Une #banque est ouverte et son mobilier brûlé devant lors de la #manifestation à #Paris ce #5decembre. (📹 @gregoire_mandy pour Mediavenir) #LoiSecuriteGlobale pic.twitter.com/46SD7T0sQK

— Mediavenir (@Mediavenir) December 5, 2020
More vehicles on fire.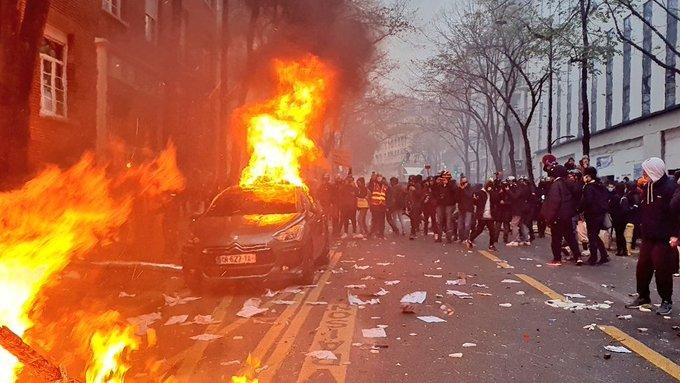 Protesters are starting fires.
La police abandonne vite le terrain, le #blackbloc a le champ libre. #StopLoiSecuriteGlobale #Paris #MarcheDesLibertés pic.twitter.com/wrWA6BMojz

— simon louvet (@simonlouvet_) December 5, 2020
No official totals on how many protesters – but judging by pictures and video on Twitter – perhaps thousands are in attendance.
🔴 Le cortège se densifie. Devant, les #GiletsJaunes veulent avancer sur l'avenue Gambetta. Un cordon de gendarmes bloque l'accès pour le moment. #MarcheDesLibertés #StopLoiSécuritéGlobale #Paris pic.twitter.com/LMgb23ATTU

— simon louvet (@simonlouvet_) December 5, 2020
🔴 Manif #StopLoiSécuritéGlobale à #Paris. Des milliers de personnes vont défiler de Porte des Lilas à République contre la #LoiSecuriteGlobale. Départ 14h. Je serai en direct dans la tête de cortège ⤵️, @marieam_marchal sera dans le cœur de la #manifestation pour @actufrparis. pic.twitter.com/Isg6qDuTv7

— simon louvet (@simonlouvet_) December 5, 2020
It was noted by AFP that the recent policing beating of a Black man, music producer Michel Zecler, also intensified anger among protesters.
France has been hit by a tsunami of social unrest this year, from the Yellow vests movement to anti-lockdown demonstrations to now the security bill.
Source: Zero Hedge
Subscribe to Activist Post for truth, peace, and freedom news. Send resources to the front lines of peace and freedom HERE! Follow us on SoMee, HIVE, Parler, Flote, Minds, MeWe and Twitter.
Provide, Protect and Profit from what's coming! Get a free issue of Counter Markets today.